A very familiar sight in many of the newspapers of Wales during the First World War was a page with numerous photos of servicemen. This was particularly the case for the larger newspapers – smaller local newspapers did not have the technology to include photographs. Browsing through the excellent collection of online newspapers digitised by the National Library of Wales, you can see how the war was (literally) seen by readers of papers such as the Cambrian News: look, for example at the edition of 28 July 1916, which includes the photographs of 15 local soldiers, some of whom had just been killed in the opening days of the Battle of the Somme.
https://newspapers.library.wales/view/3413358/3413364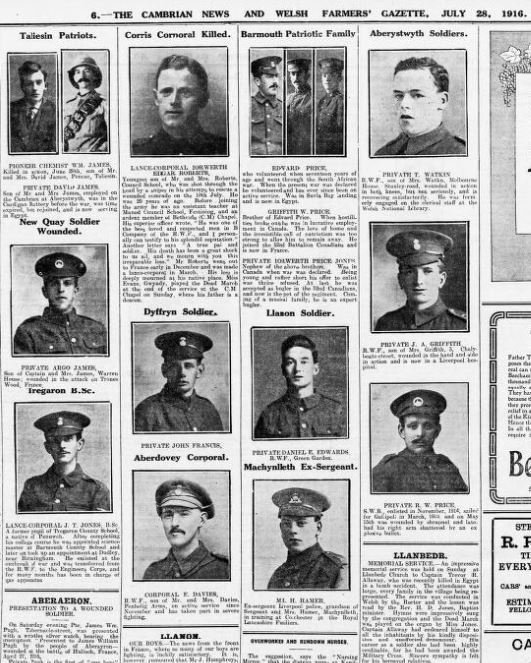 Looking through these issues for photographs of particular men used to be a very laborious process, but now for those newspapers that have been digitized it is straightforward.
However, for those newspapers not digitized, the only shortcut is to benefit from the work of others. Some resources can be found online: for example, those looking for photos of servicemen from Newport, Cwmbran or the rest of Monmouthshire should look at the website of Shaun McGuire –
http://www.newportsdead.shaunmcguire.co.uk/ ; http://www.cwmbransdead.shaunmcguire.co.uk/ ; http://www.mw.shaunmcguire.co.uk/
I have been doing some work with a database that lists thousands of photographs that were published in the South Wales Echo. I do not know whom to thank for this work: the original was shared on the internet many years ago, and can be found via this link to an archive –
https://web.archive.org/web/20170728163620/http://www.paulhyb2.homecall.co.uk/Bridsold/carsold.txt
(However, I need to thank Illtyd ap Dafydd and Bernard Lewis for their assistance in bringing the list to my attention and sharing information about it).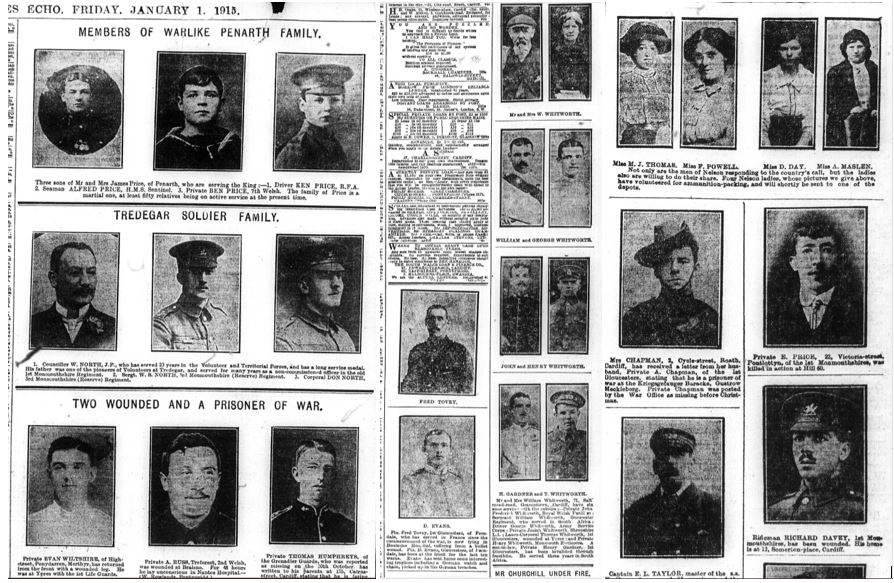 The entire list is shared below – if you are searching for a particular name you can use Ctrl+F to look for it.
The list seems comprehensive for the period from 9 November 1914 to the end of July 1915. In this period there are 2,200 photographs of named men, and 31 of named women.
For the year after that, the list is less comprehensive, although it seems relatively complete for June to August 1916, until it comes to an abrupt end on 25 August.
Last year I spent some time looking at these photographs. I was looking in particular at the photographs of women (and some of the fruits of that research can be seen in the seminar I gave on 'Seeing the contribution of Welsh women in the First World War', which is available here – https://www.historygoeson.com/matthews-welsh-women ).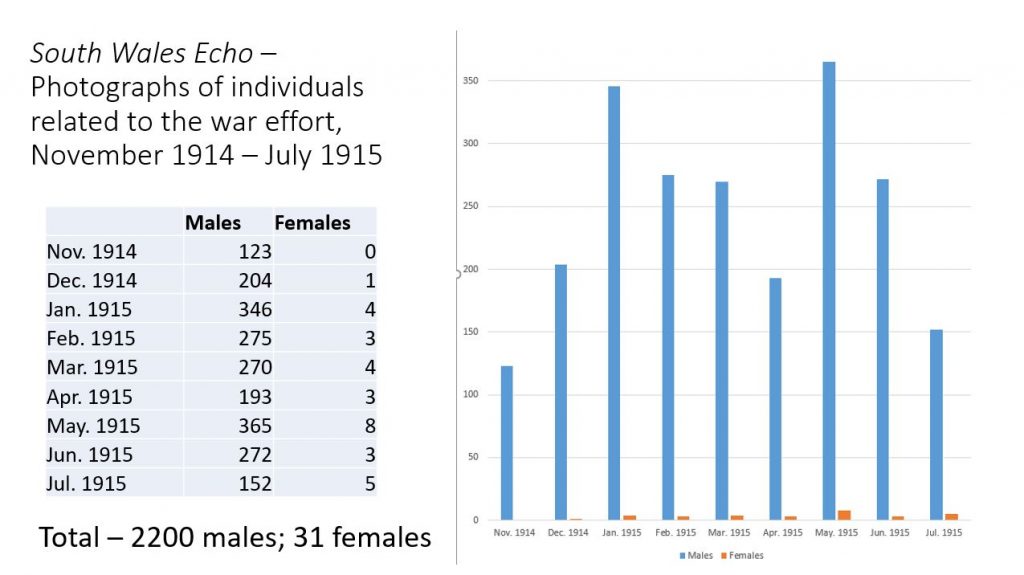 This pie-chart and graph show the categories of women who were seen in these photographs.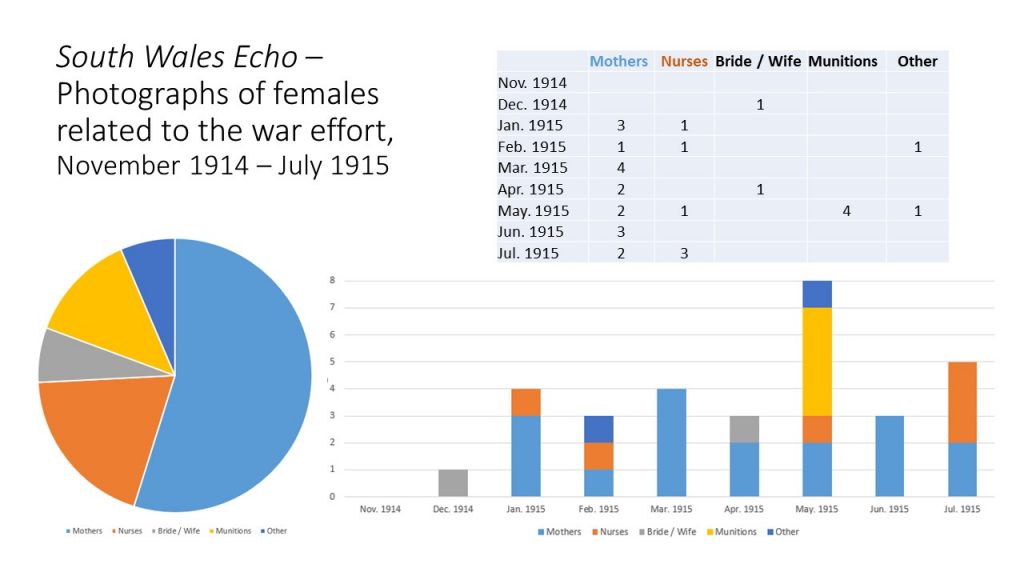 This example here shows how the photographs were laid out: this comes from the edition of 18 January 1915, and you can see the images of 14 servicemen and one lady, Mrs Purcell, who is the mother of four of the soldiers pictured. Another name to note on this page is Dick Thomas (in the centre of the top row), a former Welsh rugby international who would be killed in the Battle of Mametz Wood on 7 July 1916 (see https://rugbyhistorian.wordpress.com/2017/07/07/dick-thomas-1880-1916-welsh-international-killed-at-mametz-wood/ ).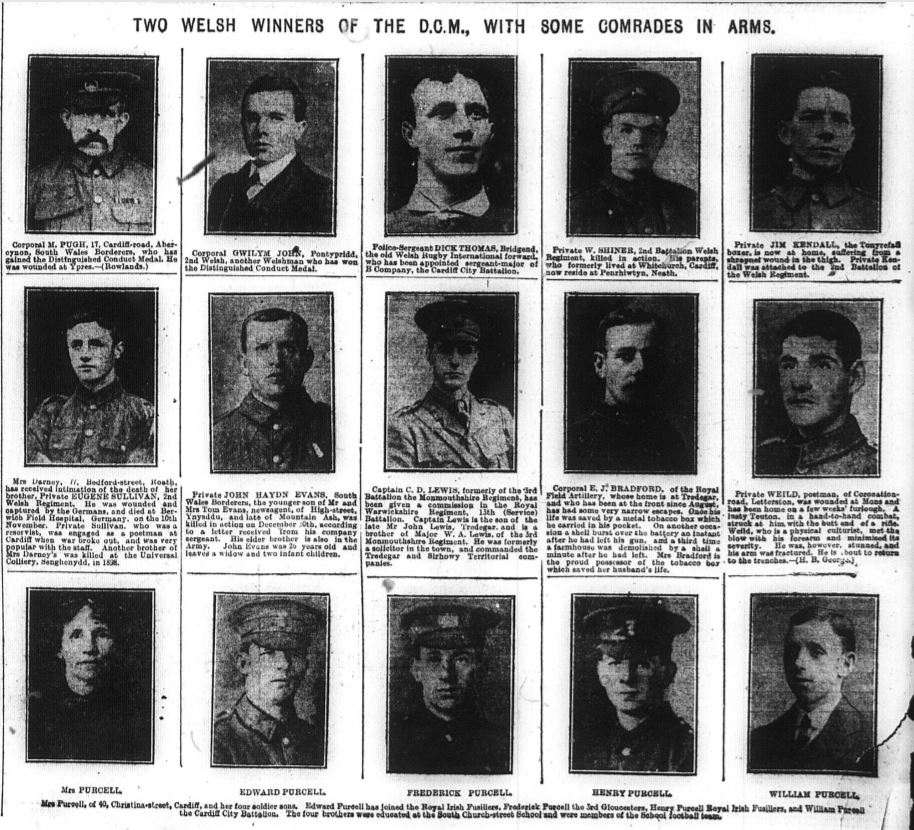 Another prominent sportsman seen in these pages was Ted Mitchell, striker with Swansea Town FC. His photo is in the issue of 31 July 1915: he was killed in action in France on 6 January 1916.

Here is the list of names: if anyone is aware of other similar lists that have been compiled and shared for the other newspapers of Wales I would be interested in hearing about it.
1914 09Nov Walcott Lieut J Lyons of Southsea
1914 09Nov Nicholl Lieut J W H of Merthyr Mawr
1914 10Nov White Sgt Maj ASC VC
1914 11Nov Evans Tom of Merthyr P.C.
1914 11Nov Sealey private of Newport
1914 11Nov Badger Capt T B 12th lancers
1914 11Nov Wyndham-Quin Lieut R S W R 12th lancers
1914 11Nov Nicholas Lieut B G 12th lancers
1914 11Nov Leatham E H 12th lancers
1914 11Nov Barrett boatswain W J HMS Monmouth
1914 11Nov Smith inspector F W Bridgend constabulary
1914 12Nov Johnson scoutmaster F H T of Oudishoorn
1914 13Nov Scott PC Norman of Merthyr 1st life guards
1914 14Nov Horsham engineer articifer Richard of Barry Dock HMS Monmouth
1914 14Nov Morris Sidney of Cogan age 19 stoker HMS Monmouth
1914 14Nov McKenzie Pte C of Cardiff 2nd Welsh
1914 14Nov Millard PC Reginald of Cardiff City Police
1914 14Nov Leach Col Burleigh South Wales Borderer
1914 15Nov Roberts Lord
1914 16Nov Dyke Pte Harry Howard Fishguard and St Nicholas postman
1914 16Nov Harries Gilbert of Cwm Ebbw Vale
1914 16Nov Gwyer William 1st class stoker HMS Monmouth
1914 16Nov Hales Edward Barry Dock HMS Good Hope
1914 16Nov Wakelin Sgt Stanley of Aberystwyth
1914 16Nov Hartshorn A W Rhondda batallion Welsh Regiment
1914 16Nov Shrubsole Lieut Percy J of Penarth
1914 17Nov Richards Thomas S son of MP Tom Richards
1914 17Nov Richards Elvet V S son of MP Tom Richards
1914 17Nov Richards Ifor son of MP Tom Richards
1914 17Nov Bennett lance corporal Welsh Regiment
1914 17Nov Reeves trooper George Henry of Ynysybwl
1914 18Nov Pasture Capt C E de la of Llanbadic nr Usk
1914 18Nov Hoops Corpl D of Cardiff
1914 18Nov Christopher pte D J of Cwmaman Aberdare
1914 18Nov Evans 1st class stoker Lambert Tidman from Builth HMS Monmouth
1914 18Nov Hegarty Andrew of Ordell St Cardiff
1914 18Nov Hegarty Thomas of Ordell St Cardiff
1914 18Nov Hegarty Walter of Ordell St Cardiff
1914 18Nov Hegarty George of Ordell St Cardiff
1914 18Nov Hegarty John of Ordell St Cardiff
1914 18Nov Hegarty David of Ordell St Cardiff
1914 18Nov Graves lieut W Francis Cardiff Councillor
1914 18Nov Peoples pte William of Cardiff
1914 18Nov Peoples pte Andrew of Cardiff
1914 18Nov Hearne drummer John Henry of Norton Bridge Pontypridd
1914 19Nov Jones pre Albert Edward of Fishguard
1914 19Nov Ardee Lord Irish Guards
1914 19Nov Owen surgeon lieut Howard of Fishguard
1914 19Nov Clements lance corporal of Cardiff City Police Force
1914 19Nov Spicer pte Geo of Newport
1914 19Nov Thomas sgt William John of Port Talbot P.C.
1914 19Nov Turbervill Col J Picton of Ewenny Priory 3 sons
1914 19Nov Playstead pte W J landlord Gardens Hotel Cwmbran
1914 20Nov Sutton Edgar J Monthemer Rd Cardiff
1914 20Nov Fraser pte W age 22 Cardiff
1914 20Nov Walters Rev Arthur Splott Rd Wesleyan Cardiff
1914 20Nov Perry Rev C L Newport Calvinistic Methodist
1914 20Nov Lee drummer 3rd batallion Welsh Regiment
1914 20Nov Excell lance cpl 3rd batallion Welsh Regiment
1914 20Nov Shea pte Frank Newport
1914 21Nov Rivers pte T of Cheltenham and Fishguard
1914 21Nov Woodward drummer John H 1st Cheshires
1914 21Nov Lawrence pte John C age 25 Pontypridd and Cardiff
1914 21Nov Turner William Charles of Brecon
1914 21Nov Thomas maj D W E Breconshire batallion
1914 21Nov Smith bombadier Stanley O of Cardiff
1914 21Nov O'Keefe Pat boxer Surrey regiment
1914 21Nov Fletcher lieut R W Oxford rowing blue
1914 23Nov Griffiths sgt Basil RFA Cardiff
1914 23Nov Morgan lce cpl George Durrant of Fishguard
1914 23Nov Durman lce cpl Brook St Barry Dock
1914 23Nov Taylar pte S of Rhydyfelin
1914 23Nov Thomas pte W 2nd Welsh
1914 23Nov Collard cpl B of Pantygraigwen
1914 23Nov Davies pte S of Aberdare
1914 23Nov Thomas P.C. A of Pontypridd police
1914 23Nov Holloway col E L Rhondda batallion training at Rhyl
1914 23Nov Jones col W Egwy age 27 Cardiff
1914 24Nov Venn Ernest Albert Dinas Powis
1914 24Nov Rolls capt S P A 2nd batallion Monmouthshire regiment
1914 24Nov Winstone Richard RGA Risca
1914 24Nov Webber Hugo 115 Merthyr Rd Whitchurch postman
1914 24Nov Davies lce cpl Colin of Splott Cardiff
1914 24Nov Walsh pte W G age 27 Perth and Cardiff
1914 24Nov Rowles pte George of Rutland St Grangetown
1914 25Nov Davies pte J H of Ynysybwl
1914 25Nov Fotheringham William of Gough St Cardiff
1914 25Nov Torrington Alfred of Court Rd Cardiff
1914 25Nov Roberts pte John H of Ynys Cynon Rd Trealaw
1914 25Nov Brown sgt G of Pontycymmer
1914 25Nov Brown sgt A of Pontycymmer
1914 25Nov Brown trooper Ernest of Pontycymmer
1914 25Nov Brown private H of Pontycymmer
1914 25Nov John pte S M of Cardiff
1914 25Nov Hawkins lce cpl T S of Wimborne St Cardiff
1914 26Nov Hasell Charles of Ynysybwl age 34
1914 26Nov Hasell Frederick of Ynysybwl age 25
1914 26Nov Hasell William of Ynysybwl age 22
1914 26Nov Hasell Joseph of Ynysybwl age 21
1914 26Nov Hasell Thomas of Ynysybwl age 20
1914 26Nov Marden lieut B J N 9th lancers boxer
1914 26Nov Condon pte Michael of Rutland St Cardiff POW
1914 26Nov Emes cpl J of Durham St Cardiff POW
1914 27Nov Thomas lieut W of Clynderwen and Ammanford teacher
1914 27Nov Champion sgt Harry of Cardiff
1914 27Nov Morgan pte Charles of Trealaw
1914 27Nov Hopkins sgt F of Treforest
1914 27Nov Rees rifleman George Herbert of Cardiff
1914 27Nov Willis pte F Cardiff police native of Minehead
1914 27Nov Harrington John J of Tredegar Royal FC
1914 28Nov Fowler gunner W J of Cardiff
1914 28Nov Richings P.C. Arthur of Cardiff
1914 28Nov Ford pte Harry of Wyndham Rd Canton Cardiff
1914 28Nov Furber Capt of Barry
1914 30Nov Dudley capt L G of Barry Dock
1914 30Nov Sercombe coastguard officer Frederick of Fishguard and Bude
1914 30Nov Taylor gunner Daniel James of Reynoldstone
1914 30Nov Mansell pte Samuel of Trelewis
1914 30Nov Kingsman pte Robert of Tonypandy
1914 30Nov Davies 2nd class stoker William of Abergwynfi
1914 30Nov Barker sgt instructor Charles of Cardiff
1914 30Nov Edwards col T A Wynne of North Wales Comrades batallion
1914 30Nov Barker trooper George of Cardiff
1914 01Dec Bailey Wilfred Russell age 23 son of Lord Glanusk
1914 01Dec Chamberlain pte Edward of Ystrad Rhondda
1914 01Dec Williams pte Arthur of Heolgerrig Merthyr
1914 01Dec Barker pte William 120 Commercial St Aberbargoed
1914 01Dec Howe corpl Tom of Mackintosh Pl Cardiff
1914 01Dec Gwyther pte John 1 Llandough St Cardiff
1914 02Dec Bowden A G of Aberavon
1914 02Dec Bowden H J of Aberavon
1914 02Dec Davies pte David John of Penygraig
1914 02Dec McCarthy Dennis a Cardiff tram conductor
1914 02Dec Rees pte D J of Fleet St Swansea
1914 02Dec Heatley pte Robert Glamorgan St Canton Cardiff
1914 02Dec Neale lieut J S of Penarth
1914 02Dec Purnell 2nd lieut Arthur of Penarth
1914 02Dec Price corpl Jack of Swansea
1914 02Dec Gough Mr Llanelly footballer
1914 02Dec Griffiths Mr Llanelly footballer
1914 02Dec James Mr Llanelly fotballer
1914 02Dec Carter lieut Frank
1914 03Dec Burke sgt Wallace of Cardiff
1914 03Dec Godwin pte W of Wimborne St Cardiff
1914 03Dec Williams engineer capt Walter K of HMS Bulwark
1914 04Dec Rowlands pte John of Skewen
1914 04Dec Fox pte Maurice A 27 Langard St Cardiff
1914 04Dec Walker PC William Cardiff constable
1914 04Dec Thomas pte Eddie Lowther St Britton Ferry
1914 04Dec Stanton Cliff Aberdare asst cashier Hirwaun
1914 04Dec Sheppard lce cpl S Blaenblodau St Newbridge
1914 05Dec Crusoe Capt Joseph Russia and Pontycymmer
1914 05Dec Passmore pte J Swansea
1914 05Dec Hazell leading stoker Frederick Charles Abertridwr HMS Pegasus
1914 05Dec Buller lieut F E R.E. 3rd Sappers and Miners boxer
1914 05Dec Field Arthur Pontyclun
1914 07Dec Pryse Sir Edward Webley Parry Goggerdden nr Aberystwyth
1914 07Dec Tuck pte Thomas Alma St Brynmawr
1914 07Dec Cross pte John North St Dowlais
1914 07Dec Davies pte David Portfield Haverfordwest
1914 07Dec Walton lce cpl Haverfordwest
1914 07Dec Eyre sgt Ernest Charles Cardiff
1914 07Dec Palfrey pte Richard Lincoln St Cardiff
1914 07Dec O'Brien pte Edward Cardiff Post Office
1914 07Dec Gaskell Capt Frank Cardiff battalion
1914 08Dec Beazer pte G Pontypridd
1914 08Dec Phelps Alfred Cardiff and Hull
1914 08Dec Roberts trooper W Arthur Clive Rd Fishguard
1914 08Dec Melsome driver W RFA Cardiff
1914 08Dec Milton John Bargied ex PC
1914 08Dec Jones cpl Ben Fishguard boxer
1914 08Dec Ford pre F Cardiff City Police
1914 08Dec Williams able seaman HMS Revenge Cardiff postman
1914 08Dec Davies pte H son of Richard Davies of Albion Colliery Cilfynydd
1914 08Dec Moreton PC Ystradmynach
1914 08Dec Humber PC Bargoed
1914 08Dec Mills PC Rhydyfelin
1914 09Dec Williams pte Thomas Henry 81 Morel St Barry Dock
1914 09Dec Nowell PC Leonard Llandaff
1914 09Dec Ellnor pte C H Penslade Fishguard
1914 09Dec Browne lieut R F formerly 3rd Glamorgan Rifles
1914 09Dec Rickards rifleman Albert Pontypridd
1914 09Dec McLeod sgt Neil Bank St Brecon Rd Merthyr
1914 10Dec Pates pte A Cowbridge postman and Cardiff
1914 10Dec Clarke pte W H Abertillery Rd Blaina
1914 10Dec Blackler rifleman W Pontypridd
1914 10Dec Maddrick pte E Trimsaran
1914 11Dec McCarthy C Council St Penydarren Merthyr
1914 11Dec Allen cpl A H Letty St Cathays Cardiff
1914 11Dec Vaughan pte W Pontypool
1914 11Dec Thomas pte H Pontypridd
1914 11Dec Davies sgt D Pontypridd
1914 11Dec Davies pte W H Pontypridd
1914 12Dec Smith David Waun Ebbw Rd Nantyglo
1914 12Dec Smith John Charles Waun Ebbw Rd Nantyglo
1914 12Dec Smith Richard Waun Ebbw Rd Nantyglo
1914 12Dec Smith Gilbert Waun Ebbw Rd Nantyglo
1914 12Dec Sherwood sgt A 3rd battallion Welsh Regiment
1914 12Dec Sherwood driver Edwin Army Service Corps
1914 12Dec Sherwood driver R 3rd Lancashire RFA
1914 12Dec Mortloch sapper W Tongwynlais
1914 12Dec Barnes pte Charles Henry Cardiff
1914 12Dec Ward pte Jack Bridge St Merthyr
1914 12Dec Davies 2nd lieut Byron Fishguard
1914 12Dec Williams lieut col O H S Ridgeway Lawbaden
1914 12Dec Burgess sgt Fred Ardhallow Fort Swansea champion swordsman
1914 14Dec Atkinson 2nd lieut Henry Noel Northop
1914 14Dec Tierney bombadier T Cairns St Cardiff
1914 14Dec Denby sgt A E Cairns St Cardiff
1914 14Dec Stanley lieut S Tredegar
1914 14Dec Fishlock cpl Pontypridd
1914 14Dec Mechin pte Harry Cardiff
1914 14Dec Welsh Patrick Cardiff
1914 14Dec Thomas councillor W E age 56 ex mayor of Tenby
1914 14Dec Basham Johnny Newport boxer
1914 15Dec Gillis pte J Cambrian Colliery wife from Cardiff
1914 15Dec Parry pte Joseph Gwendoline St Treherbert
1914 15Dec Walker pte A Levi Pontypridd
1914 15Dec Foley pte John Dowlais
1914 15Dec Walden pte A Angelina St Cardiff
1914 15Dec Brunnock pte M Jeddo St Newport
1914 15Dec Noyes pte George Hewell St Cardiff
1914 15Dec Smith pte J Jeddo St Newport
1914 15Dec Davies H V Pontypool
1914 16Dec Leonard PC A F Merthyr Police
1914 16Dec Davies pte Bryn Merthyr
1914 16Dec Berryman pte Ivor Merthyr
1914 16Dec Regan pte Jeremiah Dowlais Co Cardiff
1914 16Dec Pinney pte A J Varteg Pl Sirhowy
1914 16Dec Davies bombadier Thomas Abertridwr
1914 16Dec Williams pte Frank A Ynysybwl
1914 16Dec Sheen cpl E Pontypridd
1914 16Dec Wickson pte C 19 Iron St Cardiff
1914 16Dec Dyke driver W H 147 Arabella St Cardiff
1914 17Dec Ellis pte John Eastbrook Dinas Powis
1914 17Dec Saint cpl John baker Leckwith Rd Cardiff
1914 17Dec Hooper pte Charles W Cwmparc and Taunton
1914 17Dec Pavey pte T 28 Glamorgan St Cardiff
1914 17Dec Lewis Clem Cardiff footballer
1914 17Dec Rosser pte John H Clynderwen
1914 17Dec Williams trooper Stanley Cardiff threequarter
1914 18Dec Griffiths Robert 40 Penarth Rd Cardiff
1914 18Dec Griffiths Charles 40 Penarth Rd Cardiff
1914 18Dec Griffiths James 40 Penarth Rd Cardiff
1914 18Dec Griffiths Nettie 40 Penarth Rd Cardiff
1914 18Dec Griffiths Richard 40 Penarth Rd Cardiff
1914 18Dec Griffiths William 40 Penarth Rd Cardiff
1914 18Dec Griffiths John 40 Penarth Rd Cardiff
1914 18Dec Griffiths Arthur 40 Penarth Rd Cardiff
1914 18Dec Thompson pte Patrick Cardiff
1914 18Dec Davies pte David Charles Tram Road Side Merthyr
1914 18Dec Fielding pte D Sudbrook
1914 18Dec Cattor M Alphonse Penygraig Belgian refugee
1914 19Dec Mackinson General Sir Henry inspecting 7th Welsh cyclists
1914 19Dec Wilson col C L inspecting 7th Welsh cyclists
1914 19Dec Lancaster lieut A E inspecting 7th Welsh cyclists
1914 19Dec Pinchin cpl A E 2nd battalion Monmouthshire Regiment
1914 19Dec Austin pte Albert St Albans Rd Swansea
1914 19Dec Parfitt pte W 17 Robert St Cathays
1914 19Dec O'Neale lce cpl Joseph checkwriter Groesfaen colliery Deri
1914 19Dec Richards lce cpl Evan Swansea Rd Merthyr
1914 19Dec Thomas driver Alfred Baglan St Treherbert
1914 19Dec Bruce capt H L son of Lord Aberdare
1914 21Dec Tovey lce cpl J T age 20 Garndiffaith
1914 21Dec Rochford pte John 25 Brook St Penygraig
1914 21Dec Hughes pte W Blackwood
1914 21Dec Roberts cpl Edward John Bedlinog
1914 21Dec King lieut F S quartermaster 1st Rhondda battalion
1914 21Dec Tyrell pte Edward 1415 Neath Rd Swansea
1914 21Dec Jenkins Mrs 6 Pryce St Mountain Ash – wife – given birth
1914 22Dec Davies Rees 7 Wyndham St Troedyrhiw
1914 22Dec Davies Bryn 7 Wyndham St Troedyrhiw
1914 22Dec Davies Garnett 7 Wyndham St Troedyrhiw
1914 22Dec Davies William 7 Wyndham St Troedyrhiw
1914 22Dec Davies Joseph 7 Wyndham St Troedyrhiw
1914 22Dec Power James Urban St Pendarren
1914 22Dec Power David Urban St Pendarren
1914 22Dec Power Edwin Urban St Pendarren
1914 22Dec Power Richard Urban St Pendarren
1914 22Dec Power Patrick Urban St Pendarren
1914 22Dec Lessen Joseph age 18 Belgian boy scout
1914 23Dec Pole pte Fred Daniel St Cardiff
1914 23Dec Roberts pte David Jenkins 2nd Monmouthshire Regiment
1914 23Dec Kemp pte Cardiff footballer
1914 24Dec Fraser pte William Cardiff
1914 24Dec Jones pte Daniel school house Lampeter
1914 24Dec Jones pte David school house Lampeter
1914 24Dec Nicholas driver Thomas Cardiff Rd Treharris
1914 24Dec Lamb lce cpl William Merthyr
1914 24Dec Connor pte Charles Fishguard
1914 24Dec Murphy Peter 51 Gray St Canton Cardiff
1914 24Dec Murphy James 51 Gray St Canton Cardiff
1914 24Dec Murphy John 51 Gray St Canton Cardiff
1914 24Dec Onions lieut Wilfred 3rd Monmouth Battalion
1914 24Dec Onions cpl D A 3rd Monmouth Reserve
1914 24Dec Onions T A officers training ship age 15
1914 24Dec Parfitt capt William Newport veteran
1914 26Dec Payne sgt A J Glynmawr St Abertillery
1914 26Dec Twining PC W J Cardiff Police
1914 26Dec Dwyer pte W Abercynon
1914 26Dec Porter lieut col H E Goodwick nr Fishguard
1914 26Dec Barber Reginald Mackintosh Place Cardiff
1914 26Dec Barber George Mackintosh Place Cardiff
1914 26Dec Freeman sgt W F Abercynon
1914 26Dec Hill pte Arthur Pontardulais
1914 26Dec Millington pte J E Mardy AFC
1914 28Dec Ingram rifleman Frank Westbury on Severn and Bridgend
1914 28Dec Stone pte Ben Wood St Bargoed
1914 28Dec Evans lce cpl E J 14 Coedcae White houses Tirphil
1914 29Dec Nicholls pte E A 60 Adeline St Splott Cardiff
1914 29Dec Rogers pte W E 34 Paget St Grange
1914 29Dec Morris pte Charles Evans Rd Melin Neath
1914 29Dec Reardon pte M 20 Springfield Place Cardiff
1914 30Dec Fowler capt H G C South Wales Borderers
1914 30Dec Wiltshire pte A Abercynon
1914 30Dec Kane pte James 108 Ynyscynon Rd Trealaw
1914 30Dec Steward sgt instructor G Abertillery
1914 30Dec Sweeney pte Edward Hodges St Pendarren Merthyr
1914 30Dec Thomas pte H Abercynon
1914 30Dec Davies col J E H Wrexham
1914 31Dec Burston lce cpl A T Bedlinog
1914 31Dec Huss pte C 19 Pearl St Cardiff
1914 31Dec Ferris pte George Diamond St Cardiff
1914 31Dec Whitaker pte H miner Trealaw
1914 31Dec Whitfield lieut H B Welsh Rugby International
1914 31Dec Lewis lieut Clem Welsh Rugby International
1914 31Dec Williams lieut J L Welsh Rugby International
1914 31Dec Smith pte John Pendranfach Merthyr
1915 01Jan Price driver Ken Penarth
1915 01Jan Price Alfred Penarth HMS Sentinal
1915 01Jan Price pte Ben Penarth
1915 01Jan North W JP Tredegar
1915 01Jan North sgt W S Tredegar
1915 01Jan North cpl Don Tredegar
1915 01Jan Wiltshire pte Evan High St Pendarren Merthyr
1915 01Jan Russ pte A Treforest
1915 01Jan Humphreys pte Thomas 15 Cairn St Cardiff
1915 02Jan Rowe Mr and Mrs John Porthcawl
1915 02Jan Rowe Ormond Porthcawl
1915 02Jan Rowe A J Porthcawl
1915 02Jan Rowe Gilbert Porthcawl
1915 02Jan Rowe E Porthcawl
1915 02Jan Rowe Stanley Porthcawl
1915 02Jan Rowe William Porthcawl
1915 02Jan Hazeldene H E Cardiff HMS Colossus
1915 02Jan Morrisy mechanic Cardiff HMS Colossus
1915 02Jan Lawrie machanic Cardiff HMS Colossus
1915 02Jan Parr mechanic Cardiff HMS Colossus
1915 02Jan Smith gunner T H Cardiff HMS Colossus
1915 02Jan Lewis A.B. Cardiff HMS Colossus
1915 02Jan Allen stoker Cardiff HMS Colossus
1915 02Jan Lewis PO 1st Cardiff HMS Colossus
1915 02Jan Evans signal boy Cardiff HMS Colossus
1915 02Jan Frampton A.B. Cardiff HMS Colossus
1915 02Jan Maggi boy Cardiff HMS Colossus
1915 02Jan Wilson A.B. Cardiff HMS Colossus
1915 02Jan James pte Albert Pontycymmer
1915 02Jan Herd capt H F 2nd Welsh
1915 04Jan Jones Leslie Llandaff scouts defence corps
1915 04Jan Morgan D Benard Llandaff scouts defence corps
1915 04Jan Clarke minor Canon Llandaff scouts defence corps
1915 04Jan Renwick A Llandaff scouts defence corps
1915 04Jan Pillar capt W trawler 'Providence'
1915 04Jan Carter W mate trawler 'Providence'
1915 04Jan Clark John trawler 'Providence'
1915 04Jan Taylor Dan cook trawler 'Providence'
1915 04Jan Pillar L the boy trawler 'Providence'
1915 05Jan Warlow capt W Picton Welsh Regiment royal flying corps
1915 05Jan Evans pte J Pontypridd
1915 05Jan Ridewood lieut marr Miss Clements of Cowbridge
1915 05Jan Lloyd drum major Jack Cardiff age 30
1915 05Jan Davis sgt Frederick E Cardiff
1915 05Jan Lewis pte G 30 Cardiff Rd Abercynon
1915 05Jan Lonergan trooper P Upper Coronation St Tredegar
1915 05Jan Williams pte J J 14 Pontrhondda Rd Llwynypia POW
1915 05Jan Pike pte John Thursdon Rd Pontypridd POW
1915 05Jan Wilson pte William Splotlands and Barry
1915 05Jan Price pre William Castle St Merthyr
1915 05Jan Humphreys PC W Porthcawl
1915 06Jan Lewis maj R A Lloyds Bank Pontypridd
1915 06Jan Weller sgt Fred Talywain
1915 06Jan Evans rifleman D A Dowlais
1915 06Jan Browning gunner T H Duckpool Rd Baptist Newport
1915 06Jan Ham pte W Cardiff labourer Cardiff Docks
1915 06Jan Price pte Ben Bedlinog
1915 07Jan Davies sgt Wind St Ynyshir
1915 07Jan Hopkins pte Richard Nantymoel POW
1915 07Jan Oates pte William Treherbert POW
1915 07Jan Davey lce cpl P R Glebe St Penarth
1915 07Jan Sykes lce cpl F G 2nd Monmouthshire
1915 07Jan Evans pte Edward Gibson St Pontypool
1915 07Jan Vaughan pte G Philip St Mountain Ash
1915 07Jan Jones J Griffith Pontypridd
1915 08Jan Jones pte Edwin 44 Machine Meadows Pontawynydd
1915 08Jan Cranston squadron sgt maj Nantymoel
1915 08Jan Wynne pte F S Cathays Terr Cardiff
1915 08Jan Davies gunner George Springfield Place Canton
1915 08Jan Davies cpl William Springfield Place Canton
1915 08Jan McLoughlin pte T 45 Ynysgau St Merthyr POW
1915 08Jan Brooker pte Lambert Crumlin and Blackwood
1915 08Jan Camm F Lewis St Crumlin
1915 08Jan Bassett bugler Dan 10 Maesteg Rd Llangonoyd
1915 08Jan Howells Ernest Llwyn Bedw Villa Mountain Ash
1915 08Jan Howells Arthur Llwyn Bedw Villa Mountain Ash
1915 08Jan Howells Alfred Llwyn Bedw Villa Mountain Ash
1915 08Jan Pope Thomas 95 Leckwith Rd Cardiff
1915 08Jan Pope William 95 Leckwith Rd Cardiff
1915 08Jan Pope Joseph 95 Leckwith Rd Cardiff
1915 09Jan Dwyer pte Lower Salisbury Rd Tredegar
1915 09Jan Dwyer cpl Dennis Lower Salisbury Rd Tredegar
1915 09Jan Dwyer pte Joseph Lower Salisbury Rd Tredegar
1915 09Jan Dwyer pte William Lower Salisbury Rd Tredegar
1915 09Jan Dwyer pte Timothy Lower Salisbury Rd Tredegar
1915 09Jan Hill pte Herbert Trehafod
1915 09Jan Thomas John Smyth St Fishguard
1915 09Jan Thomas Evan Smyth St Fishguard
1915 09Jan Thomas Joshua Smyth St Fishguard
1915 09Jan Preston pte Walter Cardiff Railway Co
1915 09Jan Cashman W P stoker Roath Cardiff
1915 09Jan Locke W J Splott Cardiff
1915 09Jan Wheaton R stoker Roath Cardiff
1915 09Jan Ballett sgt A Canton Cardiff
1915 09Jan Woods J stoker Cathays Cardiff
1915 09Jan Fautley E F musician Roath Cardiff
1915 09Jan Rouse R W Roath Cardiff
1915 09Jan Boundford S W stoker East Moors Cardiff
1915 09Jan Haberfield Mr Grangetown Cardiff
1915 09Jan Vigar pte Splott Cardiff
1915 09Jan Cheesley W H shipwright Cathays Cardiff
1915 09Jan Fisher G stoker Mountain Ash
1915 09Jan McLaughlin A L Splott Cardiff
1915 09Jan Gillham A Whitchurch Cardiff
1915 09Jan Russell A stoker Roath Cardiff
1915 09Jan Wilkinson E leading seaman Docks Cardiff
1915 11Jan Lewis W B Nantymoel
1915 11Jan Evans cpl Thomas 2nd Welsh Cardiff
1915 11Jan Edwards company sgr maj C F bandmaster Aberdare
1915 11Jan Read cpl W J Hopkinstown Rd Pontypridd
1915 11Jan Thomas pte Guppy Swansea boxer
1915 11Jan James sgt R R Caerau Maesteg
1915 11Jan Jones driver Jack 51 Stuart St Treorchy
1915 11Jan Hopkins pte J 59 Field St Cefn Merthyr
1915 11Jan Stokes cpl David Penrhiwceiber
1915 11Jan Jenkins Francis Morriston
1915 11Jan Jenkins Ernest Ivor Morriston
1915 11Jan Jenkins Herbert Lleweyllyn Morriston
1915 11Jan Jenkins nurse Agnes Mabel Morriston
1915 11Jan Jenkins John Howell Morriston
1915 11Jan Jenkins Sydney Oswald Morriston
1915 11Jan Jenkins George Morriston
1915 12Jan Broderick pte Partick 11 John St Merthyr
1915 12Jan O'Brien rifleman M 29 Crescent St Merthyr Vale
1915 12Jan Owen pte Edward H Blackweir
1915 12Jan Morris pte W Chancery lane Canton son of George
1915 12Jan Canton capt W J Bargoed Dowlais
1915 12Jan Canton Arthur Bargoed
1915 12Jan Evans pte 54 Hirwaun Rd Gadlys Aberdare
1915 12Jan Bowman Alfred HMS Canopus 115 Cathays Terr Cardiff
1915 12Jan Bowman James HMS Canopus 115 Cathays Terr Cardiff
1915 12Jan Stewart pte W C 14 Castle St Newport
1915 12Jan Guest lce cpl S Blackwood
1915 12Jan Guest pte G Blackwood
1915 13Jan Jones pte Enoch Pontnewynydd
1915 13Jan Jones pte Charles Pontnewynydd
1915 13Jan Evans lce cpl E brother of Mrs Samuel of Carmarthen
1915 13Jan Murphy sgt Ben Picton St Caedraw Merthyr
1915 13Jan Murphy pte William Picton St Caedraw Merthyr
1915 13Jan Jones pte D Rhydyfelin
1915 13Jan Morgan Jim Bargoed FC
1915 13Jan Morgan George Bargoed FC
1915 13Jan Parsons sgt E H 112 John St Abercwmboi
1915 13Jan Jones pte D C Cardiff brother of Mrs Cronin
1915 13Jan Hitchings pte William Henry George St Pontypool
1915 13Jan Palfrey pte E 10 Foundry Rd Aberwychan
1915 14Jan Cotter cpl W J 57 Upper Church St Penrhiwceiber
1915 14Jan Cotter pte Thomas 57 Upper Church St Penrhiwceiber
1915 14Jan Evans pte W 1915 14Jan Cotter cpl W J Penrhiwceiber
1915 14Jan Griffiths Arthur Small Holdings Sully
1915 14Jan Griffiths H Walter Small Holdings Sully
1915 14Jan Griffiths Reginald Small Holdings Sully
1915 14Jan Niblett Fred Caerphilly and Ely Cardiff
1915 14Jan Niblett Bert Caerphilly and Ely Cardiff
1915 14Jan Jenkins pte J 90 Albert St Cardiff
1915 14Jan Creek pte Frederick Aberdovey St Cardiff
1915 14Jan Warren pte Lewis Bishop St Penygraig
1915 14Jan Rymon pte R 10 Ruby St Cardiff
1915 14Jan Smith Tiger Merthyr boxer
1915 14Jan Richards pte J 28 Brynhyfred Cwmaman
1915 14Jan Williams pte Thomas A 28 Winch Fawr Merthyr
1915 15Jan Hughes sgt William Cardiff Blue Ribbon Choir
1915 15Jan Kelly pte William G George St New Tredegar
1915 15Jan Morgan cpl W E Wernos Colliery workmen's ctte
1915 15Jan O'Brien pte Richard 42 Millicent St Cardiff
1915 15Jan Tudor pte David George Glanydon Newport Pembs
1915 15Jan France pte J S 11 Summerfield Pl Whitchurch
1915 15Jan Parry James Llansamlet
1915 15Jan Parry Emrys Llansamlet
1915 15Jan Parry Tom Llansamlet
1915 15Jan Wilcox George Canton Cardiff
1915 15Jan Wilcox John Canton Cardiff
1915 15Jan Douglas pte R Bruce Barry
1915 16Jan Morgan Esther Trenewydd Treherbert
1915 16Jan Morgan David Trenewydd Treherbert
1915 16Jan Morgan Thomas Trenewydd Treherbert
1915 16Jan Morgan Ben Trenewydd Treherbert
1915 16Jan Morgan Caleb Trenewydd Treherbert
1915 16Jan Morgan Will Trenewydd Treherbert
1915 16Jan Thomas Daniel Trenewydd Treherbert
1915 16Jan Thomas Dan Trenewydd Treherbert
1915 16Jan Thomas William John Trenewydd Treherbert
1915 16Jan Jones Benjamin John 17 Carlton Terr Troedyrhiw
1915 16Jan Jones David Renallt 17 Carlton Terr Troedyrhiw
1915 16Jan Jones William Edward 17 Carlton Terr Troedyrhiw
1915 16Jan Wilde Thomas New Tredegar
1915 16Jan Watts Percy Pembrokesire
1915 16Jan Edwards pte Edgar 7 Water St Carmarthen
1915 18Jan Pugh cpl M 1 Cardiff Rd Abercynon
1915 18Jan John cpl Gwilym Pontypridd
1915 18Jan Thomas police sgt Dick Bridgend
1915 18Jan Kendall pte Jim Tonyrefail boxer
1915 18Jan Sullivan pte Eugene Cardiff postman
1915 18Jan Evans pte John Haydn High St Ynysddu age 26
1915 18Jan Lewis capt C D Tredegar solicitor
1915 18Jan Bradford cpl E J Tredegar
1915 18Jan Weild pte postman Coronation Rd Letterston
1915 18Jan Purcell Mrs 40 Christina St Cardiff
1915 18Jan Purcell Edward 40 Christina St Cardiff
1915 18Jan Purcell Frederick 40 Christina St Cardiff
1915 18Jan Purcell Henry 40 Christina St Cardiff
1915 18Jan Purcell William 40 Christina St Cardiff
1915 18Jan East liet col L W P DSO to Lydd Kent
1915 19Jan Young pte T H Crindau Rd Newport
1915 19Jan Carne pte John 2 Brook Row Brynoethin
1915 19Jan Smith pte Sidney J Rope Walk Neath
1915 19Jan Lewis pte Tom Pontylottyn
1915 19Jan Howell PC Leonard Llandaff
1915 19Jan Jones pte Percy 95 High St Treorchy
1915 19Jan Price pte Charles Ystrad Mynach
1915 19Jan Carter pte S J Cross Keys GWR
1915 19Jan Richards cpl Matthew Nantyglo
1915 19Jan Roach William 20 Mary St Cilfynydd
1915 19Jan Roach Richard 20 Mary St Cilfynydd
1915 19Jan Roach Morris 20 Mary St Cilfynydd
1915 19Jan Williams midshipman D N M Cardiff HMS Kent
1915 19Jan Thomas sgt John Cardiff City battalion
1915 19Jan Phillips pte Tommy Neath boxing champ
1915 19Jan Lane pte Sammy 6th Welsh boxer
1915 19Jan Mitchell P S G E Glamorgan Constabulary
1915 19Jan Bevan lce cpl Harry St Brides Maj
1915 20Jan Barnfield sgt J L postmaster Talywaun
1915 20Jan Evans Percy 63 Catherine St Carmarthen
1915 20Jan Bevan 2nd lieut H Charles Whitchurch
1915 20Jan Murphy stoker D J 12 King St Penarth
1915 20Jan Cowan pte J 21 Herbert St Cardiff
1915 20Jan Davies pte Arthur Pen Y Bryn Port Talbot
1915 20Jan Sheen pte E Bedwellty Pits Tredegar
1915 20Jan Thomas pte E J Cardiff coal trimmer
1915 20Jan Morgan pte Evan Horeb St Pendarren Merthyr
1915 20Jan Goodacre lce cpl William Edmundstown Rhondda Valley
1915 20Jan Clarke pte H 8 Dunraven St Caerau Maesteg
1915 20Jan Jones pte D Ferndale
1915 20Jan Thomas pte W E 9 High St Ferndale
1915 20Jan Thomas trooper Arthur Bridgend football team
1915 20Jan Gill John James St Pontardulais
1915 20Jan Jones cty cllr William Cwmaman Aberdare
1915 21Jan Clarke J Barwell Trinity St Barry
1915 21Jan Clarke Barwell jnr Trinity St Barry
1915 21Jan Clarke George Trinity St Barry
1915 21Jan Clarke Tom Trinity St Barry
1915 21Jan Clarke Alfred Trinity St Barry
1915 21Jan Clarke Ivor Trinity St Barry
1915 21Jan Ball Edwin Dinas
1915 21Jan Ball William J Penygraig
1915 21Jan Ball Felix Nantgarw Pit
1915 21Jan Pridmore Richard 15 Powell St Swansea
1915 21Jan Pridmore W D 15 Powell St Swansea
1915 21Jan Pridmore Thomas J 15 Powell St Swansea
1915 21Jan Young gunner William Bailey Bach Rumney
1915 21Jan Young stoker Arthur Bailey Bach Rumney
1915 21Jan Young pte Edward Bailey Bach Rumney
1915 21Jan Morgan Thomas Moorland Rd Splott
1915 21Jan Ingledew lieut Norman M Cardiff
1915 22Jan Bons sgt James Waungron nr Pontardulais
1915 22Jan Morgan pte Charles 3 Moorland Rd Cardiff
1915 22Jan Gay sgt W H Neath
1915 22Jan McCarthy sgt J Taff St Cardiff
1915 22Jan Walton pte G E 130 Ystrad St Ystrad
1915 22Jan Slathiel pte George Treherbert
1915 22Jan Austin lce cpl T J Penywain Hirwain
1915 22Jan Walsh cpl William Crumlin boxer
1915 22Jan Hooper pte E C Conway Rd Newport
1915 22Jan Perry William Henry 9 King St Pontlottyn
1915 22Jan Perry Tom 9 King St Pontlottyn
1915 22Jan Loughlin pte T Trevethick St Merthyr
1915 23Jan Withers stoker W H Cardiff HMS Ajax
1915 23Jan Shirley 2nd lieut Welsh Horse
1915 25Jan Walling pte Ivor 21b Pembroke St Aberdare
1915 25Jan Davies pte W Cardiff 3rd Glocs Regiment
1915 25Jan Collins pte Daniel Dowlais and Bargoed
1915 25Jan Hooper pte George Victoria St Pontycymmer
1915 25Jan Haines pte William Mardy
1915 25Jan Baldwin pte W Pengam postman POW
1915 25Jan Williams pte William H John St Ynysddu and Tylorstown
1915 25Jan Roberts pte J C 54 Leyshon St Pontypridd
1915 25Jan Holwell pte G 12 Eirw Rd Porth
1915 26Jan Conroy quartermaster sgt son of John Conroy Cardiff Transvaal schoolmaster
1915 26Jan Delamain brig gen Walter S relative of Bish of Llandaff
1915 26Jan Don capt J A relative of Bish of Llandaff
1915 26Jan Don A W R relative of Bish of Llandaff
1915 26Jan Don Rev A C relative of Bish of Llandaff
1915 26Jan Don lieut R M relative of Bish of Llandaff
1915 26Jan Don lieut Frank P relative of Bish of Llandaff
1915 26Jan Hughes pte Norman Alfred relative of Bish of Llandaff
1915 26Jan Hughes pte Thomas McKenny relative of Bish of Llandaff
1915 26Jan Hughes lieut Geo Ravensworth relative of Bish of Llandaff
1915 26Jan Hughes lieut Alfred Weston relative of Bish of Llandaff
1915 26Jan Muller W de relative of Bish of Llandaff
1915 26Jan Price surgeon Alfred HMS Indomitable Carmarthen
1915 27Jan Edmond sapper Seward Kingsland Rd Cardiff
1915 27Jan Boucher lce cpl D H Taff Vale Railway Cardiff
1915 27Jan Gadd Gilbert 67 Brithdir St Cardiff
1915 27Jan Walsh pte R Troedrhiw
1915 27Jan Davies pte David Dowlais Iron Works Cardiff
1915 27Jan Dimond pte Edwin Treorchy St Cathays
1915 27Jan Baines pte W J Elim Cottage Tredegar
1915 27Jan Coles pte George Caerphilly
1915 27Jan Morgan pte William Porthcawl son of D Morgan fruiterer
1915 27Jan Saunders pte W J Llanelly
1915 27Jan Gay sgt W H Neath
1915 27Jan Conway pte T J Old Tavern Hotel Llangeinor
1915 27Jan Paget col Victor F W A brother in law of Earl of Plymouth
1915 27Jan Gray stoker W H HMS Tiger 167 Moorland Rd Splott
1915 27Jan Perkins chief petty officer Edgar HMS Tiger 13 Swindon St Cardiff
1915 27Jan Rees 2nd lieut John Trevor Penarth age 21
1915 28Jan Prosser Mr Swansea Sea scout
1915 28Jan Reynish Mr Swansea Sea scout
1915 28Jan Geen Mr Swansea Sea scout
1915 28Jan O'Connell Mr Swansea Sea scout
1915 28Jan Lloyd Mr Swansea Sea scout
1915 28Jan Lewis Henry St Julians Cottage Newport
1915 28Jan Lewis Walter St Julians Cottage Newport
1915 28Jan Lewis Steve St Julians Cottage Newport
1915 28Jan Lewis James St Julians Cottage Newport
1915 28Jan Lewis George St Julians Cottage Newport
1915 28Jan Walton William 17 Littleton St Canton Cardiff
1915 28Jan Walton George E 130 Ystrad Rd Ystrad
1915 28Jan Walton John 17 Litteton St Cardiff
1915 28Jan Walton Sam 17 Litteton St Cardiff
1915 28Jan Walton Albert 17 Litteton St Cardiff
1915 29Jan Morris sgt J 18 Upper Wood St Bargoed
1915 29Jan Evans pte Robert Porth
1915 29Jan Evans pte John 4 Ynyswen Rd Treorchy
1915 29Jan Jenkins pte R 22 Bedw Rd Cilfynydd
1915 29Jan Whitcombe Mr Senghennydd
1915 29Jan Whitcombe Mrs Senghennydd
1915 29Jan Whitcombe J J Senghennydd
1915 29Jan Whitcombe W T Senghennydd
1915 29Jan Whitcombe B A Senghennydd
1915 29Jan Griffiths G E Senghennydd
1915 29Jan Grinter F Senghennydd
1915 29Jan Nicholas William John Senghennydd
1915 29Jan Newman pte Reginald Pontypridd
1915 29Jan Watkins cpl D Three Cranes Hotel Pontypridd
1915 29Jan Williams pte John Pontypool
1915 29Jan Hayward pte Joe Pontypool rugby
1915 29Jan Ashman pte J Pontnewynydd
1915 29Jan Pettigrew Hugh head gardener for Earl of Plymouth
1915 30Jan Butcher sgt maj Royal Garrison Artillery Cardiff
1915 30Jan Maidment George 5 Salop St Penarth
1915 30Jan Maidment William 5 Salop St Penarth
1915 30Jan Maidment Henry 5 Salop St Penarth
1915 30Jan Maidment Fred 5 Salop St Penarth
1915 30Jan Davies Sydney nephew of Mrs Maidment of Penarth
1915 30Jan Davies Mrs Jones 11 Bryntaf Terr Aberfan
1915 30Jan Jones John Hugh 11 Bryntaf Terr Aberfan
1915 30Jan Jones Ellis 11 Bryntaf Terr Aberfan
1915 30Jan Jones Jabez 11 Bryntaf Terr Aberfan
1915 30Jan Jones Robert 11 Bryntaf Terr Aberfan
1915 30Jan Dancer bugler Willie age 15 Crown Hotel Bute St Cardiff
1915 01Feb Hartland pte James 104 Bartlett St Caerphilly
1915 01Feb Malone pte T 103 Cathays Terr Cardiff
1915 01Feb Winwood pte H Blaenavon
1915 01Feb Morgan pte R brother of Mrs Dunn 46 Henry St Newport
1915 01Feb Davies sub lieut L Fred coalowners South Wales Conciliation Board
1915 01Feb Davis trooper R Gwynne coalowners South Wales Conciliation Board
1915 01Feb Davis 2nd lieut Noel B coalowners South Wales Conciliation Board
1915 01Feb Davis 2nd lieut Cecil coalowners South Wales Conciliation Board
1915 01Feb Evans Albert E Trefriw and Ynyshir
1915 01Feb Evans George G Trefriw and Ynyshir
1915 01Feb Evans James A Trefriw and Ynyshir
1915 01Feb Evans Wilfred T Trefriw and Ynyshir
1915 02Feb Parsons sgt William Talywain
1915 02Feb Atkins pte J Cwmbran
1915 02Feb Evans pte David Seven Sisters
1915 02Feb Jeffries sgt G 7 Ashfield Tredegar
1915 02Feb Belt driver James Topaz St Cardiff
1915 02Feb Vaughan cpl S Blaenavon
1915 02Feb Forsey John Cardiff and Coed Ely Llantrisant
1915 02Feb Forsey Harold Cardiff and Coed Ely Llantrisant
1915 02Feb Forsey Samuel Cardiff and Coed Ely Llantrisant
1915 02Feb Forsey Charles Cardiff and Coed Ely Llantrisant
1915 02Feb Meredith George Chancey Lane Canton
1915 02Feb Martin R son in law of J R Forsey of Llantrisant
1915 02Feb Milroy S Smith army boxer
1915 02Feb Coleman Victor army boxer
1915 03Feb Breeze pte John Treharris son of John Breeze of Durham St Cardiff
1915 03Feb Lydard pte R Parry St Tylorstown
1915 03Feb Henderson pte Paul Tramroad Side Merthyr
1915 03Feb Brown lce cpl J teacher Ponybont School Bridgend
1915 03Feb Brown G H 3 Phyllis St Barry Island
1915 03Feb Brown A E 3 Phyllis St Barry Island
1915 03Feb Woods pte H Plasygammil Rd Goodwick
1915 03Feb Woods pte Frank Plasygammil Rd Goodwick
1915 03Feb Francis sgt J J Ferndale
1915 03Feb Davies sgt C Ferndale
1915 03Feb Lee pte Michael Tongwynlais
1915 03Feb Waters rifleman C Whitting St Glynneath
1915 03Feb Edwards RSM D Ferndale
1915 03Feb Steggles cpl gen Ferndale
1915 03Feb Sweet sgt J S Ferndale
1915 03Feb Jones RQMS W Jasper Ferndale
1915 03Feb Roberts sgt Geo J Ferndale
1915 03Feb Daniels Evan Ferndale
1915 04Feb Lancien mon N Frenchman Imperial Hotel Cardiff
1915 04Feb Evans pte T Merthyr St Barry
1915 04Feb Morris pte F Crogan Hill Barry
1915 04Feb Betts cpl A Merthyr St Barry
1915 04Feb Bailey pte H Bassett St Barry
1915 04Feb Hardy lce cpl Greenwood St Barry
1915 04Feb Protheroe lce cpl Greenwood St Barry
1915 04Feb Belby pte Barry
1915 04Feb Bumford cpl A Merthyr St Barry
1915 04Feb Waite cpl Philip Cardiff
1915 05Feb Harding W Newport
1915 05Feb Harding Edwin Sidney Newport
1915 05Feb Harding Mrs Newport
1915 05Feb Harding Frederick Gordon Newport
1915 05Feb Harding Godfrey Percival Newport
1915 05Feb Harding Arthur Clifford Sidney Newport
1915 05Feb O'Connor genl sir Luke Royal Welsh Fusiliers
1915 05Feb Parfitt capt deputy dockmaster Newport
1915 06Feb Bradley W Welsh Amateur boxer 7th batallion Welsh Regiment
1915 08Feb Rees pte Albert brother of Mrs Elkington Claude Rd Cardiff
1915 08Feb Vaughan pte Robart 49 Pentre Rd Mardy
1915 08Feb Smith pte Alfred Splotlands Cardiff
1915 08Feb Mahoney pte W 29 Greenfield Terr Pendarren Merthyr
1915 08Feb Powell pte J Deri
1915 08Feb Howell driver Emlyn Cymru Fydd Porth
1915 08Feb O'Brien pte Patrick Trevethick St Merthyr
1915 08Feb Geoghegan lce cpl W Merthyr
1915 08Feb Williams driver 42 Wharf Rd Newport
1915 08Feb Humphreys A Cardiff dispatch rider
1915 09Feb Williams stoker Stewart HMS Quail Gorseinon
1915 09Feb Davies Willie J HMS Ajax Morton Terr Clydach Vale
1915 09Feb Williams Graham HMS Meteor Railway St Cardiff
1915 09Feb Stamp stoker B HMS Tiger 10 Merthyr St Cathays
1915 09Feb Miles seaman Ivor W HMS Princess Royal 49 Bertram St Cardiff
1915 09Feb Griffiths stoker T G HMS Cornwall Melin Neath
1915 09Feb Shepherd leading stoker Christopher – HMS Lion Penarth
1915 09Feb O'Connor stoker Thomas Francis HMS Tiger Maritime Terr Pontypridd
1915 09Feb Grindell Frank HMS Berwick 77 Helen St Cardiff
1915 09Feb Parfitt Albert Henry Bendrick Rd Cadoxton
1915 09Feb Parfitt Bert Bendrick Rd Cadoxton
1915 09Feb Lock stoker Alec HMS Cornwall Saltmead Rd Cardiff
1915 09Feb Lynch Thomas Patrick 53 Llanelly St Cardiff
1915 10Feb Johnson drummer A Cardiff City Battalion
1915 10Feb Peters pte E Cardiff City Battalion
1915 10Feb Barnett W Cardiff City Battalion
1915 10Feb Williams W Cardiff City Battalion
1915 10Feb Rogers W Cardiff City Battalion
1915 10Feb Hadfield R Cardiff City Battalion
1915 10Feb Gale O Cardiff City Battalion
1915 10Feb Leary pte Swansea Military Hospital
1915 10Feb Delaney pte Jerry sportsmans battalion boxer
1915 10Feb Hooper Harry Fulham boxer
1915 10Feb Jaggers pte J boxing
1915 10Feb Matthews F J Abercarn
1915 11Feb Davies pte William 11 Old Park Terr Treforest
1915 11Feb Vizard lce cpl Cardiff
1915 11Feb Forweather lce cpl Henry St Newport
1915 11Feb Casey pte John Newtown Cardiff POW
1915 11Feb Durston pte W Argyle St Newport
1915 11Feb Ryan pte Patrick St Cenydd Terr Caerphilly
1915 11Feb Lloyd pte Evan David Commercial St Aberdare
1915 11Feb Lockwood pte T E Gelligroes Rd Pontlanfraith
1915 11Feb Wilkins pte W 125 Duffryn St Ferndale
1915 11Feb Warner driver Fred Ferndale
1915 11Feb Jenkins driver Thomas Hall St Aberdare
1915 11Feb Cooley pte C 1 Brick Rd Maesteg
1915 12Feb Webster Mr Hawkenbury Farm Tunbridge Wells
1915 12Feb Wootton Stanley jockey Royal Fusiliers
1915 12Feb Allen Thomas 56 Robert St Cathays Cardiff
1915 12Feb Allen Harry 56 Robert St Cathays Cardiff
1915 12Feb Allen Ivor 56 Robert St Cathays Cardiff
1915 12Feb Allen Godfrey 56 Robert St Cathays Cardiff
1915 12Feb Watkins W 7 Southend Bldgs Tredegar
1915 12Feb Watkins G 7 Southend Bldgs Tredegar
1915 12Feb Watkins James 7 Southend Bldgs Tredegar
1915 12Feb Watkins C 7 Southend Bldgs Tredegar
1915 13Feb Evans Emily matron Aberystwyth Infirmary
1915 13Feb Ashman William Cardiff
1915 13Feb Ashman Arthur Cardiff
1915 13Feb Godwin pte Fred Cardiff City Battalion
1915 13Feb Smith capt Aubrey Swansea battalion
1915 13Feb Weeks pte Sam Deri Harriers FC
1915 13Feb Watts lce cpl D 5 Bethania St Maesteg
1915 13Feb Thriepland lieu col William Murray Welsh guards
1915 15Feb Pope PC J Pontlottyn
1915 15Feb Hamilton pte E Newport POW
1915 15Feb Cox pte J Bridgend Terr Cwmtillery
1915 15Feb Davies Arthur W 8 Belle Vue Cres Llandaff North Cardiff
1915 15Feb Davies Herbert 8 Belle Vue Cres Llandaff North Cardiff postman Newport
1915 15Feb Davies Henry 8 Belle Vue Cres Llandaff North Cardiff
1915 15Feb John PC J H Bargoed
1915 15Feb John Tom Aberbargoed
1915 15Feb Evans W H teacher Bargoed school
1915 15Feb Crawshay lieut 3rd battalion Welsh Regiment
1915 16Feb Musty pte James 77 Mill Rd Caerphilly
1915 16Feb Perry gunner Frank 139 Pearl St Cardiff
1915 16Feb Field Harry Baglan nr Briton Ferry
1915 16Feb Hedger drummer W Essex Regiment
1915 16Feb Propert capt SS Laertes
1915 16Feb Foa Dennis Cardiff
1915 16Feb Davey capt Hillside Dinas Powis
1915 17Feb Driscoll sgt Jack Newport boxer
1915 17Feb Shepherd lce cpl R P Blaenblodau St Newbridge
1915 17Feb Vernon pte Charles Cwmffrwdoer
1915 17Feb Lewis pte W J Deri
1915 17Feb Lawrence pte John age 18 Penyrhoel Caerphilly
1915 17Feb Morris pte Fred Bargoed
1915 17Feb Butler lce cpl W Aberystwyth POW
1915 17Feb Harvey pte Walter 18 Princess St Maesteg
1915 17Feb Gadd pte W H Abercynon
1915 17Feb Wynne-Jones George Vyvyan Cardiff
1915 18Feb Healy Edward James brother of F J Healy of Pontycymmer
1915 18Feb Healy sgt Charles brother of F J Healy of Pontycymmer
1915 18Feb Healy William Henry brother of F J Healy of Pontycymmer
1915 18Feb Healy Francis J Bridgend Rd Pontycymmer
1915 18Feb Morgan Thomas age 37 son of Mrs Morgan 4 Aberystwyth St Cardiff
1915 18Feb Morgan Frederick age 32 son of Mrs Morgan 4 Aberystwyth St Cardiff
1915 18Feb Morgan Alfred age 30 son of Mrs Morgan 4 Aberystwyth St Cardiff
1915 18Feb Morgan John Walter son of Mrs Morgan 4 Aberystwyth St Cardiff
1915 18Feb Hopkins pte John Cefn Cribbwr
1915 18Feb Scanlon trooper Partick Abertysswg
1915 18Feb Boulton driver E 33 Alexander Rd Ynysddu
1915 18Feb Humphreys gunner H 175 Cairns St Cardiff
1915 18Feb Rees 2nd lieut Brinley Whitchurch
1915 18Feb Keefe lce cpl J 28 Dolyfelin St Caerphilly
1915 18Feb Hunter capt SS Dulwich Cardiff steamer
1915 19Feb Townley C H Llanbradach
1915 19Feb Townley Edward Llanbradach
1915 19Feb Townley Arthur Llanbradach
1915 19Feb Townley John Ynysddu
1915 19Feb Fussell S W Crumlin Burrows Swansea
1915 19Feb Fussell G E W Crumlin Burrows Swansea
1915 19Feb Fussell Joseph Crumlin Burrows Swansea
1915 19Feb Fussell Charles Crumlin Burrows Swansea
1915 19Feb Edmunds sgt C 26 Alfred St Maesteg
1915 19Feb Davies pte Oscar Nantymoel parents Tenby
1915 19Feb Jones pte D Ogwy St Nantymoel
1915 19Feb Lee pte George Wanngod Nantymoel
1915 19Feb Charter cpl Edward New Tredegar
1915 19Feb Lloyd D W steamship Laertes Dowlais
1915 19Feb Griffiths lieut col Henry D Griffithstown
1915 20Feb Thomas A Charles HMS Carnarvon Solva
1915 20Feb Evans stoker W J Graig Terr Ferndale
1915 20Feb Fussell A H Crumlin Burrows Swansea
1915 20Feb Bonning stoker Charles 14 Cathays Terr Cardiff
1915 20Feb Jones stoker D B 27 Protheroe St Ferndale
1915 20Feb Daniels George HMS Lion Cardiff
1915 20Feb Haines G H HMS Mersey Swansea
1915 20Feb Bagshaw Sydney HMS Benbow Cardiff
1915 20Feb Symmonds Edgar Gilfach Goch
1915 20Feb Morgan Ivor Gilfach Goch
1915 20Feb Symmonds Reginald Gilfach Goch
1915 20Feb Parsons sgt Cardiff recruiting HQ
1915 20Feb Rowlands T W Taffs Well
1915 20Feb Galloway capt C F J Cardiff
1915 22Feb Scott pte Thomas 52 Saltmead Rd Cardiff
1915 22Feb Howells pre Isaiah 47 Walter St Tredegar
1915 22Feb Leigh pte Gilbert Llanbradach
1915 22Feb Williams pte William 99 Edward St Mardy
1915 22Feb Evans pte Morgan Owen 124 Bridgend Rd Garth Maesteg
1915 22Feb Dudley pte Dick Ferndale
1915 22Feb Nicholls E HMS Erin Norton Villa Trebanog Rd Porth
1915 22Feb Morgan E T brother of Mrs Nicholls of Norton Villa Trebanog Rd Porth
1915 22Feb Morgan George brother of Mrs Nicholls of Norton Villa Trebanog Rd Porth POW
1915 22Feb McDonald lieut Carmarthenshire battalion Welsh Regiment
1915 22Feb Samson lieut Carmarthenshire battalion Welsh Regiment
1915 22Feb Lewis R Lewis international footballer
1915 22Feb Adams sgt Fulham footballer
1915 22Feb Prescott capt Thomas Cardiff steamer Cambank
1915 23Feb Finnes William Eldon Rd Cardiff
1915 23Feb Castle A son in law of Mrs Finnes of Eldon Rd Cardiff
1915 23Feb Finnes Frederick Eldon Rd Cardiff
1915 23Feb Finnes D Eldon Rd Cardiff
1915 23Feb Hambly E stepson of William Finnes of Eldon Rd Cardiff
1915 23Feb Finnes lce cpl William Eldon Rd Cardiff
1915 23Feb Evans pte Ben 8 Golden Terr Maesteg
1915 23Feb Griffiths pte Jonah 10 Duke St Maesteg
1915 24Feb Williams Trevor Ark Royal son of Frank Williams of Maesteg
1915 24Feb Kydd pte John 36 Stentley St Senghenydd
1915 24Feb Townsend pte W Cefn Cribbwr
1915 24Feb Baldwin pte Herbert 48 Fair View Pengam
1915 24Feb James pte William Penygroes Clynderwyn and Treharris
1915 24Feb Fellows pte William 18 Lower Central St Ystradmynach
1915 24Feb Miles pte Harry Ogwy St Nantymoel
1915 24Feb Porter pte J H 31 Florentia St Cardiff
1915 24Feb McGrath pte Patrick 3 Maesteg Row Maesteg
1915 24Feb Lewis pte W M 31 Arthur St Abertysswg
1915 24Feb McGrath lce cpl John Maesteg
1915 24Feb Gibson pte H A Grangetown
1915 24Feb Bond maj C E 13th battalion Welsh Regiment
1915 24Feb Swane Charles Baden Portakewett
1915 24Feb Cossey sgt maj W G Welsh Guards
1915 24Feb Jenkins quartermaster sgt maj Welsh Guards
1915 25Feb Price Edward 53 Oxford St Mardy
1915 25Feb Evans David John Oxford St Mardy
1915 25Feb Owen Thomas Oxford St Mardy
1915 25Feb Jeffreys Dan 6 Parade Ferndale
1915 25Feb Price Henry 53 Oxford St Mardy
1915 25Feb Kelly Robert Richards St Mardy
1915 25Feb Barter comp sgt maj F Royal Welsh Fusiliers
1915 25Feb Barter pte John Thomas 60 Daniel St Cathays Cardiff
1915 25Feb Williams maj Jestyn Monmouthshires
1915 25Feb Kilpatrick lieut Clarence H 54th Brigade Royal Field Artillery
1915 25Feb Williams Henry 27 Grove Rd Bridgend
1915 25Feb Williams Beresford 27 Grove Rd Bridgend
1915 25Feb Williams Albert Henry 27 Grove Rd Bridgend
1915 25Feb Williams Frederick George 27 Grove Rd Bridgend
1915 25Feb Anstey Capt 55 Branksome Chine
1915 25Feb Bartlett Capt steamer Oakby
1915 26Feb Vaughan J A 7 Old Post Office Lane Brynmawr
1915 26Feb Davies D J brother of Mrs Vaughan of Brynmawr
1915 26Feb Davies E J brother of Mrs Vaughan of Brynmawr
1915 26Feb Davies J brother of Mrs Vaughan of Brynmawr
1915 26Feb Webber G brother in law of Mrs Vaughan of Brynmawr
1915 26Feb Vaughan W brother in law of Mrs Vaughan of Brynmawr
1915 26Feb Hambleton Stanley Garfield St Blackwood
1915 26Feb Hambleton Reginald Garfield St Blackwood
1915 26Feb Povey gunner Albert John HMS Ajax nephew of Mrs Bunce of Cardiff
1915 27Feb Saysell cpl Tom Newport
1915 27Feb Hudd pte Alfred Llanbradach
1915 27Feb Hall sgt G Cumberland Rd Newport
1915 27Feb Givons 2nd lieut A D Marlbrough Rd Newport
1915 27Feb Carpentier George boxer POW
1915 27Feb Brewis William 33 Ailsbury St Newport
1915 27Feb Brewis John 33 Ailsbury St Newport
1915 27Feb Brewis Joseph 33 Ailsbury St Newport
1915 27Feb Price Arthur 18 Llanarth Rd Pontllanfraith
1915 27Feb Price Wyndham 18 Llanarth Rd Pontllanfraith
1915 27Feb Price Stanley 18 Llanarth Rd Pontllanfraith
1915 27Feb Longville sgt Neptune Inn Caroline St Cardiff
1915 27Feb Reed Mr Neptune Inn Caroline St Cardiff
1915 27Feb Reed Mrs Neptune Inn Caroline St Cardiff
1915 27Feb Parsons sgt Neptune Inn Caroline St Cardiff
1915 27Feb Jones capt C Worthington Shrewsbury
1915 01Mar Morgan driver D J Dinas
1915 01Mar Harris pte Rees 15 Woodland Terr Mountain Ash
1915 01Mar Thorn pte T 3 Colliery Rd Dinas
1915 01Mar Wilcox Fred 62 Cairns St Cardiff
1915 01Mar Wilcox Arthur 62 Cairns St Cardiff
1915 01Mar Davies lce cpl son in law of Isaac Wilcox 62 Cairns St Cardiff
1915 01Mar Owens pte E H son in law of Isaac Wilcox 62 Cairns St Cardiff
1915 01Mar Dorsett Henry son in law of Isaac Wilcox 62 Cairns St Cardiff
1915 01Mar Donovan Patrick son in law of Isaac Wilcox 62 Cairns St Cardiff
1915 01Mar Shayler Mr Frederick Pontycymmer
1915 01Mar Shayler Mrs Pontycymmer
1915 01Mar Shayler Percival Pontycymmer
1915 01Mar Shayler Frank Pontycymmer
1915 01Mar Shayler Frederick Pontycymmer
1915 01Mar Shayler Sidney Pontycymmer
1915 01Mar Miller pte Jesse Varteg
1915 02Mar Stephens lce cpl Wilfred son of Samuel Whitchurch and Llanelly
1915 02Mar Stephens lce cpl Ernest son of Samuel Whitchurch and Llanelly
1915 02Mar Stephens gunner William son of Samuel Whitchurch and Llanelly
1915 02Mar Stephens driver Idris son of Samuel Whitchurch and Llanelly
1915 02Mar Stephens gunner George son of Samuel Whitchurch and Llanelly
1915 02Mar Bentley sgt Skewen
1915 02Mar Davies James 14 Ruperra St Newport
1915 02Mar Davies Alfred 14 Ruperra St Newport
1915 02Mar Davies Frederick 14 Ruperra St Newport
1915 02Mar Little cpl E James 35 Richards Terr Roath Cardiff
1915 02Mar Wilson pte W 85 Porthkerry Rd Barry
1915 02Mar George Herbert J Cardiff student
1915 02Mar Ward sgt Soberton Ave
1915 03Mar Stickler Oliver Hirwaun St Cardiff
1915 03Mar Stickler George Hirwaun St Cardiff
1915 03Mar Stickler Wallace Hirwaun St Cardiff
1915 03Mar Stickler Ivor Hirwaun St Cardiff
1915 03Mar Stickler Matthew Hirwaun St Cardiff
1915 03Mar Granger William gt grandson of Wm Stickler of Cardiff
1915 03Mar Edwards pte Henry 68 Lewis Terr Porth
1915 03Mar Morgan pte D J Dinas
1915 03Mar Jones pte Daniel 34 Livingstone Pl Newport
1915 04Mar Davies pte Edgar son of Mrs Walter Davies of New St Solva
1915 04Mar Henwood pte A 15 Pit St Garth Maesteg
1915 04Mar Davies pte B D Ferryside
1915 04Mar Jenkins pte George 12 Victoria St Treherbert
1915 04Mar Squires pte Charles 14 Bedwas St Caerphilly
1915 04Mar Kiley Mr J Pontlottyn
1915 04Mar Kiley Mike Pontlottyn
1915 04Mar Kiley John Pontlottyn
1915 04Mar Kiley Jim Pontlottyn
1915 04Mar Kiley Dan Pontlottyn
1915 04Mar Hope capt George Price Webley HMS Queen Elizabeth
1915 05Mar Collins Thomas son of Mrs Pritchard 69 High St Penydarren Merthyr
1915 05Mar Collins George son of Mrs Pritchard 69 High St Penydarren Merthyr
1915 05Mar Collins Rees James son of Mrs Pritchard 69 High St Penydarren Merthyr
1915 05Mar Collins William son of Mrs Pritchard 69 High St Penydarren Merthyr
1915 05Mar Collins Taliesin son of Mrs Pritchard 69 High St Penydarren Merthyr
1915 05Mar Collins Richard son of Mrs Pritchard 69 High St Penydarren Merthyr
1915 05Mar Sawyer sgt maj E J Cardiff
1915 05Mar Llewellyn com QM sgt Tom Cardiff
1915 05Mar Bowsher Albert Edward 97 Cilfynydd Rd Cilfynydd
1915 05Mar Bowsher Henry James 97 Cilfynydd Rd Cilfynydd
1915 05Mar Shearman 2nd lieut Alexander Cardiff
1915 05Mar Kelly 2nd lieut W P Cardiff
1915 05Mar Watkins stoker F Bromsgrove St Grangetown
1915 05Mar Williams leading seaman John Devon St Grangetown
1915 06Mar Layland Joseph brother of Mrs Crouch of Tredegar
1915 06Mar Layland William brother of Mrs Crouch of Tredegar
1915 06Mar Layland Charles brother of Mrs Crouch of Tredegar
1915 06Mar Layland Reuben brother of Mrs Crouch of Tredegar
1915 06Mar Calford Edward Cardiff
1915 06Mar Calford William Cardiff
1915 06Mar Calford Thomas Cardiff
1915 06Mar Calford David Cardiff
1915 06Mar Steel col W D at Abergavenny
1915 06Mar Duberley Mrs at Abergavenny
1915 06Mar Bell maj at Abergavenny
1915 08Mar Grindell John 77 Helen St
1915 08Mar Grindell Alfred 77 Helen St
1915 08Mar Grindell William 77 Helen St
1915 08Mar Grindell Teddie 77 Helen St
1915 08Mar Avery F 4 Alexandra Rd Ynysddu
1915 08Mar Avery R H 4 Alexandra Rd Ynysddu
1915 08Mar James PC Alfred Pontypridd formerly Port Talbot
1915 08Mar Lewis Gus Cardiff rugby forward
1915 08Mar Jones lce cpl Richard 65 Bridgend Rd Maesteg
1915 09Mar Wood pte Christopher St Ann St Gilfach Bargoed
1915 09Mar Wood pte William St Ann St Gilfach Bargoed
1915 09Mar Edwards pte A Cardiff
1915 09Mar Riley pte E Cardiff
1915 09Mar McLusky trooper A J 17 North Church St Cardiff
1915 09Mar Fletcher pte A S Roath Park
1915 09Mar Miles Jack Wern Cres Nelson
1915 09Mar Morgan lce cpl W J Barry
1915 10Mar Elward pte William High St Nantyfyllon Maesteg
1915 10Mar Owens pte Owen 1st Devons
1915 10Mar Price pte George 149 Bridgend Rd Garth Maesteg
1915 10Mar Thomas pte T D 2 Victoria St Treherbert
1915 10Mar O'Shea pte John 68 Commercial St Maesteg
1915 10Mar Phillips gunner T J 2nd Canadian Overseas cont son S Phillips Rynmney rlwy
1915 10Mar Anderson stoker Charles 'Lion' Moorland Rd School Cardiff
1915 10Mar Wilson Daniel 'Lion' Moorland Rd School Cardiff
1915 10Mar Hurford stoker Clifford 'Lion' Moorland Rd School Cardiff
1915 10Mar Daniel George 'Lion' Moorland Rd School Cardiff
1915 11Mar O'Toole James survivor of SS Tangistan
1915 11Mar Western Henry 60 Severn Rd Canton Cardiff
1915 11Mar Western William J 60 Severn Rd Canton Cardiff
1915 11Mar Western James 60 Severn Rd Canton Cardiff
1915 11Mar Western Albert 60 Severn Rd Canton Cardiff
1915 11Mar Jones Charles Alexander St Abertysswg
1915 11Mar Jones Joseph Alexander St Abertysswg
1915 11Mar Jones William John Alexander St Abertysswg
1915 11Mar Jones Alfred E Alexander St Abertysswg
1915 11Mar O'Shea pte Michael 70 Ethel St Cardiff
1915 11Mar Green pte Thomas 39 Russell St Cardiff
1915 13Mar Criddle Charles age 25 of 63 Pearl St
1915 13Mar Criddle William age 20 of 63 Pearl St
1915 13Mar Criddle Fred age 18 of 63 Pearl St
1915 13Mar Payne Walter Cathays Cardiff
1915 13Mar Payne Sidney J Cathays Cardiff
1915 13Mar Rees pte John 22 Henry St Gilfach Goch
1915 13Mar Hickson pte T W 46 Rhyd Terr Tredegar
1915 15Mar Field Isaac Cwm Cottage Buglan Briton Ferry
1915 15Mar Field Edmund Cwm Cottage Buglan Briton Ferry
1915 15Mar Field Charles Cwm Cottage Buglan Briton Ferry
1915 15Mar Field Harry Cwm Cottage Buglan Briton Ferry
1915 15Mar Evans Joe 18 Lyle St Mountain Ash
1915 15Mar Evans Tom 18 Lyle St Mountain Ash
1915 15Mar Evans Ted 18 Lyle St Mountain Ash
1915 15Mar Thomas Ted nephew of Mrs Evans 18 Lyle St Mountain Ash
1915 15Mar Hughes cpl Ben Gorseinon
1915 15Mar Jones lce cpl Ben Gorseinon
1915 15Mar Bassett pte Stanley Gorseinon
1915 15Mar Bevan Dick Gorseinon
1915 15Mar Williams Joe Gorseinon
1915 15Mar Geen Joe Gorseinon
1915 15Mar Lewis capt David Hamilton St Fishguard
1915 15Mar Watkins pte Jack son of Wm Watkins 88 Hazelhurst St Llandaff North
1915 15Mar Bracey sgt A Glyn Terr Tredegar
1915 15Mar Blythe PC Merthyr
1915 15Mar Pope maj E A 3rd Welsh
1915 15Mar Milton stoker William 41 Cornelia St Cardiff
1915 15Mar Webb pte Shirley Marsden age 15 1/2 Brecon
1915 15Mar Lynch gunner T P Cardiff
1915 16Mar Voyles pte 1st Irish Guards
1915 16Mar Jones William 12 Railway Terr Pontyberem
1915 16Mar Jones Samuel 12 Railway Terr Pontyberem
1915 16Mar Jones Dan 12 Railway Terr Pontyberem
1915 16Mar Lock Arthur 104 Saltmead Rd Cardiff
1915 16Mar Lock Thomas 104 Saltmead Rd Cardiff
1915 16Mar Nichols Thomas son in law of Mr Lock 104 Saltmead Rd Cardiff
1915 16Mar Bamon Tom comedian Bridgend
1915 16Mar French lce cpl S 1st Dorsets
1915 16Mar Kitchener pte S 1st Bedfords
1915 17Mar Stokes capt A V W St Botolphs Pembrokeshire
1915 17Mar Taylor lieut J W schoolmaster Pontywaun
1915 17Mar Picton pte William J Dudley St Docks Cardiff
1915 17Mar Morgan pte Thomas Ogmore Vale
1915 18Mar Smith pte William son of Alice Smith 51 Compton St Saltmead
1915 18Mar Lewis John 5 Long Row New Tredegar
1915 18Mar Lewis David 5 Long Row New Tredegar
1915 18Mar Lewis John son of 5 Long Row New Tredegar
1915 18Mar Lewis Joshua son of 5 Long Row New Tredegar
1915 18Mar Lewis Robert son of 5 Long Row New Tredegar
1915 18Mar Lewis Lemuel son of 5 Long Row New Tredegar
1915 18Mar Jones W nephew of 5 Long Row New Tredegar
1915 18Mar Lewis Evan nephew of 5 Long Row New Tredegar
1915 18Mar Price sgt Tom old recruiting officer Cardiff and Bristol
1915 18Mar McConnell Patrick 48 Thesiger St Cardiff
1915 19Mar Lewis William O 111 Richards St Cathays Cardiff
1915 19Mar Lewis Victor 111 Richards St Cathays Cardiff
1915 19Mar Lewis Alfred 111 Richards St Cathays Cardiff
1915 19Mar Lewis Charles 111 Richards St Cathays Cardiff
1915 19Mar Ferguson W C 3 Cross St Maindy Cardiff
1915 19Mar Ferguson A E 3 Cross St Maindy Cardiff
1915 19Mar Ferguson E W 3 Cross St Maindy Cardiff
1915 19Mar Ferguson T W 3 Cross St Maindy Cardiff
1915 20Mar Thomas William manager Canton Cattle Market Cardiff
1915 20Mar Thomas Mrs wife of manager Canton Cattle Market Cardiff
1915 20Mar Thomas PC Vincent son of manager Canton Cattle Market Cardiff
1915 20Mar Thomas pte Evan son of manager Canton Cattle Market Cardiff
1915 20Mar Thomas Alex son of manager Canton Cattle Market Cardiff
1915 20Mar Thomas Gordon son of manager Canton Cattle Market Cardiff
1915 20Mar Thomas gunner Terence son of manager Canton Cattle Market Cardiff
1915 20Mar Thomas cpl W 2nd Welsh awarded DCM
1915 22Mar Bickel lieut Archibald brother of Miss Bickel St Mary St Cardiff
1915 22Mar Bickel lieut George brother of Miss Bickel St Mary St Cardiff
1915 22Mar Whitehead lieut L D MD Deighton Ironworks Tredegar
1915 22Mar Trigg pte W C 99 Jubilee Rd New Tredegar
1915 22Mar Cambray lce cpl George Chepstow Rd Newport
1915 22Mar Hicks stoker Frank Bertram St Roath
1915 22Mar Turner drummer F 23 Dorset St Cardiff
1915 22Mar Jones Ernie Aberbargoed Football Club
1915 22Mar Jones pte D son of Mrs Christopher of 56 Incline Row Cwmaman
1915 22Mar Basham sgt Royal Welsh Fusiliers boxer
1915 22Mar Wells Matt English Hebrew boxer
1915 22Mar Maitland lce cpl 11th battalion Welsh Regiment boxer
1915 22Mar Cavel lce cpl 11th battalion Welsh Regiment boxer
1915 22Mar George lce cpl T 11th battalion Welsh Regiment boxer
1915 22Mar Edmunds 2nd lieut H J Whitchurch
1915 22Mar Herne 2nd lieut Dudley 11th battalion Welsh Regiment boxer
1915 23Mar Williams Edward 32 Bryntaf Terr Aberfan
1915 23Mar Williams Eddie 32 Bryntaf Terr Aberfan
1915 23Mar Williams Tom 32 Bryntaf Terr Aberfan
1915 23Mar Williams William 32 Bryntaf Terr Aberfan
1915 23Mar Williams Arthur 32 Bryntaf Terr Aberfan
1915 23Mar Woods Charles Worcester St Brynmawr
1915 23Mar Woods Samuel Worcester St Brynmawr
1915 23Mar Woods Arthur Worcester St Brynmawr
1915 23Mar Johns Joe Merthyr boxer Royal Engineers
1915 24Mar Robinson Albert 23 Hewell St Grangetown
1915 24Mar Robinson Charles 23 Hewell St Grangetown
1915 24Mar Robinson George 23 Hewell St Grangetown
1915 24Mar Blinman gunner W Ogmore
1915 24Mar Tait lieut J R Cardiff Commercial Battalion
1915 24Mar Hybart lieut Fred L Cardiff
1915 24Mar Derry pte C 2nd Welsh
1915 24Mar Derry pte E 2nd Welsh
1915 25Mar Parfitt Charles William – Bendrick Rd Cadoxton
1915 25Mar Parfitt Harry Bendrick Rd Cadoxton
1915 25Mar Hockaday lieut Percy H Australia and Lydney
1915 25Mar Bishop pte George 6 Graig View Ynysddu
1915 25Mar Powell sapper Fred 11 Killcatten St Cardiff
1915 25Mar Powell Thomas 11 Killcatten St Cardiff
1915 25Mar Davies cpl E Ogmore
1915 25Mar Lewis cpl Tom Ogmore footballer
1915 25Mar Lewis cpl Lewis Ogmore footballer
1915 25Mar Lloyd capt H C L adjutant 3rd Welsh
1915 27Mar Pinkard Edwin 5 Bridge St Ogmore Vale
1915 27Mar Pinkard Fred 5 Bridge St Ogmore Vale
1915 27Mar Pinkard Will 5 Bridge St Ogmore Vale
1915 27Mar Lloyd pte E Alwyn New Quay Cardigan and Llanelly
1915 27Mar Simmond rifleman J H Ynysddu
1915 29Mar Edwards W E brother of T G Edwards 1 Carne St Cwm Mon
1915 29Mar Edwards A C brother of T G Edwards 1 Carne St Cwm Mon
1915 29Mar Edwards R J brother of T G Edwards 1 Carne St Cwm Mon
1915 29Mar Edwards J brother of T G Edwards 1 Carne St Cwm Mon
1915 29Mar Edwards G brother of T G Edwards 1 Carne St Cwm Mon
1915 29Mar Lock Richard John 12 Ivy St Canton
1915 29Mar Lock Wilfred George 12 Ivy St Canton
1915 29Mar Lock William 12 Ivy St Canton
1915 29Mar Morton W Caerleon
1915 29Mar Morton T Caerleon
1915 29Mar Morton H Caerleon
1915 29Mar Whitby pte 4 Ann St Swansea
1915 30Mar David Thomas James Bridgend
1915 30Mar David Evan Griffith Bridgend
1915 30Mar David Oscar Bridgend
1915 30Mar Hammett Charles The Oaks Chepstow Rd Newport
1915 30Mar Hammett Frederick George The Oaks Chepstow Rd Newport
1915 30Mar Hammett Ernest The Oaks Chepstow Rd Newport
1915 30Mar George David nephew of Mrs Hopkins of 58 Penarth Rd Cardiff
1915 30Mar Bowen pte W J New St Ferndale
1915 30Mar Williams pte David Robert Pontardulais
1915 30Mar Palmer Frederick 33 Railway St Cardiff
1915 30Mar Palmer William George 33 Railway St Cardiff
1915 30Mar Palmer Thomas H 33 Railway St Cardiff
1915 30Mar Palmer William 33 Railway St Cardiff
1915 30Mar Palmer Charles 33 Railway St Cardiff
1915 31Mar Watkins William 88 Hazelhurst Llandaff North
1915 31Mar Watkins Steve 88 Hazelhurst Llandaff North
1915 31Mar Watkins William jnr 88 Hazelhurst Llandaff North
1915 31Mar Cosh John Alfred 17 Railway St Cardiff
1915 31Mar Cosh William Humphrey 17 Railway St Cardiff
1915 31Mar Cosh Tom 17 Railway St Cardiff
1915 31Mar Evans Mr Henry 33 Llantrisant Rd Graig Pontypridd
1915 31Mar Evans Mrs 33 Llantrisant Rd Graig Pontypridd
1915 31Mar Evans William 33 Llantrisant Rd Graig Pontypridd
1915 31Mar Evans Thomas 33 Llantrisant Rd Graig Pontypridd
1915 31Mar Evans Richard 33 Llantrisant Rd Graig Pontypridd
1915 31Mar Evans Arthur 33 Llantrisant Rd Graig Pontypridd
1915 31Mar Evans David 33 Llantrisant Rd Graig Pontypridd
1915 31Mar Evans Henry 33 Llantrisant Rd Graig Pontypridd
1915 31Mar Herring Albert Eldon Rd Cardiff
1915 31Mar Llewellyn pte D Leicester Square Gelligaer
1915 31Mar Rowles pte Cardiff 7th Welsh Regiment (cyclists)
1915 31Mar Roberts pte Cardiff 7th Welsh Regiment (cyclists)
1915 01Apr Hughes William Richard 66 James St Mardy
1915 01Apr Davies William 52 Griffiths St Mardy
1915 01Apr Ricker H F 57 Cwmdare St Cardiff
1915 01Apr Edwards Edward Morgan Stuart St Treorchy
1915 01Apr Morgan John Lewis Herbert St Treorchy
1915 01Apr Sheraton H Aberystwyth
1915 01Apr Thomson George Cardiff City Police
1915 01Apr Thomson George William Cardiff
1915 01Apr Thomson Roy Cardiff
1915 01Apr Thomson Alexander Cardiff
1915 01Apr Hoolan Timothy 23 Garn Terrace Waun Llwyd
1915 01Apr Hoolan James 23 Garn Terrace Waun Llwyd
1915 01Apr Hoolan Daniel 23 Garn Terrace Waun Llwyd
1915 01Apr Blakeney lieut St Ledger Thorpe Salvin nr Workson
1915 01Apr Johnston pte George E 26 Tymawr Rd Llandaff North
1915 01Apr Gibbon Williams Penrhiwceiber Rd Penrhiwceiber
1915 01Apr Gibbon Bert Penrhiwceiber Rd Penrhiwceiber
1915 01Apr Gibbon Tom Penrhiwceiber Rd Penrhiwceiber
1915 01Apr Gibbon Oswald Penrhiwceiber Rd Penrhiwceiber
1915 03Apr Sayers G tin workers Abercarn
1915 03Apr Weston W tin workers Abercarn
1915 03Apr Tayler T tin workers Abercarn
1915 03Apr Thomas P tin workers Abercarn
1915 03Apr Keen sgt maj tin workers Abercarn
1915 03Apr Bustin sgt tin workers Abercarn
1915 03Apr Hargreaves H tin workers Abercarn
1915 03Apr Richardson T tin workers Abercarn
1915 03Apr Rees J tin workers Abercarn
1915 03Apr Phillips J tin workers Abercarn
1915 03Apr Coombes T tin workers Abercarn
1915 03Apr Farr S tin workers Abercarn
1915 03Apr Wilson J tin workers Abercarn
1915 03Apr Lewis H tin workers Abercarn
1915 03Apr Harley F tin workers Abercarn
1915 03Apr Williams W tin workers Abercarn
1915 03Apr Hamel T tin workers Abercarn
1915 03Apr Williams N tin workers Abercarn
1915 03Apr Jones cpl tin workers Abercarn
1915 03Apr Williams T tin workers Abercarn
1915 03Apr Simmons J tin workers Abercarn
1915 03Apr Brown P tin workers Abercarn
1915 03Apr Pollard sgt tin workers Abercarn
1915 03Apr Watkins W tin workers Abercarn
1915 03Apr White P tin workers Abercarn
1915 03Apr Gardener F tin workers Abercarn
1915 03Apr Walters H tin workers Abercarn
1915 03Apr Russell Ben tin workers Abercarn
1915 03Apr Samuel G Cardiff
1915 03Apr Stott Eric Cardiff
1915 03Apr Lashford C Cardiff
1915 03Apr Hicks D Cardiff
1915 03Apr Rees Morgan Cardiff
1915 03Apr Bravo Tom Cardiff
1915 03Apr Davies T Cardiff
1915 03Apr Thomas William J J Gelli Rhondda torpedoed Falaba
1915 05Apr Cainan cpl D W Albert St Llanelly
1915 05Apr Evans C Blaenilechan
1915 05Apr McLean Rev J Reynolds Cardiff
1915 06Apr Morris A F Cardiff
1915 06Apr Davies cpl T H 16 Rees Terr Llanbradach
1915 07Apr Horton pte Indian Mutiny veteran Cardiff
1915 07Apr Moseley sgt Indian Mutiny veteran Cardiff
1915 07Apr Shaw pte C Archibald St Newport
1915 07Apr Morgan pte Victor Canadian grandson of Josiah Morgan of Whitchurch
1915 08Apr Bowen Ivor Cardiff
1915 08Apr Salt T F Cyril Abertillery
1915 08Apr Wayte pte Fred Cardiff
1915 08Apr Thomas pte Edward Spencer Crawshay Bailey estate Pentre
1915 10Apr Thredcroft lieut Cyril Cardiff
1915 10Apr Elsey pte G 111 St Mary St Cardiff
1915 12Apr Rowley adjutant C Bargoed
1915 12Apr Luke cpl John Old Penyard Merthyr
1915 12Apr Cobley pte Charles 7 Hall St Blackwood
1915 12Apr Blackwell cpl Harold High St Abertillery
1915 12Apr Jones David Henry 15 Upper North St Bargoed
1915 12Apr Kennedy Sgt M Cwmdare silver band
1915 12Apr Robertson pte Morgan 98 Wellington St Cardiff
1915 12Apr Bedford pte G Rhymney
1915 12Apr Smith pte Henry Pantycelyn St Ystradmynach
1915 12Apr Giddy pte Alfred Cardiff relatives
1915 13Apr Picton Warlow capt Wilfred RFC
1915 14Apr George Walter Wyndham Cres Cardiff
1915 15Apr Hazell lieut J Llewellyn Fields Rd Newport
1915 16Apr Whitworth Mr W 71 Saltmead Rd Grangetown Cardiff
1915 16Apr Whitworth Mrs 71 Saltmead Rd Grangetown Cardiff
1915 16Apr Whitworth William 71 Saltmead Rd Grangetown Cardiff
1915 16Apr Whitworth George 71 Saltmead Rd Grangetown Cardiff
1915 16Apr Whitworth John 71 Saltmead Rd Grangetown Cardiff
1915 16Apr Whitworth Henry 71 Saltmead Rd Grangetown Cardiff
1915 16Apr Whitworth T 71 Saltmead Rd Grangetown Cardiff
1915 16Apr Gardner H son in law of W Whitworth of Cardiff
1915 16Apr Tovey Fred Ferndale
1915 16Apr Evans D Ferndale
1915 16Apr Harding pte J 30 Castle St Maesteg
1915 16Apr Pullman sgt J Welsh International Footballer
1915 16Apr Perry pte Tom G Pontlottyn
1915 17Apr Hillard sgt 3rd Welsh
1915 17Apr Brain lieut J H P 3rd Welsh
1915 17Apr Gladstone capt W G C Royal Welsh Fusiliers
1915 17Apr Davies pte William Bargoed brother of Mrs Callaghan of Cardiff
1915 17Apr Smith Arthur Maldon
1915 19Apr Jones Evan PC Bridgend
1915 19Apr Mathias W G PC Bridgend
1915 19Apr Hole H PC Bridgend
1915 19Apr Phillips William PC Bridgend
1915 19Apr Morgan pte Evan Cwmparc and Tylorstown
1915 19Apr Caple James Cardiff
1915 19Apr Caple Sam Cardiff
1915 19Apr Caple Robert Cardiff
1915 19Apr Caple Joseph Cardiff 2nd Canadian Contingent
1915 19Apr Caple Sidney Cardiff
1915 19Apr Driscoll sgt James NCO Welsh Horse boxer
1915 21Apr Smith Mr S Parfitt Terr Twynyrodyn Merthyr
1915 21Apr Smith Mrs Parfitt Terr Twynyrodyn Merthyr
1915 21Apr Smith G Parfitt Terr Twynyrodyn Merthyr
1915 21Apr Smith A Parfitt Terr Twynyrodyn Merthyr
1915 21Apr Smith H Parfitt Terr Twynyrodyn Merthyr
1915 21Apr Smith S Parfitt Terr Twynyrodyn Merthyr
1915 21Apr Hendy A W son in law of S Smith of Merthyr
1915 21Apr Habgood P son in law of S Smith of Merthyr
1915 21Apr Hayner W nephew of S Smith of Merthyr
1915 21Apr Yorath lieut Kenneth L son of Cardiff City Coroner
1915 21Apr Yorath pte Glynne son of Cardiff City Coroner
1915 21Apr Palling pte C brother of Mrs Mortimer 51 Aldworth Rd Canton
1915 22Apr Pearce Wyndham H Kimberley Terr Tredegar
1915 22Apr Keenan sapper William John 11 Wimborne St Cardiff
1915 22Apr Curtis pte Charles Porth
1915 22Apr Jones pte William Sarnau and Ammanford
1915 22Apr Hailstone sgt W Abertillery
1915 22Apr Lucy lce cpl Stephen Payntor Terr Merthyr
1915 22Apr Hayes pte Cornelius Pontypridd
1915 22Apr Hussey lce cpl A E Highwalls Rd Dinas Powis
1915 22Apr Pope lieut col E A Welsh Regiment
1915 23Apr Barnes Albert 44 Railway St
1915 23Apr Barnes James 44 Railway St
1915 23Apr Thomas David John 44 Railway St
1915 23Apr Thomas George grandson of R Barnes of 44 Railway St
1915 23Apr Merchant Daniel grandson of R Barnes of 44 Railway St
1915 23Apr Barnes Charles grandson of R Barnes of 44 Railway St
1915 23Apr Lucas maj T chief recruiting officer South Wales
1915 23Apr Goodman pte Cardiff City batallion
1915 23Apr Corbett pte Welsh Gurkhas
1915 23Apr Harris pte Welsh Gurkhas
1915 23Apr Doolan lce cpl M 3rd Welsh
1915 23Apr Blackmore lce cpl R Cardiff City batallion sprinter
1915 23Apr Farino pte Royal Munster fusiliers
1915 23Apr Shear pte V Dorsetshire regiment
1915 24Apr Jones PC J son of Mrs J Jones 14 Raven St Cardiff
1915 24Apr Jones gunner C son of Mrs J Jones 14 Raven St Cardiff
1915 24Apr Phipps driver R son in law of Mrs Jones 14 Raven St Cardiff
1915 24Apr Jones E W Arnold Pl Sirhowy Tredegar
1915 24Apr Layland Joseph Tredegar
1915 24Apr Matthews G H Arnold St Tredegar
1915 24Apr Dovey James 10 Morgan St Tredegar
1915 24Apr Bishop C H Tredegar
1915 24Apr Hoskings Irwin Ogmore Vale
1915 24Apr Burrows R G Ogmore Vale
1915 24Apr Willcox Edward Ogmore Vale
1915 24Apr David Ed Ogmore Vale
1915 24Apr David Evan Ogmore Vale
1915 24Apr Hoskings Burt Ogmore Vale
1915 24Apr Hoskings Fred Ogmore Vale
1915 24Apr Ashman Ben Ogmore Vale
1915 24Apr Stephens sgt J Nantymoel
1915 26Apr Lewis William 11 Gladstone St Maesteg
1915 26Apr Lewis Anthony 11 Gladstone St Maesteg
1915 26Apr Lewis Jenkin 11 Gladstone St Maesteg
1915 26Apr Powell Edward stepson of W Lewis 11 Gladstone St Maesteg
1915 26Apr Davies Rees son in law of W Lewis 11 Gladstone St Maesteg
1915 26Apr Hughes William nephew of W Lewis 11 Gladstone St Maesteg
1915 26Apr Mort Thomas step brother of W Lewis 11 Gladstone St Maesteg
1915 26Apr Jones Thomas son in law of W Lewis 11 Gladstone St Maesteg
1915 26Apr Tanner John 19 Arcot St Penarth
1915 26Apr Tanner Edward 19 Arcot St Penarth
1915 26Apr Tanner B 19 Arcot St Penarth
1915 26Apr Hutton Arthur 138 College Rd Whitchurch
1915 26Apr Hutton Alfred 138 College Rd Whitchurch
1915 26Apr Hutton William 138 College Rd Whitchurch
1915 26Apr Clarke Herbert married at Clive Rd Hall [married Lydia James]
1915 27Apr Harries pte T J age 20 Newcastle Emlyn
1915 27Apr Snow pte James 35 West Hill Tredegar
1915 27Apr Baldwin H Lampeter
1915 27Apr Allsop James 81 Sea View Cardiff
1915 27Apr Davies David John Pontardulais
1915 27Apr Thomas William Henry Pontardulais
1915 27Apr Best Cyril H Cardiff
1915 27Apr Aspey pte G G Cardiff sister 8 Pant Lane Abergavenny
1915 27Apr Taylor pte Porthcawl
1915 29Apr Onions lieut Wilfred Monmouthshire
1915 30Apr Compton Francis Pontypridd
1915 30Apr Bryant pte H A 10 Richmond Terr Tredegar
1915 30Apr Phillips lieut E S Maindee
1915 30Apr Coombes pte Eddie Highfield Terr Pontypridd
1915 30Apr James 2nd lieut James W Ammanford
1915 30Apr Franklin capt J F Bantam batallion Porthcawl
1915 01May Reynolds pte W Bywater Rd Abertillery
1915 01May Williams pte W J 42 Leyshon St Graig Pontypridd
1915 01May Yates sgt T Newbridge
1915 01May Vincent Nellie Grange Gardens Cardiff
1915 03May Henshaw Charles Tonyrefail
1915 03May Ralph J Tonyrefail
1915 03May Kendall Neil Tonyrefail
1915 03May Lang Fred Tonyrefail
1915 03May Chappell Percy Tonyrefail
1915 03May Griffiths Offey Tonyrefail
1915 03May Jenkins pte Fred 26 Glyn Terr Tredegar
1915 03May Jones sgt George A 79 Vale Terr Tredegar
1915 04May Dursley pte J G 23 Railway St Splott
1915 04May Dursley pte Joseph 23 Railway St Splott
1915 04May Jones pte Llew 41 Margam St Caerau Maesteg
1915 04May Wells Jack 9 School St Tirphil
1915 04May Wells Harry 9 School St Tirphil
1915 05May Slater D Ferndale
1915 05May Slater A Ferndale
1915 05May Slater Sam Ferndale
1915 05May Slater H Ferndale
1915 05May Benjamin A D brother in law of the Slaters of Ferndale
1915 05May Lightwood rifleman H 1st Monmouthshires boxer
1915 05May Herbert pte J The Shop Talgarreg Cardiganshire
1915 05May Reynolds pte William 155 DumfriesSt Treorchy
1915 05May Ashton Harry Constellation St Cardiff
1915 05May Ashton Alf Constellation St Cardiff
1915 05May Ashton Albert Constellation St Cardiff
1915 05May James lieut W M The Fields Newport
1915 06May Church Reg Q.M.S.E Masonic Hall Cardiff
1915 06May Church Mrs Masonic Hall Cardiff
1915 06May Church C J Masonic Hall Cardiff
1915 06May Church T G Masonic Hall Cardiff
1915 06May Church S Masonic Hall Cardiff
1915 06May Follett Gilbert 10 Albert St Canton Cardiff
1915 06May Follett Harry 10 Albert St Canton Cardiff
1915 06May Lock Jacob son in law of J C Follett of Cardiff
1915 06May Morgan G nephew of J C Follett of Cardiff
1915 06May Morgan S G nephew of J C Follett of Cardiff
1915 06May Isaac D H nephew of J C Follett of Cardiff
1915 06May Davies trumpeter Jack age 14 Cross Keys
1915 06May Dix quartermaster sgt Arthur John Newport
1915 07May Weathersby W Aberdare constable
1915 07May Findlay E Aberdare constable
1915 07May Jones E T Aberdare constable
1915 07May Heayel E Cwmaman constable
1915 07May O'Brien J Aberdare constable
1915 07May North Mr William Cardiff Railway Worker Janet St Cardiff
1915 07May North James relative of Wm North of Cardiff
1915 07May North John relative of Wm North of Cardiff
1915 07May North Charles relative of Wm North of Cardiff
1915 07May North William relative of Wm North of Cardiff
1915 07May North Sydney relative of Wm North of Cardiff
1915 07May North Frederick relative of Wm North of Cardiff
1915 07May Rees pte Bert 3 Ninian St Treherbert
1915 07May Briggs nurse Cwmbran
1915 07May Morgan rifleman John Richmond St Pontnewydd
1915 07May Lewis pte J Blaenavon
1915 08May Evans lieut L I The Laurels Blackwood
1915 08May Evans 2nd lieut Ivor E The Laurels Blackwood
1915 08May O'Connell Herbert 42 Edwards St Cardiff
1915 08May O'Connell Martin 42 Edwards St Cardiff
1915 08May Smith Victor son in law of M O'Connell 42 Edwards St Cardiff
1915 08May Lewis capt Evan Llanharan
1915 08May Hewitt pte Cecil age 15 Rhyl
1915 08May Harris cpl Thomas 38 Swinton St Cardiff
1915 10May Dyke Arthur R Manselston Villas Ferryside
1915 10May Howells Benjamin D Brigstocke Terr Ferryside
1915 10May Bosley Fred Park Hill Tredegar
1915 10May Bosley George Park Hill Tredegar
1915 10May Young pte J W F 2nd Devons
1915 10May George David Llantwit Major
1915 10May George Arthur Llantwit Major
1915 10May Thomas Rees Llantwit Major
1915 10May Hurley pte Thomas Beech St Dowlais
1915 10May Arnold pte James Hill St Brynmawr
1915 10May Williams pte John age 18 27 Furness Rd Pontygwaith
1915 10May Smith Alfred survivor of the Lusitania
1915 10May Richard Thomas survivor of the Lusitania
1915 11May Dunn A C Inverness Place Cardiff
1915 11May Watkins John Henry 58 High St Tredegar
1915 11May Evans George 7 Carpenters Yard Tredegar
1915 11May Bishop T H Tredegar
1915 11May Evans rifleman A A 56 North St Newport
1915 11May Hillier pte James 3 Concrete Houses Dinas Rhondda
1915 11May Jennings cpl H 27 Bromsgrove St Grangetown Cardiff
1915 12May Williams Taliesin 7 Newport Rd Bedwas
1915 12May Williams David 7 Newport Rd Bedwas
1915 12May Williams Matthew 7 Newport Rd Bedwas
1915 12May Williams Howell T V 7 Newport Rd Bedwas
1915 12May Jones William Rassau Beaufort
1915 12May Jones Thomas Rassau Beaufort
1915 12May Jones Arthur Rassau Beaufort
1915 12May Powell James nephew of Wm Jones of Rassau Beaufort
1915 12May Powell F nephew of Wm Jones of Rassau Beaufort
1915 12May Keates E Ebbw Vale
1915 12May Lewis capt R A Tylacoch Abercarn
1915 12May Murley cpl Edward 3 Radnor Rd Cardiff
1915 12May Murley trooper Charles 3 Radnor Rd Cardiff
1915 12May Rogers pte L Merthyr DCM
1915 13May Pollard pte T H 8 Ash Grove Nelson
1915 13May Phipps pte Moses Waun Rd Pontycymmer
1915 13May White pte W E Blaenrhondda Treherbert
1915 13May Godfrey pte Frederick Percy 78 Pleasant View Wattstown
1915 13May Vines pte W Tyndall St Cardiff
1915 13May Pearce pte A Newport
1915 13May Martin lieut Dr E W S Rhymney Valley
1915 13May Sansom rifleman R 71 Sutton Rd Newport
1915 14May Thomas Miss M J Nelson ammunition packer
1915 14May Powell Miss F Nelson ammunition packer
1915 14May Day Miss D Nelson ammunition packer
1915 14May Maslen Miss A Nelson ammunition packer
1915 14May Chapman pte A 2 Cycle St Roath Cardiff
1915 14May Price pte E 22 Victoria St Pontlottyn
1915 14May Taylor capt E L 55 Westborough
1915 14May Davey rifleman Richard 12 Somerton Pl Cardiff
1915 14May Shields qtrmaster sgt James A Plantation St Rhymney
1915 14May Keefe rifleman W Talywain
1915 14May Williams pte H J Maes Rd Llangennech
1915 14May Hughes lieut W Brin Aberystwyth University
1915 14May Donovan 2nd lieut R A O Salutation Hotel Bute St Cardiff
1915 14May Davies cpl Evan 41 Mordeline Terr Pontygwaith
1915 14May Ford capt R J Swansea
1915 14May Stewart lieut W Victor Brodawel Caerleon
1915 14May Llewellin capt Mostyn Caerleon
1915 14May Llewellin lieyt Eric Caerleon
1915 14May Llewellin capt Leyshon Caerleon
1915 14May Williams lieut W J Pontypool
1915 14May Phillips lieut E S Maindee Newport
1915 14May Newland lieut Norman C Monmouthshire
1915 15May Wonnacott Fred landlord Fox and Hounds Whitchurch
1915 15May Hughes George Plough Hotel Whitchurch
1915 15May Stalder sgt F G Tredegar
1915 15May Stalder pte F G Tredegar
1915 15May Griffiths Archie 51 Ruby St Roath
1915 15May Griffiths Burt 51 Ruby St Roath
1915 15May Griffiths Frank 51 Ruby St Roath
1915 15May Griffiths J 51 Ruby St Roath
1915 15May Griffiths Victor 51 Ruby St Roath
1915 15May Griffiths George 51 Ruby St Roath
1915 15May Griffiths Mrs 51 Ruby St Roath
1915 15May Griffiths Fred W 51 Ruby St Roath
1915 15May Griffiths Harry G 51 Ruby St Roath
1915 15May Edwards L T Pontardawe
1915 15May Edwards B R Pontardawe
1915 15May Llewellyn J D Pontardawe
1915 15May Edwards R H Pontardawe
1915 15May Chilcott Ivor Pontardawe
1915 15May Chilcott George Pontardawe
1915 15May Extance T J Pontardawe
1915 15May Extance W Pontardawe
1915 15May Mainwaring D H Pontardawe
1915 15May Williams J Jonah Pontardawe
1915 15May Mainwaring T J Pontardawe
1915 15May Green Frank 12 Leven Oak St Cardiff
1915 15May Evans pte Samuel Kidwelly
1915 15May Linton cpl E G killed on Aubers Ridge
1915 17May Wimborn A T Monmouthshire Colliery Rescue Station
1915 17May Davies C P Habershon St Splott Cardiff
1915 17May Davies A P Habershon St Splott Cardiff
1915 17May Davies J M Habershon St Splott Cardiff
1915 17May Jones driver W 1 Cornwall St Cardiff
1915 17May Jones pte Mortimer 1 Cornwall St Cardiff
1915 17May Lewis maj W A Queen St Tredegar
1915 17May Bowden pte A H Llanhilleth
1915 17May Davies capt John L son of D J Davies 8 Rugby Ave Neath
1915 17May Legge pte Tom brother ofMrs Davies 8 School St Pontlottyn
1915 17May Prescott pte W 27 Woodfield Rd Tredegar
1915 17May Goss pte Albert Edward Wood St Pontycymmer
1915 17May Evans D Stanley Queen Victoria Inn Dukestown Tredegar
1915 18May Porter lieut John Swansea rescued from the Goliath
1915 18May Tustin lce cpl W King St Neath
1915 18May Christenson pte Peter age 22 of 49 Thomas St Grangetown
1915 18May James pte D R Bridgend
1915 18May Thomas pte S son of head ostler Tredegar District Council
1915 18May Worton lieut John Paton Ebbw Vale
1915 18May Jones pte John Rees 37 Marian St Blaengarw
1915 18May Trigger P C Bridgend div HQ
1915 19May Lewis Harold Pontyberem
1915 19May Lewis Arnold Pontyberem
1915 19May Allen Stephen Llanbradach
1915 19May Allen William John Llanbradach
1915 19May Edwards David Pentrebach Pontardulais
1915 19May Edwards Evan Pentrebach Pontardulais
1915 19May Edwards David RFA Pentrebach Pontardulais
1915 19May Williams David Pentrebach Pontardulais
1915 19May Jones Albert Pentrebach Pontardulais
1915 19May Matthews David Pentrebach Pontardulais
1915 19May Lewis Tom Pentrebach Pontardulais
1915 19May Edwards sgt Stephen 36 Coronation St Tredegar
1915 19May Chapman pte A W 4 Victoria Gdns Rd Neath
1915 19May Jones sgt David Llanelly
1915 19May Barnes pte Herbert 1 Church View Blackwood
1915 20May Ballett Sam Cardiff
1915 20May Ballett William H Cardiff
1915 20May Ballett Jack Cardiff
1915 20May Ballett J S Cardiff
1915 20May Ballett E G Cardiff
1915 20May Ballett Eli Cardiff
1915 20May Davies J D 127 Pentwyn Ave Penrhiwceiber
1915 20May Davies John T 127 Pentwyn Ave Penrhiwceiber
1915 20May Davies James T 127 Pentwyn Ave Penrhiwceiber
1915 20May Davies William T 127 Pentwyn Ave Penrhiwceiber
1915 20May Davies Tom 127 Pentwyn Ave Penrhiwceiber
1915 20May Davies Ben T 127 Pentwyn Ave Penrhiwceiber
1915 20May Davies David T 127 Pentwyn Ave Penrhiwceiber
1915 20May Jones Alf son in law of James D Davies of Penrhiwceiber
1915 20May Vallis signaller T 13 Edwards St Tredegar
1915 20May Bailey rifleman F Chepstow
1915 20May Francis lce cpl Robert Cardiff
1915 20May Jobbins rifleman Ernest L Newport
1915 21May Glover Stanley Stockton Rd Newport
1915 21May Glover Archie Stockton Rd Newport
1915 21May Horton Daniel age 19 of 48 Augusta St Cardiff
1915 21May Davies pte Eurfryn 77 Nyth Bran Porth
1915 21May Lewis pte Ivor Bryn Terr Caerau
1915 21May Davies rifleman Gomer Star Bakery Pontllanfraith
1915 21May Stephens bombadier George 6 Harlech Pl Aberdare
1915 21May Dyer pte H 5 Crosswood St Treorchy
1915 21May Willding pte D J 73 Nyth Bran Porth
1915 21May Haycox pte Bert Ferndale
1915 22May Jones William 43 New St Ferndale
1915 22May Jones Stanley 43 New St Ferndale
1915 22May Jones T 43 New St Ferndale
1915 22May Jones W E 43 New St Ferndale
1915 22May Jones Thomas brother of Wm Jones of 43 New St Ferndale
1915 22May Lewis Stepen nephew of Wm Jones of 43 New St Ferndale
1915 22May Harris cpl T Rhys Fochrhiw
1915 22May Harris bugler Fochrhiw
1915 22May Evans pte F G son of Mrs Evans Oakfield Trelewis
1915 22May Evans pte E 7 Greenfield St Pontlottyn
1915 22May Sherman pte J R 3 Carntyla Terr Abertysswg
1915 22May Pyle bugler J B 31 Bishop St Abertillery
1915 22May Davies pte D North Rd Ferndale
1915 22May Stone bombadier F R 33 Penypeel Rd Cardiff
1915 22May Stone A E 33 Penypeel Rd Cardiff
1915 22May Beavan 2nd lieut Frank E Cardiff
1915 22May Prosser pte Walter Abertillery
1915 22May Pritchard pte Harry Abertillery
1915 22May Briscoe pte Wyndham Tredegar
1915 22May Llewellyn pte W Tredegar
1915 22May Thomas cpl W Merthyr
1915 22May Rogers pte L Merthyr
1915 24May Gough lieut W H J Welsh Guards
1915 24May Griffiths lieut F A V Copland Welsh Guards
1915 24May Insole lieut C Welsh Guards
1915 24May Martineau lieut Welsh Guards
1915 24May Bradney capt J H Welsh Guards
1915 24May Ellis lieut C William Welsh Guards
1915 24May Manby lieut G Welsh Guards
1915 24May Phillips capt G W F Welsh Guards
1915 24May Blake capt F W Welsh Guards
1915 24May Palmer capt A P Welsh Guards DSO
1915 24May Williams capt Rhys Welsh Guards
1915 24May Jones lce cpl David Penrhiw Cross Hands
1915 24May Hadley pte Walter 55 London Rd Neath
1915 24May Davies pte Howell Morgan nephew of Mr Morgan Jones 7 Bridge St Aberfan
1915 24May Davies pte Charles H 25 Aaron Pl Gilfach Bargoed
1915 24May Watkinson pte H 90 King St Cwm
1915 24May Walters lieut H J Abersychan
1915 24May Sweet pte Thomas Church St Ystrad Mynach
1915 24May Isaac pte Hopkin brother of Mrs Blunt 28 Field St Trelewis
1915 24May James pte G F wrestling champion Welsh Army Corps Cardiff
1915 24May Samuel pte R E Cardiff
1915 24May Taylor pte F Stoghton St Grangetown
1915 25May Minifie stoker J Lyndhurst St Cardiff HMS Albion
1915 25May Jones pte Aubrey 10 Gelligaer St Cathays age 17
1915 25May Price Charles 64 Police Row Norton Bridge
1915 25May Jones seaman H S Aberfan
1915 25May Picton stoker T Isaac 4 Brynhyfred Pl Treherbert
1915 25May Morgan John S HMS Goliath
1915 25May Evans Edward Clifford Park Rd Barry
1915 25May Pritchard William age 24 Graig Terr Six Bells
1915 25May Baylis stoker S L V Eastville Cardiff Rd Llandaff
1915 25May Quick seaman W H Capel St Bargoed
1915 25May Hooper pte W 12 Sussex St Cardiff
1915 25May Isaacs Ben 77 Woodville Rd Cardiff
1915 25May Duckham rifleman Stanley Clythu Sq Newport
1915 25May Pullin rifleman I 4 Eveswell St Maindee Newport
1915 25May Searey rifleman Frank Newport
1915 25May Thomas Ernest Whitland victim 'Lusitania'
1915 26May Wiltshire Edward 17 Herbert St Cardiff
1915 26May Brock Harry A 2 Wyndham Pl Cardiff
1915 26May Shelley Sir J
1915 26May Lloyd General Sir F
1915 26May Rogers rifleman B Newport
1915 26May Rogers lce cpl C Newport
1915 26May Brooks rifleman Donald Newport
1915 26May Roberts rifleman Cardiff 1st Monmouthshires
1915 26May Gunstone rifleman Cardiff 1st Monmouthshires
1915 26May Lonnon rifleman Newport
1915 26May Rees cpl Albert Cardiff
1915 26May Turner E J 102 Albert St Canton
1915 26May Turner O T 102 Albert St Canton
1915 26May Turner John brother in law of Mrs Turner 102 Albert St Canton
1915 26May Eddy A J 14 Brecon St Cardiff
1915 26May Eddy W J 14 Brecon St Cardiff
1915 26May Eddy Arthur 14 Brecon St Cardiff
1915 26May Francis rifleman R C Blaina
1915 26May Moore pte Cardiff City Police parents Berw Rd Pontypridd
1915 26May Venn comp sgt maj 93 Keppoch St
1915 26May Grist pte Fred 11 Maitland Pl Grangetown Cardiff
1915 27May Elton col W Marwood 3rd Welsh
1915 27May Simpson lieut R H Lancs fusiliers
1915 27May Derry cpl Charles Welsh Regiment
1915 27May Williams sgt Welsh Regiment
1915 27May Goodin pte Thomas 90 Windway Rd Canton Cardiff
1915 27May Scott pte Tom 38 Heathfield Rd Cardiff
1915 27May Thomas David John 36 Carmarthen St Carmarthen
1915 27May Thomas Thomas 36 Carmarthen St Carmarthen
1915 27May Thomas William 36 Carmarthen St Carmarthen
1915 27May Thomas Ernest 36 Carmarthen St Carmarthen
1915 27May Williams pte Cornelius 2nd Monmouthshire
1915 27May Gerrish John James Clare Rd Cardiff HMS Lion
1915 27May Gerrish Robert C Clare Rd Cardiff
1915 27May Jenkins pte Jack brother of Mabel Jenkins od Grove House Brynmawr
1915 27May Richards lce cpl Henry J 37 Upper High St Rhymney
1915 27May Cowen pte Joe Herbert St Cardiff
1915 28May Morgan Arthur Gilfach (Bargoed) lads brigade
1915 28May Trigg Percy Gilfach (Bargoed) lads brigade
1915 28May Meredith W Gilfach (Bargoed) lads brigade
1915 28May Paul Mr Richard 14 Watson Rd Llandaff North
1915 28May Paul Thomas 14 Watson Rd Llandaff North
1915 28May Paul Richard 14 Watson Rd Llandaff North
1915 28May Paul Edward 14 Watson Rd Llandaff North
1915 28May Pike Albert son in law of R Paul 14 Watson Rd Llandaff North
1915 28May Pike Eli brother of Albert of Cardiff
1915 28May Vernell pte Charles Cwmffrwdoer
1915 28May Reakes lce cpl Walter George 24 Llwndarth Maesteg
1915 28May Whitehead driver J Cardiff
1915 28May Myring pte Howard Milton House Aberystwyth
1915 28May Moynhan pte Daniel Red Lion Sq Tredegar
1915 28May Joshua lieut C P son of Rev Seth Joshua student Pontypridd
1915 28May McNeil pte W G Cwmavon
1915 28May Thomas driver Jack 2 Caerphilly Rd Senghenydd
1915 28May Cross Charles Cardiff on Lusitania
1915 28May Palmer Charles Cardiff on Lusitania
1915 28May Hopkins lce cpl T Tramroad Pontypridd
1915 28May Wilks CSMJ Cardiff Commercial Battalion
1915 28May Curnow CQM sgt J A Cardiff Commercial Battalion
1915 28May Johns CSMB Cardiff Commercial Battalion
1915 28May White sgt Drummer Cardiff Commercial Battalion
1915 28May Culberson QM sgt Cardiff Commercial Battalion
1915 28May Capel reg sgt maj G W Cardiff Commercial Battalion
1915 28May Radford ORQM sgt H E Cardiff Commercial Battalion
1915 28May Adkins CSM Cardiff Commercial Battalion
1915 28May Thompson CSM Cardiff Commercial Battalion
1915 28May Field QM sgt Cardiff Commercial Battalion
1915 28May Bevan sgt maj Cardiff Commercial Battalion (I of M)
1915 28May Barnes sgt maj Cardiff Commercial Battalion (I of M)
1915 28May James QM sgt T Cardiff Commercial Battalion
1915 28May Philips QM sgt T Cardiff Commercial Battalion
1915 29May James pte Aubrey Pwllgwaun Pontypridd
1915 29May Davies driver George Cwmbach Aberdare
1915 29May Fisher pte Edward J Cardiff
1915 29May Ashton sgt A chief recruiting officer Cardiff
1915 29May Cram chief articifer C D HMS Chantham
1915 29May Blondi capt Arseni skipper Belgian trawler rescued crew of Morwenna
1915 29May Banwen John owner 'Morwenna' torpedoed
1915 31May Moore Cornelius 74 Saltmead Rd Cardiff
1915 31May Moore William 138 Stoughton St Cardiff
1915 31May Jones Thomas John Fairleigh Pl Pontcanna Cardiff
1915 31May Jones H H Fairleigh Pl Pontcanna Cardiff
1915 31May Barnes pte A 19 Ordell St Cardiff
1915 31May Goodall lieut col E supt Cardiff City Council mental hospital
1915 31May Matthews pte Stanley Newport son of librarian
1915 31May Taylor pte Thomas 60 Hirwaun St Barry Dock
1915 31May Mahoney cpl 23 David St Cardiff
1915 31May Sutton pte Edgar J 71 Monthemer Rd Cardiff
1915 31May Baker pte W 2 Pentyla Aberavon
1915 31May Williams pte Samuel age 27 Penygraig Terr Aberbeeg
1915 31May Bunce pte H 99 Portmanmoor Rd Splott
1915 02Jun Davies Rev E G curate St Mary's Builth Wells
1915 02Jun Williams pte Joseph age 18 13 Church St Penrhiwceiber
1915 02Jun Jones lce cpl R T 27 Charles St Porth
1915 02Jun Richards sgt F J Claremont House Hatherleigh Rd Abergavenny
1915 02Jun Masters pte William 58 Caerphilly Rd Senghennyd
1915 02Jun Noyes pte Grange Cardiff
1915 03Jun Frost pte E P Cardiff
1915 03Jun Thomas Phil Tredegar football player
1915 03Jun Haskins pte Aron Abertridwr and Pentwyn Penrhiwceiber
1915 03Jun Franklin sgt J F Cardiff
1915 03Jun Chivers William Merthyr Town centre half
1915 03Jun Hurley M Dowlais and Glamorgan league footballer
1915 03Jun Evans Edward Dowlais and Glamorgan league footballer
1915 03Jun Jones Gwilym Merthyr Vocalist
1915 03Jun Thomas Arthur Merthyr Vocalist
1915 03Jun Derry cpl C Merthyr footballers
1915 03Jun Nicholls sgt W Merthyr footballers
1915 03Jun McFee Michael wedding St Peter's Church Cardiff
1915 04Jun Budgell pte Percy Llanfair Rd Cardiff
1915 04Jun Banfield pte G H 5 High St Pontlottyn
1915 04Jun Joseph lce cpl E 86 Cardiff Rd Treforest
1915 04Jun Page sgt M age 19 Machen
1915 04Jun Vaughan trooper A J Wyndham Cres Cardiff
1915 04Jun Phillips pte T H Arfryn Picton Pl Carmarthen
1915 04Jun Frampton sgt R A Lionel Rd Canton Cardiff
1915 04Jun Griffiths pte Robert 20 Wood St Mardy
1915 04Jun Walker cpl J W 23 Dalton St Cathas Cardiff
1915 04Jun Pugh pte Rev John E Ogmore Bristol and Cardiff
1915 04Jun Lashmore engineer commander H Cardiff
1915 05Jun Halliday rifleman Ben Fishguard journalist
1915 05Jun Cook sapper Tom Penarth and Penylan footballer
1915 05Jun Griffiths pte Tom Dinas Cross Pembroke and Austraia
1915 05Jun Gardner drummer William Charles 42 High St Nelson
1915 05Jun Evans Eric Rhys Rosebery Pl Penarth
1915 05Jun Birch PC Cardiff City Police
1915 05Jun Jones sec lieut D Percy Porth
1915 05Jun Price PC Treorchy Glamorgan Constabulary
1915 07Jun Darby lieut E Ebbw Vale
1915 07Jun Long able seaman Charles Ashford Cottage The Green Pembroke
1915 07Jun Stephenson Stephen Hakin trawler Victoria
1915 07Jun Jones James age 13 Hakin trawler Victoria
1915 07Jun Morgan pte James age 18 Bargoed
1915 07Jun Pughe Rev David Merthry Wesleyan Circuit
1915 07Jun Ennis pte J 65 Kent St Grangetown Cardiff
1915 07Jun Walters David J Railway Tavern Carmarthen HMS Triumph
1915 07Jun Townsend pte Beny age 19 38 Pontrhondda Rd Llwynypia
1915 07Jun Hodgens John Swansea recruiting
1915 08Jun Pickard lieut Alf Aberystwyth and Cardiff
1915 08Jun Pickard Herbert Aberystwyth
1915 08Jun Williams sgt Evan Pantygraigwen Pontypridd
1915 08Jun Cunningham pte Owen Ynysddu and Goodwick
1915 08Jun Fitzgerald pte J Ely paper works
1915 08Jun O'Flynn cpl Thomas 5 Hunter St Cadoxton Barry
1915 08Jun Watkins pte Tom 101 Commercial St Maesteg
1915 08Jun Marriott rifleman A W age 17 5 Beach Grove Oakdale Blackwood
1915 08Jun Hughes capt W W Llanybther
1915 09Jun Brooks pte Archie Church St Tredegar
1915 09Jun Emanuel pte D 35 Park View Tredegar
1915 09Jun Jones sgt Frank 79 Vale Terrace Tredegar
1915 09Jun Davies rifleman Herbert 11 Wyndham Rd Canton and Bargoed
1915 09Jun Hemmings pte Walter Bridge St Newport
1915 09Jun Christensen pte Thomas sen age 17 Thomas St Grangetown Cardiff
1915 09Jun Barker sgt G Tredegar
1915 09Jun Rosser pte A E 24 Rosser St Neath
1915 09Jun Evans pte Jack 6 Glamorgan Terr Llwynypia
1915 09Jun Franklin sgt recruiting HQ Cardiff
1915 10Jun Brown lce cpl W Llanelly St Moors Cardiff
1915 10Jun Bradford cpl Charles Clydach and Cardiff
1915 11Jun Munro lce cpl George 2 Loftus St Canton Cardiff
1915 11Jun Williams pte O 90 Duffryn St Ferndale
1915 11Jun Burton pte Fred Wern Villa Llandrindod Wells
1915 11Jun Parsons pte George 1st Monmouthshires
1915 11Jun Cooper pte Charles 41 Richmond Terr Llanbradach
1915 11Jun Price lce cpl Ernest (Jack) 34 Diamond St Cardiff
1915 11Jun Rees lce cpl Oliver 7 Regent St Ferndale
1915 11Jun Poyner pte C T High St Blaenavon
1915 11Jun Whitney rifleman Lewis Meredith Bridge St Bassaleg
1915 11Jun Green pte R Bedford St Cardiff
1915 11Jun Lindsay Claud F T marr Ystrad Mynach
1915 12Jun Brown pte Hubert Nantyrychain Cottages Pontycymmer
1915 12Jun Lewis cpl Herbert B I nephew of Mrs Phillips of Caerleon
1915 12Jun Lewis pte W J 4 Elizabeth St Aberdare
1915 12Jun Goss cpl Ernest 29 Cuckoo St Pontycymmer
1915 12Jun Morris pte W J 6 Graig Terrace Frendale
1915 12Jun Harvey sgt William 2nd Welsh
1915 12Jun Hughes pte Tom Aberystwyth
1915 12Jun Field pte W H 66 Wtverne Rd Cathays
1915 12Jun Morris sgt E 15 Union St Pontlottyn
1915 14Jun Regan Patrick 118 Court Rd Grangetown
1915 14Jun Regan James 118 Court Rd Grangetown
1915 14Jun Williams John Fair View Walters Rd Ammanford
1915 14Jun Williams Jack Fair View Walters Rd Ammanford
1915 14Jun Williams W R Fair View Walters Rd Ammanford
1915 14Jun Williams Wyndham Fair View Walters Rd Ammanford
1915 14Jun Gillivray rifleman Finley Mac West View Meyrick Villas Merthyr
1915 14Jun George W H Dinas Powis parish council
1915 14Jun Hughes Rev Daniel Crane St Chapel Pontypool
1915 15Jun Taylor Henry 33 Norah St Cardiff
1915 15Jun Taylor George 33 Norah St Cardiff
1915 15Jun Taylor Thomas 33 Norah St Cardiff
1915 15Jun Taylor Joseph 33 Norah St Cardiff
1915 15Jun Tibbles F 33 Norah St Cardiff
1915 15Jun Tibbles W 33 Norah St Cardiff
1915 15Jun Hathaway W 33 Norah St Cardiff
1915 15Jun Parsons W 33 Norah St Cardiff
1915 15Jun Games George 41 Arabella St Cardiff
1915 15Jun Games Fred 41 Arabella St Cardiff
1915 15Jun Games Albert Victor 41 Arabella St Cardiff
1915 16Jun Plisson Ernest M.D. Lysberg Ltd Cardiff
1915 16Jun Pommereau M Gaston Royal Field Artillery
1915 16Jun Bauche Mr A 2nd dragoon guards
1915 16Jun Haig lieut R De Haga Royal Garrison Artillery
1915 16Jun Fimbel Q.M.S. F French Army
1915 16Jun Depuy cpl M French Army
1915 16Jun Allen lce cpl Samuel 7th (cyclist) batalion Welsh Regiment
1915 16Jun Thomas trooper Percy G Glamorgan Yeomanry
1915 16Jun Pascoe pte George C 3rd Glamorgan battery
1915 16Jun Tucker pte Austin Royal Army Medical Corps
1915 16Jun Colle trooper E C K machine gun section Glamorgan Yeomanry
1915 16Jun Montarby H de French Army
1915 16Jun Seelleur Gordon Le Royal Naval Division
1915 16Jun Green pte E W Sapphire St Cardiff
1915 17Jun Reed 2nd lieut R Penarth
1915 17Jun Wright trooper Alfred 106 Diana St Cardiff
1915 17Jun Stephens cpl Royal Welsh Fusiliers worked at Bute Docks Cardiff
1915 17Jun Hedges pte Jack Saltmead Cardiff boxer
1915 17Jun Christian pte Richard Planet St Cardiff
1915 17Jun Wiltshire pte A 28 King St Nantyglo
1915 17Jun Salmoni lce cpl F S 8 Elm St Cardiff and Australia
1915 17Jun Parsons rifleman George 49 Pengam Rd Aberbargoed POW
1915 17Jun Evans pte John Maesyreglwys Llanarth Cardiganshire
1915 17Jun Turner lce cpl W J aunt living at 98 Worcester St Brynmawr
1915 17Jun Evans pte David 11 Oxford St Gelligaer
1915 17Jun Davies pte T J sister Mrs T Gray 8 Coronation Terr Aberbeeg
1915 17Jun Pritchard pte A Graig Terr Six Bells
1915 17Jun Hillier pte Fred 44 Nyth Bran Porth
1915 18Jun Brown Richard 52 Norah St Cardiff
1915 18Jun Brown Christopher 52 Norah St Cardiff
1915 18Jun Brown Joseph 52 Norah St Cardiff
1915 18Jun Brown Tom 52 Norah St Cardiff
1915 18Jun Ford James son in law of Mrs Brown of 52 Norah St Cardiff
1915 18Jun Walsh John nephew of Mrs Brown of 52 Norah St Cardiff
1915 18Jun Lewis pte Thomas Edward 31 Margam St Cymmer Port Talbot
1915 18Jun Bentley sgt W Cottage Homes Pembroke
1915 18Jun Edwards pte W Cardiff
1915 18Jun Shepherd 2nd lieut A F Cardiff
1915 18Jun Robinson P 11 Oxford St Cardiff
1915 18Jun Robinson Donald brother of P Robinson 11 Oxford St Cardiff
1915 18Jun Bell cpl C B Llanhilleth
1915 18Jun Clifford cpl P 21 Board St Pontlottyn
1915 18Jun Beecroft gunner Jack Cardiff
1915 18Jun Humphreys lce cpl G son of inspector Monmouth Constabulary
1915 19Jun Warneford flt sub lt VC
1915 19Jun John Mr E 73 May St Cardiff
1915 19Jun John Mrs E 73 May St Cardiff
1915 19Jun John T E 73 May St Cardiff
1915 19Jun John P E 73 May St Cardiff
1915 19Jun John W S 73 May St Cardiff
1915 19Jun John A F 73 May St Cardiff
1915 19Jun Rich T 18 Ruperra St Cardiff
1915 19Jun Rich E 18 Ruperra St Cardiff and Cwmaman
1915 19Jun Rogers Llewellyn Henry 9 Gas St Tirphil
1915 19Jun Rogers Rutland H 9 Gas St Tirphil
1915 19Jun Williams pte Robert 11 Standard Terr Ynyshir
1915 19Jun Battisto pte Peter 36 Railway St Splott Cardiff
1915 21Jun Page gunlayer HMS Majestic Swansea
1915 21Jun Brown pte George church mission Aberdare and Neyland
1915 21Jun Cross pte J W 10 Picton Place Nantyffyllon
1915 21Jun Jones pte J 3 The Avenue Rumney
1915 21Jun Bonham lce sgt Trevor Trebanos Swansea
1915 21Jun Inglis lieut Rupert C Glanwys Builth Wells and Canada
1915 21Jun Inglis lieut Harold J Glanwys Builth Wells and Canada
1915 21Jun Clark pte G son of Canton gardener
1915 21Jun Leach pte Gilbert age 21 35 Nesta Rd Cardiff
1915 21Jun Davies pte T J age 19 17 James St Port Talbot
1915 22Jun Warneford lieut VC
1915 22Jun Waite W J E 18 Springfield Terr Aberdare
1915 22Jun Waite H L 18 Springfield Terr Aberdare
1915 22Jun Freegard pte Charles H Brynsadler Pontyclun
1915 22Jun Harris pte W Aberystwyth
1915 22Jun Aubrey pte Jack 88 Stuart St Treorchy
1915 22Jun Owen 2nd lieut Brynar J Ebbw Vale
1915 23Jun Radcliffe Mrs 67 Cranbrook St Cardiff
1915 23Jun Radcliffe Joshua 67 Cranbrook St Cardiff
1915 23Jun Radcliffe H T 67 Cranbrook St Cardiff
1915 23Jun Radcliffe Charles 67 Cranbrook St Cardiff
1915 23Jun Radcliffe Mrs 67 Cranbrook St Cardiff
1915 23Jun Purcell F son in law of Mrs Radcliffe 67 Cranbrook St Cardiff
1915 23Jun Attwell pte J Portmanmawr Rd Cardiff
1915 23Jun Williams Roy age 14 pupil Barry Junior School
1915 23Jun Foley lce cpl Charles J brother of Mrs W John 2 Upper Gyfellion Trehafod
1915 23Jun Brenton pte Richard H 23 Sandon Pl Cardiff
1915 23Jun Jones rifleman H Stanley Rocking Stone Pontypridd
1915 23Jun Bailey pte R Deep Navigation Colliery Treharris
1915 23Jun Thomas 2nd lieut C H R Cardiff
1915 23Jun Jones lieut G H 3rd Welsh
1915 25Jun Gibbon H 43 Cranbrook St Cathays Cardiff
1915 25Jun Gibbon G 43 Cranbrook St Cathays Cardiff
1915 25Jun Morris lce cpl A W Graig Ave Pontypridd
1915 25Jun Davis PC Griffiths Clydach Vale
1915 25Jun Powell J 2 Ordell St Cardiff Spillers
1915 25Jun Powell G 2 Ordell St Cardiff Spillers
1915 25Jun Smith Joe Salop and Pontardulais
1915 25Jun Llanfear Percy Osland House 3 Waterloo Rd Newport
1915 25Jun Llanfear Harry Osland House 3 Waterloo Rd Newport
1915 25Jun Llanfear Reginald Osland House 3 Waterloo Rd Newport
1915 25Jun Lilwall W father of Mrs Cox 68 Police Row Norton Bridge Pontypridd
1915 25Jun Lilwall R C brother of Mrs Cox 68 Police Row Norton Bridge Pontypridd
1915 25Jun Mills Fred Newport Harbour Board
1915 25Jun Orders W J Newport
1915 25Jun Hornby Lewis H Newport
1915 25Jun Jones capt John Rees Llangranog
1915 25Jun Jenkins rifleman T G Troedrhiwfuwch
1915 26Jun Plummer Idris Queen St Treforest
1915 26Jun Plummer Robert Queen St Treforest
1915 26Jun Watkins gunner D Pantbach Farm Dairy Whitchurch
1915 26Jun Watkins pte Pantbach Farm Dairy Whitchurch
1915 26Jun Piller J J 34 Herbert St Maindy Cardiff
1915 26Jun Piller D 34 Herbert St Maindy Cardiff
1915 26Jun Piller P 34 Herbert St Maindy Cardiff
1915 26Jun Piller A 34 Herbert St Maindy Cardiff
1915 26Jun Drinkwater C S son in law of Mrs Piller of 34 Herbert St Cardiff
1915 26Jun Deere William son in law of Mrs Piller of 34 Herbert St Cardiff
1915 26Jun Tomlyn cpl J 4 Marion St Blaengarw
1915 26Jun Saunders pte George John St Princetown Nantymoel
1915 26Jun Richards W A Rhys Ninian Rd Cardiff
1915 26Jun McMullen George 50 Daniel St Cardiff
1915 26Jun McMullen Joseph 50 Daniel St Cardiff
1915 26Jun Taylor W son in law of Mrs McMullen of 50 Daniel St Cardiff
1915 26Jun Williams George son in law of Mrs McMullen of 50 Daniel St Cardiff
1915 26Jun Jones pte John Ivor age 19 43 Ynyswen Rd Treorchy
1915 26Jun Howell major H G Builth Wells
1915 28Jun Jones Aneurin 275 High St Pendarren Merthyr
1915 28Jun Jones Phillip 275 High St Pendarren Merthyr
1915 28Jun Jones William 275 High St Pendarren Merthyr
1915 28Jun Lewis D W nephew of John Jones of 275 High St Pendarren
1915 28Jun Sullivan Ted 56 Salisbury Rd Cardiff
1915 28Jun Sullivan W D 56 Salisbury Rd Cardiff
1915 28Jun Sullivan Harry 56 Salisbury Rd Cardiff
1915 28Jun Stevens pte Alfred G Cardiff and Australia
1915 28Jun Gray A T 43 Alexandra Rd Cardiff
1915 28Jun Gray Matthew 43 Alexandra Rd Cardiff
1915 28Jun Davies pte Bedlington 144 Vale Terr Tredegar
1915 29Jun Sullivan John 11 Queen St Pontlottyn
1915 29Jun Sullivan Jeremiah 11 Queen St Pontlottyn
1915 29Jun Sullivan William 11 Queen St Pontlottyn
1915 29Jun Sullivan Eugene 11 Queen St Pontlottyn
1915 29Jun Griffiths H husband of granddaughter of J Sullivan of Pontlottyn
1915 29Jun Brockman Syd G Vincent St Swansea
1915 29Jun Bell H H Penarth volunteer training corps
1915 29Jun Leport M Ernest Cardiff Docks
1915 29Jun Titt Arthur brother of John Titt 13 Traedyrhiw Terr Treorchy
1915 29Jun Titt James brother of John Titt 13 Traedyrhiw Terr Treorchy
1915 29Jun Curtis Charles brother in law of John Titt 13 Traedyrhiw Terr Treorchy
1915 29Jun Sandoe John 9 Theodora St Broadway Cardiff
1915 29Jun Sandoe Edgar 9 Theodora St Broadway Cardiff
1915 29Jun Sandoe Lyndon 9 Theodora St Broadway Cardiff
1915 29Jun Canning J Herbert chief director of high explosives S Wales
1915 30Jun Lawrence P T 214 Cathays Terr Cardiff
1915 30Jun Lawrence Robert 214 Cathays Terr Cardiff
1915 30Jun Watkins E 51 Flora St Cardiff
1915 30Jun Ducroq H son of Cardiff printer
1915 30Jun Rees William Cwmparc Rhondda Valley PC
1915 30Jun Griffiths David Blaenporth Cardiganshire
1915 30Jun Price Mrs Eldon St Cardiff
1915 30Jun Whitworth driver son in law of Mrs Price of Eldon St Cardiff
1915 30Jun Price J E Eldon St Cardiff
1915 30Jun Price G T Eldon St Cardiff
1915 30Jun Foley sapper F H Alexandra Rd Hengoed
1915 30Jun James Tom Blaengwynfi
1915 30Jun Jones Sidney Blaengwynfi
1915 30Jun Thomas Howell Blaengwynfi
1915 30Jun Gwynne T Blaengwynfi
1915 30Jun Davies pte Fred Yew Tree House Fleur de Lis
1915 30Jun Barter sgt maj 60 Daniel St Cathays
1915 01Jul Milson W 7 New House Foundry Pl Pontypridd
1915 01Jul Morris W Reckingstone Terr Pontypridd
1915 01Jul Godsell Mrs 6 Goppa Row Pontardulais
1915 01Jul Godsell pte Syd 6 Goppa Row Pontardulais
1915 01Jul Godsell pte Oliver 6 Goppa Row Pontardulais
1915 01Jul Godsell pte Thomas J 6 Goppa Row Pontardulais
1915 01Jul Olssen Thomas 93 Clive St Cardiff
1915 01Jul Olssen George 93 Clive St Cardiff
1915 01Jul McGrath David 93 Clive St Cardiff
1915 01Jul Farrall W H Salop St Penarth
1915 01Jul Farrall W S Salop St Penarth
1915 01Jul Farrall P C Salop St Penarth
1915 01Jul Farrall E G Salop St Penarth
1915 01Jul Parsons Henry G 15 Gray St Abertillery
1915 01Jul Benians pte Bert 200 Shaftesbury St Newport
1915 01Jul Suff pte James Pontardawe and New Zealand
1915 01Jul Davies sgt A F Abergavenny
1915 01Jul Yarde pte RAMC Cardiff
1915 01Jul Briere R de la Cardiff Docks
1915 01Jul Davies 2nd lieut Ivor T Lampeter Welsh Three Quarter
1915 02Jul Orchard T W Cardiff
1915 02Jul Orchard J E Cardiff
1915 02Jul Pritchard W E brother in law of T W Orchard of Cardiff
1915 02Jul Davies W brother in law of T W Orchard of Cardiff
1915 02Jul Griffiths pte Price 126 Lewis St Crumlin
1915 02Jul Rees trooper Henry J Haverfordwest and Cardiff
1915 02Jul David pte John Old House Inn Llangynwyd
1915 02Jul Sanson J Pentrebane St Fagans
1915 02Jul Sanson William Pentrebane St Fagans
1915 02Jul Davies pte John Marloes nr Milford Haven
1915 02Jul Talbot George survivor of the 'Armenian'
1915 02Jul Talbot Ernest survivor of the 'Armenian'
1915 02Jul Reynolds 2nd lieut J M son of Pochin Colliery manager
1915 02Jul Gordon lieut Harry Pirie Crickhowell
1915 03Jul Edmunds-Rees lieut D Abertridwr
1915 03Jul Coles Rev F J Highley Cardiff minister special constable
1915 05Jul Davies W Thomas Treorchy Salvation Army
1915 05Jul Reeves Thomas Treorchy Salvation Army
1915 05Jul James lce cpl E G Haverfordwest
1915 05Jul Newman pte F 58 Eldon St Cardiff
1915 05Jul Morris William Cwmavon
1915 05Jul Morris Thomas Cwmavon
1915 05Jul Bowen capt Alfred John Hamilton Pontypool
1915 06Jul Lippett W J 35 Eisteddfod St Cardiff
1915 06Jul Lippett S W 35 Eisteddfod St Cardiff
1915 06Jul Lippett F L 35 Eisteddfod St Cardiff
1915 06Jul Good J C son in law of Mrs Lippett Cardiff
1915 06Jul Etwell P nephew of Mrs Lippett Cardiff
1915 06Jul Heard Albert Edward Treorchy PC
1915 06Jul Heard Henry J brother of AE Heard of Treorchy
1915 06Jul Richards pte Daniel Tylacelyn Rd Penygraig
1915 06Jul Chapple pte J S Cwm Cilgerran
1915 06Jul Dunscombe J 34 Central St Ystrad Mynach
1915 06Jul Brimble Frederick brother in law of J Dunscombe of Ystrad Mynach
1915 06Jul Llewellyn Christopher 24 Parry St Tylorstown
1915 06Jul Barter sgt maj VC Cardiff
1915 07Jul Jones W W 4 Trelyn Lane Pengam
1915 07Jul Jones T G 4 Trelyn Lane Pengam
1915 07Jul Jones E 4 Trelyn Lane Pengam
1915 07Jul Young nurse Swansea no 132 Voluntary Aid detatchment
1915 07Jul Hughes Pryce New Inn Hotel Merthyr
1915 07Jul Davies W Ewart Dynevor St Merthyr
1915 07Jul Hughes pte Thomas 66 James St Mardy
1915 07Jul Hindmarsh J munitions work Cardiff [NB Male]
1915 07Jul Barter sgt maj VC Greenmeadow Garden Party
1915 08Jul Squires Thomas 2 Westborne Pl Porthcawl
1915 08Jul Squires J H 2 Westborne Pl Porthcawl
1915 08Jul Squires I T 2 Westborne Pl Porthcawl
1915 08Jul Squires L L 2 Westborne Pl Porthcawl
1915 08Jul Squires W 2 Westborne Pl Porthcawl
1915 08Jul Jones R V 36 Leckwith Rd Cardiff
1915 08Jul Jones W D 36 Leckwith Rd Cardiff
1915 08Jul Jones Leslie 36 Leckwith Rd Cardiff
1915 08Jul Smith driver A F Wellington St Canton and Canada
1915 08Jul Wheadon pte W G 1 Cross St Maindy Cardiff
1915 09Jul Evans Edward Treorchy
1915 09Jul Sauteur pte Wm le 28 Turner Rd Canton Cardiff
1915 09Jul Pimm William Henry 15 Clarence Embankment Cardiff
1915 09Jul Morgan lieut Edgar Pontardawe footballer
1915 09Jul Crewe PC Cardiff City Police Force
1915 09Jul Lovell T 50 Queen St Treforest
1915 09Jul Darby lieut W E Machen
1915 10Jul Williams sub lieut C D 10 Hendy St Roath Park Cardiff
1915 10Jul Evans pte John 91 Heolgerrig Merthyr
1915 10Jul Phillips capt C D Newport
1915 10Jul Moore driver W E C 31 Lyndhurst St Cardiff
1915 10Jul Phillips Stephen Oxford St Pontycymmer
1915 10Jul Bryon G H 90 Portmanmoor Rd Splott Cardiff
1915 10Jul Bryon W F 90 Portmanmoor Rd Splott Cardiff
1915 10Jul Whiteman Ralph age 12 Pontypridd lost son of J Whiteman
1915 10Jul Isaacs pte Monty 77 Woodville Rd Cathays and Canada
1915 12Jul Prothero maj A G Malpas Court nr Newport
1915 12Jul Joelson Fredinand Richmond Rd Cardiff
1915 12Jul Joelson Herschel Richmond Rd Cardiff
1915 12Jul Joelson Maxwell Richmond Rd Cardiff
1915 12Jul Murphy sgt James Victoria St Pontycymmer
1915 13Jul Harts Rev G W Albany Rd Baptist Cardiff
1915 13Jul Barter lieut F VC at Buckingham Palace
1915 14Jul Jeffrey pte H S age 18 38 Plassey St Penarth
1915 15Jul Jackson pte A J 20 Office Rd Maesteg
1915 15Jul Williams pte Richard 23 Penn St Treharris
1915 15Jul Abraham pte A Brynmawr
1915 15Jul Court pte J J 7 Lily St Cardiff
1915 16Jul Coombs W L 42 Darran View Penyard Merthyr
1915 16Jul Coombs Albert 42 Darran View Penyard Merthyr
1915 16Jul Coombs Joseph 42 Darran View Penyard Merthyr
1915 16Jul Stones G H son in law of W Coombs of 42 Darran View Penyard Merthyr
1915 17Jul Virgin pte William 33 Rolls St Canton
1915 17Jul Stephens sgt W 7 Llanover Rd Pontypridd
1915 17Jul Ferrier E H Cardiff rugby referee
1915 17Jul Bray pte D E Mardy Rd Mardy
1915 17Jul Huish Mr and Mrs Edward 146 Cairns St Cardiff
1915 17Jul Dowsell pte Alfred 25 Scott St Cardiff
1915 17Jul Davies Vernon Cardiff and Treorchy footballer
1915 17Jul Smith R T B Cardiff and Treorchy footballer
1915 19Jul John rifleman Jack Abertridwr and Senghenydd colliery
1915 19Jul Alderman pte Y 54 Aldsworth Rd Canton Cardiff
1915 19Jul Coslett Walter Church St Bedwas
1915 19Jul Coslett Trevor Church St Bedwas
1915 20Jul Elsey pte George caretaker St Mary St Cardiff
1915 20Jul Merrick pte Arthur Blaenclydach
1915 20Jul Scott Arthur Geoffrey Cardiff son of Walter Scott solicitor
1915 20Jul Prosser Gwynne 127 Donald St Cardiff
1915 20Jul Prosser Lewis 127 Donald St Cardiff
1915 20Jul Prosser John 127 Donald St Cardiff
1915 21Jul Cuff rifleman John Abertysswg
1915 21Jul Jackson pte T J Holloway Lauharne age 18
1915 21Jul Faulkner pte A H Clydach Vale
1915 21Jul Osxipenko M Russian Aviator
1915 22Jul Stinchcombe pte E 11 Humphrey Terr Caerau
1915 22Jul Rhone pte Eustace Maughan St Penarth
1915 22Jul Paramore stoker Frank 8 Henry St Docks Cardiff
1915 22Jul Dast Subadar Mir 55th Cokes Rifles
1915 22Jul Gronow Tom D 65 Brewery St Pontygwaith
1915 22Jul Edwards pte L 24 Deri Terr Tylorstown
1915 22Jul Willias col E Smedley Abercarn native
1915 23Jul Card pte A W Pengam
1915 23Jul James pte Thomas Trinity St Gorseinon
1915 23Jul Nekrews pte D S 3 Carisbrooke Rd Maindee Newport
1915 23Jul James police sgt Charles Senghenydd
1915 23Jul Thomas pte Haydn Troedyrhiw
1915 23Jul Williams Daniel 7 Ladysmith Terr Tredegar
1915 23Jul Miles pte David Malt House Llanblethian Cowbridge
1915 23Jul Thomas pte Willie Troedyrhiw
1915 23Jul Patch Albert E Ynysbwl
1915 24Jul Smith capt F W Cardiff City Battalion
1915 24Jul Gaskell col Frank Cardiff City Battalion
1915 31Jul Morgan lieut Evan son of Lord Tredegar
1915 31Jul Williams pte William David 23 Pean St Treharris
1915 31Jul Edwards capt John Neath
1915 31Jul Peacock cpl Tom Newport
1915 31Jul Facy rifleman H 75 Bonvilstone Rd Pontypridd
1915 31Jul Edwards cpl Evan 30 John St Nantyffylion Maesteg
1915 31Jul Woolf Mrs Cardiff nursing div
1915 31Jul Metcalfe Mary Cardiff nursing div
1915 31Jul Mitchell pte Ted Swansea marr Dolly Jones (no pic of bride)
1915 31Jul Thompson engineer William Ernest Merthyr
1915 07Aug Jones Edgar MP Merthyr
1915 07Aug Jones Morgan Rhondda Battalion brother of Edgar MP
1915 07Aug Jones Arthur brother of Edgar MP
1915 27Aug Dovey qmaster sgt C E Cardiff age 22
1915 27Aug Bonnyman lieut T G Howells Cres Llandaff
1915 28Aug Gage pte F 235 Albany Rd Cardiff
1915 28Aug Morgan lieut Ernest A Mountain Ash
1915 31Aug Bowles pte Victor 10 Despenser Gardens Cardiff
1915 01Sep Woods pte E Bargoed
1915 04Sep Eldridge cpl T Elm St Rd
1915 08Sep Clent lce cpl H Bargoed
1915 10Sep Thomas pte William John 56 Thesiger St Cardiff
1915 10Sep Davies pte E W Llanelly
1915 11Sep Welch Ifor Cardiff
1915 11Sep Sanders Mr Cardiff
1915 11Sep Pugsley Mr Cardiff
1915 11Sep Ward Mr Cardiff
1915 11Sep Thomas sgt W Cardiff
1915 20Sep Harben pte George ex Court Rd School Cardiff
1915 23Sep Travis Archie G Penarth
1915 27Sep Johnson lce cpl Alfred 56 Corporation Rd Cardiff
1915 30Sep Comley pte Aubrey 178 Severn Rd Cardiff
1915 07Oct Evans cpl Jack Bryngwyn Parade Ferndale
1915 07Oct Faulkener pte George 30 Rolls St Cardiff
1915 15Oct Dethenridge pte O Leonard St Neath
1915 15Oct Snailham sgt Chas Henry age 23 former Aberdare PC
1915 15Oct Coutts pte William Walker Rd Cadriff
1915 15Oct Herbert pte R 3 John St Merthyr
1915 15Oct Palmer pte A worked at Bute Docks Cardiff
1915 19Oct Wilson H H Dinas Powis
1915 19Oct Williams cpl Edie Gladlys Cottages Maesteg
1915 19Oct White pte Will 22 Golden Terr Maesteg
1915 19Oct Smith pte William son of Thos Smith of Bryngwyn St Bedwas
1915 19Oct Seccombe pte Richard 17 Maesteg Row Maesteg
1915 19Oct Dowdeswell maj W Treharris
1915 19Oct Halfyard pte W Caerau Rd Caerau Maesteg
1915 21Oct Lewis pte Garfield son of Wm Lewis hairdresser Tonyrefail
1915 21Oct Monro general C in C Dardanelles
1915 21Oct Thomas pte David Tylsha Rd Gelli Rhondda
1915 21Oct Baverstock pte Bert The Avenue Tonyrefail
1915 21Oct Gronow Tom D Pontygwaith DCM
1915 21Oct Gronow Cornelius Pontygwaith
1915 21Oct Widowfield 2nd lieut George Penarth
1915 21Oct Matthews pte Emlyn Pryce Dogfield St Cardiff
1915 22Oct Miles lieut C W Aberdare journalist in US before war
1915 22Oct Perry pte J New Tredegar
1915 22Oct Morgan pte Tom son of James Morgan of Maindy Rd Ton Pentre
1915 22Oct Bevan pte Ted Fern Cottages Penllergaer Swansea Valley
1915 23Oct Williams Jesse 8 Devon St Cardiff
1915 23Oct Osmond pte Harry 50 Corporation Rd Cardiff
1915 29Oct Gush cpl 3rd Welsh solicitor Lavernock giant
1915 29Oct Fisher lce cpl Herbert James Cardiff City police
1915 04Nov Williams sgt David 12 Churchill Terr Cadoxton Barry
1915 04Nov Davies pte Daniel J 45 Lady Tyler Terr Rhymney
1915 04Nov Price pte John 3 Jones Terr Treherbert
1915 12Nov Feltham pte William George Ryhdyfro Pontardawe
1915 12Nov Morris pte Meredith Copper Row Cwmavon age 19
1915 12Nov Bates pte Bernard Bartlett St Caerphilly
1915 12Nov Price sgt J W Gilfach Goch
1915 12Nov Brown pte P W Cardiff
1915 20Nov Veillard lieut Paul director Berlitz Schools for S Wales
1915 22Nov Murphy pte Dick Gladstone St Brynmawr
1915 23Nov Knight pte W 16 Partridge Rd Llwnypia
1915 23Nov Townsend pte I Wattstown
1915 23Nov Lewis pte Alfred Duffryn Arms Duffryn
1915 23Nov Jones sgt Fred Newport son of shipbroker
1915 03Dec Jordan pte A 43 Raglan Rd Hengoed
1915 03Dec Hatch pte B J 30 Orchard Pontardawe
1915 14Dec Cromie lieut comm F N A RN Haverfordwest
1915 15Dec Roberts Stanley Caerphilly boxer
1915 16Dec Haig general sir Douglas new chief of army
1915 23Dec Allsopp lce cpl W J 81 Sea View Grangetown
1915 28Dec Smith maj Fred inspector Bridgend Constabulary
1915 28Dec Thomas cpl Dd Richard 6 Horeb St Treorchy
1915 28Dec Thomas driver Rees M 6 Horeb St Treorchy
1915 30Dec Morgan pte T Glamorgan St Brynmawr
1916 01Jan Hore capt Walter Mark Upton co Carlow
1916 03Jan Thomas capt Hubert Carey Penarth
1916 03Jan Hybart capt F R Cowbridge Rd Cardiff
1916 03Jan Meredith Raymond H Bryn Torlais High St Newbridge
1916 04Jan Vyvyan lieut B H Penarth
1916 05Jan Phillips sgt Frank 38 DeBurgh St Cardiff
1916 06Jan Payne sgt W G 34 Travis St Barry Dock
1916 07Jan Richards pte William 14 Elm St Gilfach Goch
1916 08Jan Pommerrau Monsieur Gaston – Cardiff coal exchange
1916 08Jan Daniels pte Tom – Bedwellty and S America
1916 08Jan Pritchard sgt Walter T – Tredegar
1916 11Jan Mitchel Ted – Swansea Town footballer
1916 20Jan Rees lieut col Bleddyn T – Brynheddyd Bassaleg
1916 21Jan Davies gunner Leonard – Graig Hotel Pontypridd
1916 29Jan Richards T J – Rhwny Y Deri Penpedairhoel Pengam
1916 01Feb King Mr Barnett – age 82 Shaftesbury St Newport recalls Am wr
1916 09Feb Seager lieut William – Cardiff
1916 10Feb Walters pte William J – 43 Cemetary Rd Porth
1916 10Feb Jones gunner Godfrey Ivor – 9 Tredegar Terr Aberbargoed
1916 14Feb Pritchard pte Percy – 8 Coveney St Cardiff
1916 17Feb Jones sec lieut Llewelyn H – Blaennant Farm Pontardawe
1916 17Feb Tombs sapper Trevor R – Whitcombe Glocs
1916 19Feb Rundell F – Edward St Barry Island HMS Arethusa
1916 24Feb Cullimore Capt Smart – Newport police officer
1916 25Feb Pickard capt H – Llanelly
1916 25Feb Swash 2nd lieut L A – son of head St Monicas school Cardiff
1916 01Mar Dare pte Sydney – 41 Dogfield St Cardiff
1916 16Mar Roberts pte Leslie H – Red House Gabalfa
1916 16Mar Herbert pte George – Tewkesbury St Cardiff
1916 16Mar Oatten rifleman Charles – 9 South Morgan St Cardiff
1916 21Mar Gibbon capt Ray – Maesteg and Cwmdu St Johns Colliery
1916 31Mar Hillier lce cpl George – 54 Pentre Rd Mardy
1916 31Mar Cabin T – 29 Baden Terr Penyard Merthyr
1916 31Mar Driscoll Dan – 9 Leslie St Aberavon
1916 06Apr Gill lieut K – Abertillery
1916 06Apr Delamain brig gen – nephew of Bishop of Llandaff
1916 15Apr Weaver pte H F – 42 Regent St Barry Dock
1916 15Apr Scott sgt R J – 64 Jenkin St Abercwmboi
1916 24Apr Wilcox quartermaster Sgt W – Caerphilly
1916 27Apr Williams John R – 159 Penrhiwceiber Rd Penrhiwceiber
1916 27Apr Howell John – Kenfig Hill
1916 27Apr Carey George – HMS Gloucestershire age 23 Louisa St Cardiff
1916 05May O'Donovan pte J – Pearl St Cardiff
1916 05May Loveless Eng Lt Leonard S – Royal Mackintosh Hotel Cardiff
1916 09May Collins pte Albert – 15 Daisy St Canton Cardiff
1916 11May Heslop Donald A – Conway Rd Cardiff
1916 11May Longstaff Lt Cpl J C – 127 Clifton St Cardiff
1916 11May Paul Lt Cpl – 43 High St Barry
1916 16May Rees pte Rhys – 46 Treharne St Barry
1916 16May Roberts pte D J – Glamorgan league cricketer
1916 18May Gaskell lieut col Frank – Cardiff
1916 18May Morgan pte D R – Woodend Rd Llanelly
1916 18May Jones sgt E – 1 Windsor Terr Gorseinon
1916 18May Turner cmpny qmstr sgt E – Mond soccer team
1916 18May Parry cpl Isaac – 17 Newland St Barry Dock
1916 23May John sgt Arthur – 225 Penarth Rd Cardiff and Blaengarw
1916 25May Williams Anthony George – Gellydeg St Maesycwmmer
1916 25May Pride pte William – 23 Springfield Pl Canton Cardiff
1916 25May Cavley pte Rees – 40 Walsh St Penrhiwceiber
1916 25May Bassett pte Walter – 5 Morgan St Llanbradach
1916 26May Allen pte George – age 18 22 Eric St Tylorstown
1916 26May Attwell pte Joseph – 277 Portmanmoor Rd Cardiff
1916 27May Thomas pte David William – 101 Turberville St Maesteg
1916 27May Adams gunner J H C – Ely and Wenvoe
1916 27May Jones cpl D Idloes – Ogmore and Bridgend and Porthcawl
1916 01Jun Herne sgt W – The Cottage Highfield Barry
1916 02Jun Evans Tom Emlyn – Canadian ASC marr Cardiff
1916 02Jun Bowen nurse Letitia – Pontycymmer marr Cardiff
1916 02Jun Dupuy sgt Marc – Cardiff
1916 02Jun Price Percy Llewellyn – 165 Jubilee Rd New Tredegar
1916 02Jun Jones T H – 41 Church St Partridge Rd Llwynypia
1916 02Jun Evans lieut John Ll – Highbury Whitchurch Cardiff
1916 05Jun Evans warrant officer – Ritson St Briton Ferry
1916 06Jun Litcherner Lord – drowned
1916 07Jun Kinnear George R – son in law of Frank Roberts of Blackwood
1916 07Jun Jones Cyril O H – Aberaman and London
1916 07Jun Baker signal btswn Wm – bro of Mrs A Jones Station Rd Llandaff Nth
1916 07Jun Roberts leading stoker Archibald E – Blackwood
1916 08Jun Sketchley T Arthur – Greenfield Terr Tredegar
1916 09Jun Ridge Ralph Henry – 43 Forest Rd Cardiff
1916 09Jun Clark Wyndham W – 23 Brecon St Canton Cardiff
1916 09Jun Roberts lieut Frank – Llanelly
1916 09Jun Llewellyn lieut Morton H – Aberdare
1916 09Jun Davey sapper John H – 75 Bristol St Newport
1916 13Jun Reed Nicholas Adams – 13 Bromfield St Grangetown
1916 13Jun Huish Edward Charles – 146 Cairns St Cardiff
1916 13Jun Rogers stoker Moses – 5 Hazelwood Rd Cwmavon
1916 13Jun Cullis Edward John – Davids Rd Cwmavon
1916 13Jun Wootyatt stoker W H – Rutland St Cardiff
1916 13Jun Fennerty W F – 47 Ordell St Cardiff
1916 13Jun Jeremiah B J – 7 Station Terr Mardy
1916 13Jun Griffiths pte Rhys – Mellog Bankffosfelan Pontyberem
1916 13Jun Evans Enoch S – Llandyssul
1916 13Jun Jones pte Ben – Llandyssul son of J D Jones
1916 16Jun Jones sgt Isaac – 51 Woodland Rd Tylorstown
1916 16Jun Elson sgt A L – Porth
1916 16Jun Bird lieut Edwin – 226 Newport Rd Cardiff
1916 17Jun Lewis David – 3 Dunraven Terr Treorchy
1916 17Jun Barry James – 136 Portmanmoor Rd Cardiff
1916 19Jun Rowe H H – Belle Vue Treforest
1916 19Jun Doggett James – 60 Greenhill St Cardiff
1916 19Jun Bannister leading stoker George – 31 Eclipse St Cardiff
1916 20Jun Edwards seaman Leonard – age 22 23 Regent St Treorchy
1916 20Jun Rees sgt Ivor – Abertillery and Dinas
1916 20Jun Stradling pte Robert – 51 Ivor St Maesteg
1916 20Jun Powell Albert Rees – Edmundstown Penygraig
1916 20Jun Pearce pte E W – age 26 Abercynon
1916 20Jun John pte Daniel – 5 Chapel Row Tonmawr
1916 20Jun Thomas capt H Franklin – Danybryn Radyr
1916 21Jun Lower Augustus John – 47 St Cennyd Terr Caerphilly
1916 21Jun Tozer stoker Duncan E – Fishguard and 145 Woodville Rd Cardiff
1916 21Jun Rundle Edgar – Fowey Cornwall and Cardiff
1916 21Jun Evans drummer Willie – Broad St Barry
1916 21Jun Stephens gunner D A – 39 Stone Lane Llandovery
1916 21Jun Hopkins able seaman John – High St Ynysybwl
1916 21Jun Coles pte Sammy – Aberhondda Terr Porth
1916 21Jun West cpl Anthony Augustus – Skewen Briton Ferry
1916 24Jun Thomas pte William J – Queensland son of John Thomas Dare Colliery Treorchy
1916 24Jun Anthony Harold – Cilfulthy Farm Ferryside
1916 24Jun Baker sgt W – 10 Cromer St Abercwmboi Aberaman
1916 24Jun Harris sgt maj Tom – 19 Stanley Rd Ton Pentre
1916 24Jun Thomas R S – 15 Oakfield St Bedlinog
1916 27Jun Francis cpl E W – Ynysgau St Ystrad Rhondda
1916 27Jun Aubrey Jack – 88 Stuart St Treorchy
1916 28Jun Angulatta cpl Con – 47 Wyndham Cres Canton Cardiff
1916 28Jun Williams driver Jack – Pontypridd
1916 28Jun Benton S – Cathays Cardiff
1916 28Jun Underhill William – Princess St Barry
1916 30Jun Fish Mr and Mrs R H – 12 North St Grangetown
1916 30Jun Thomas driver W – relative of Mr Fish Grangetown
1916 30Jun Fish A E – relative of Mr Fish Grangetown
1916 30Jun Fish Alfred – relative of Mr Fish Grangetown
1916 30Jun Fish driver J E – relative of Mr Fish Grangetown
1916 30Jun Fish driver W – relative of Mr Fish Grangetown
1916 30Jun Fish driver D – relative of Mr Fish Grangetown
1916 30Jun Fish driver R H – relative of Mr Fish Grangetown
1916 30Jun Stone pte H – relative of Mr Fish Grangetown
1916 30Jun Leaden driver W – relative of Mr Fish Grangetown
1916 30Jun Fish George – relative of Mr Fish Grangetown
1916 30Jun Williams J – Llansamlet
1916 30Jun Davies W G – son of Ton Pentre rev
1916 30Jun Davies R H – son of Ton Pentre rev
1916 30Jun Evans Noel – Clydach Swansea Valley
1916 30Jun Evans lce cpl Alec – 66 Cosmeston St Cardiff
1916 30Jun Pierce Griffith – Blaenau Ffestiniog and Merthyr Vale
1916 30Jun Pierce John – Blaenau Ffestiniog and Merthyr Vale
1916 04Jul Meggitt lieut Stanley – Seacroft Barry
1916 04Jul Fergusson pte Ronald Stuart – Dalhousie Cathedral Rd Cardiff
1916 04Jul Fowler gunner W J – 13 Craddock St Cardiff
1916 04Jul Morris rifleman W J – Kathleen St Barry
1916 05Jul Thomas sec lieut Sidney – Carmarthen Dairy Cowbridge Rd Cardiff
1916 05Jul Jenkins David – Tyr Y Coed Loughor
1916 05Jul Crompton pte C – Cardiff
1916 05Jul Morgan D – Cardiff Royal Welsh Fusileers
1916 05Jul Duggan J – Blaencwm
1916 05Jul Phillips G – Briton Ferry
1916 05Jul Dally J – Aberdare
1916 05Jul Dando F – Tonypandy
1916 05Jul Edwards E – Welshpool
1916 05Jul Clower A – Ripley
1916 05Jul Crowe F – Manchester
1916 05Jul Evans pte J – Skewen
1916 05Jul Rickwood lce cpl – London Royal Welsh Fusileers
1916 05Jul Matthews sgt W – Birmingham Royal Welsh Fusileers
1916 05Jul Povey lce cpl H – Chester
1916 05Jul Jones pte W – Wrexham
1916 05Jul Castry lce cpl A – Shotton
1916 05Jul Fowler pte G – Worcester
1916 05Jul Sheard pte R – Birmingham
1916 05Jul Henry lce cpl J – London
1916 07Jul Matthews pte T – Cardiff machine gun corps
1916 07Jul Easterbrook pte S – Cardiff machine gun corps
1916 07Jul Catty pte W – Cardiff machine gun corps
1916 07Jul Hurford pte W – Cardiff machine gun corps
1916 07Jul James pte T – Cardiff machine gun corps
1916 07Jul Lloyd pte E – Cardiff machine gun corps
1916 07Jul Stephens W – Cardiff machine gun corps
1916 07Jul Davies cpl – Bridgend machine gun corps
1916 07Jul Parminter pte P – Cardiff machine gun corps
1916 07Jul Joseph pte J – Swansea machine gun corps
1916 07Jul Fucey pte E – Whitchurch machine gun corps
1916 07Jul Hitchman pte H C – Whitchurch machine gun corps
1916 07Jul McCann F – 13 Cumnock Terr Splott Cardiff
1916 07Jul Mort Arthur – Fronfeg Mynyddbach Llandore
1916 08Jul Jenkins Gwilym – 30 Standard View Ynyshir
1916 08Jul Morgans M – Park Lane Lower Brynamman
1916 11Jul Wills lce cpl John – Cardiff
1916 11Jul Wills driver H J – Cardiff
1916 11Jul Wills cpl William – Cardiff
1916 11Jul Wills pte George – Cardiff
1916 11Jul Wood pte J – Seven Sisters Neath
1916 11Jul Hutchings pte A – brother of Mrs Phillips of 115 Court Rd Blaenclydach
1916 11Jul Davies pte T – Royal Welsh Fusiliers
1916 11Jul Hill James – Senghennydd
1916 12Jul Stephens Fred – 7 Beda Rd Canton Cardiff
1916 12Jul Meyrick pte – Merthyr St Cathays Cardiff
1916 12Jul Butcher 1st class stoker Geo – Pantygraigwen Pontypridd
1916 12Jul Finsburg pte Montague – Cardiff
1916 12Jul Brooke pte Harold – sub editor South Wales daily news
1916 12Jul Meredith H J – 21 Aldsworth Rd Canton Cardiff
1916 12Jul Meredith James – 21 Aldsworth Rd Canton Cardiff
1916 12Jul Nicholl commander Sir Edward – Cardiff shipowner
1916 13Jul Williams capt J L – Welsh Rugby International
1916 13Jul Jones sec lieut E E Trevor – Aberdare
1916 13Jul Evans capt Daniel J – Pontypridd and Canada
1916 13Jul Sullivan J H – Grangetown Cardiff
1916 13Jul Lewis Frederick – Colty Villa Court Rd Barry Dock
1916 13Jul Type Charles – 33 Trevethick St Merthyr
1916 13Jul Type William – 33 Trevethick St Merthyr
1916 14Jul Christian sgr C H – Spillers
1916 14Jul Christian M – postman Bedlinog
1916 14Jul Christian Arthur – Ely paper works
1916 14Jul Jones Andrew – West St Gorseinon
1916 14Jul Davies sapper Eli – Bryn Port Talbot
1916 14Jul Pullen pte W – Richards St Cardiff
1916 15Jul Hegarty J J – age 36 48 Ordell St Cardiff
1916 15Jul Travis lieut Eric A – Penarth
1916 15Jul Duffy H – fireman Minny St laundry Cardiff
1916 15Jul Owen lieut Seth – brother of Owen Owen of Derwen Deg Ton Pentre
1916 15Jul Gill lieut Edward – Abertillery
1916 15Jul Lawrence surgeon capt E W – Pontycymmer
1916 15Jul Price Thomas – 23 St Mary St Bedwas
1916 15Jul Williams capt Trevor – Caecoed Aberdare
1916 18Jul Davies David – accused of murder at Carmarthenshire
1916 18Jul Cowie lieut Henry B – The Walk Merthyr
1916 18Jul Hollister pte A – 23 Robert St Ely
1916 18Jul Williams W J – Llantrisant
1916 18Jul Flahavin pte Patrick- Cardiff age 19
1916 19Jul Edwards sgt Ernest – Peterstone Super Ely
1916 19Jul Marsh cpl R – Sydenham St Barry Docks
1916 19Jul Loveless Ivor – Cardiff footballer
1916 19Jul Stewart J D – Cardiff tramways
1916 19Jul Buckingham pte A – 24 Pennllyn Rd Canton Cardiff
1916 19Jul Warrender pte Charles – Cardiff
1916 19Jul James pte Morgan – Cwm Caegurwen
1916 19Jul Midwinter pte Arthur – Duffryn St Ferndale
1916 19Jul Powell pte W D – Duffryn Ferndale
1916 20Jul Bethune sub lieut Rupert – Penarth
1916 20Jul Willshire compny sgt maj Albert – 6 Littleton St Canton Cardiff
1916 21Jul Gainey lieut H C – manager Albert Hotel St Marys St Cardiff
1916 21Jul Finn pte John – Cardiff and N Zealand brother of Thomas
1916 21Jul Moss George – RFA Blaenserhea Colliery Monmouth
1916 21Jul Counsell pte C F – 21 Hawthorn Rd E Llandaff North
1916 21Jul Masters lce cpl D R – Glanbrook Mountain Ash and Abercynon
1916 22Jul Butland sgt Henry – Cardiff Docks
1916 24Jul Lewis Gus – 5 Amherst St Grangetown
1916 24Jul Pryce-Hamer T – Llanelly footballer
1916 24Jul Burge cpl C – 35 Paget St Grangetown
1916 24Jul Harrison driver – nephew of C Burge of Grangetown
1916 24Jul Davies D W – Jewel St Barry Dock teacher
1916 24Jul Hennesey sgt Patrick – 14 Council St Pendarren
1916 24Jul Jones pte Thomas – Merthyr
1916 25Jul Barker pte A E – 8 Stuart St Cardiff
1916 25Jul Webb pte John Joseph – 38 Princes St Barry
1916 25Jul Lee pre Geo – 31 Avon St Cardiff age 22
1916 25Jul Gould cpl William – 15 Maughan St Penarth
1916 25Jul Holdham gunner Fred – 32 Knowle St Grangetown
1916 25Jul Bennett pte T G – Rhondda
1916 26Jul Williams W Brynmor – Llantwit Fardre
1916 26Jul Jenkins pte James – 2 Horseshoe Terr Pontrhydren
1916 26Jul Evans W Benson – son of Stephen Evans Fountain Hse Newport Pembs
1916 26Jul Regan pte James – Cardiff coaltrimmer
1916 26Jul Thomas cpl William – 38 Leckwith Rd Cardiff
1916 26Jul Hambleton cpl Sidney Charles – age 30 5 Spencer St Barry Dock
1916 26Jul Harris sgt John Hopkin – 92 Park Rd Cwmparc
1916 27Jul Braithwaite lieut J L – 74 Catherdral Rd Cardiff
1916 27Jul Rees lieut Howard T – Benton House Whitchurch
1916 27Jul Phillips lieut W – Drisllyn Ferndale
1916 27Jul Edwards drummer A E – 33 Sth Morgan St Canton Cardiff
1916 27Jul Viggers pte William Henry – 59 Cecil St Cardiff
1916 27Jul Davies lce cpl William – 8 Blanche St Roath Cardiff
1916 27Jul Little pte W – 2 Ystrad Rd Pentre native of Gloucester
1916 28Jul Cornish pte Albert Victor – Grangetown Cardiff
1916 28Jul Duncan lieut D C – Cardiff
1916 28Jul Thomas pte Arthur – 19 Stuart St Treorchy
1916 28Jul Williams pte Thomas Hadley – Sunny Croft Bridgend Rd Maesteg
1916 28Jul Morgan sgt Thomas Idris – 126 Ynyswen Rd Treorchy
1916 28Jul Morgan pte T Vivian – Cartref Clyd Brynamman
1916 28Jul Chappell cpl A G W – The Square Dinas Powis
1916 28Jul Worner cpl R – 141 Rhys St Trealaw
1916 29Jul Trebble pte William Henry – 113 Cairns St Cardiff
1916 29Jul Austin pte J – Cardiff corporation
1916 29Jul Cook pte James – Rhondda
1916 29Jul Morris pte William Nicholas – 19 of 35 Railway Terr Cwmparc
1916 29Jul Warden pte John – 45 Donald St Cardiff
1916 29Jul Lewis pte Charles Rees – 7 Wind St Pontlottyn
1916 29Jul Owens pte Edgar – Dowlais PC
1916 29Jul Meyrick sgt T S – Merthyr
1916 31Jul Leahy pte M – Jennings Gang Cardiff
1916 31Jul McDonald pte James – Dowlais Works Cardiff
1916 31Jul Deakins pte A G – age 19 Cardiff and Llanbradach
1916 31Jul Cook pte Charles Vancouver – 37 Merthyr Rd Pontypridd
1916 31Jul Jenkins pte John James – 32 Llantrisant St Cathays
1916 31Jul Flower pte Arthur – 187 Kenry St Tonypandy
1916 31Jul Evans cpny sgt maj E D – Aberystwyth and Newcastle Emlyn
1916 31Jul Matthews pte J – Alma Rd Cardiff
1916 31Jul Lougher pte David W – 109 William St Ystrad
1916 01Aug Cooper pte T – 2 Norah St Cardiff
1916 01Aug Piller lce cpl David – 36 Love Lane Cardiff
1916 01Aug Purcell pte W J – 83 Pearl St Cardiff
1916 01Aug Hall pte Harry – 2 Green St Victoria Mon
1916 01Aug Hole pte A R – DCM 136 Woodland Rd Barry Dock
1916 02Aug David pte Thomas Henry – 45 Albert St Cardiff
1916 02Aug Humphries pte David Geo – age 22 19 High St Senghenydd
1916 02Aug Morgan pte Stanley – Cardiff
1916 02Aug Davies pte T – Coronation Terr Rhymney
1916 02Aug Walters pte D J – 50 Albany St Ferndale
1916 02Aug Angell pte – Glenavon Colliery Blaencwm
1916 02Aug Jones pte Gomer – Preswlyfa Gorseinon
1916 02Aug Powell gunner Arthur Leslie – 78 Canada Rd Gabalfa Cardiff
1916 02Aug Devereaux PC – Neath constabulary
1916 03Aug Radcliffe Robert H – age 25 Chapel House St Fagans
1916 03Aug Radcliffe Thomas – age 33 Chapel House St Fagans
1916 03Aug Morgan pte John – 7 Loudon Sq Cardiff
1916 03Aug Richards pte Charles F – 14 Clare Rd Cardiff
1916 03Aug Hiscocks pte R – 55 Andrews Rd Llandaff North
1916 03Aug Owen D J – Goppa Pontardulais
1916 03Aug Evans T H – Hendy Pontardulais
1916 03Aug Matthews D – Tidisha Pontardulais
1916 04Aug Yorath C H – Hewell St Grange Cardiff
1916 04Aug Wilkins T – Cardiff
1916 04Aug Williams David John – age 20 son of supt of Melingriffiths works
1916 04Aug Bousie pte D – 26 Cawnpore St Cogan
1916 04Aug Flowers Albert E – age 21 Gorphwysfa Abergavenny
1916 04Aug Morgan Thomas J – Bethel Gorsddu Rd Penygroes
1916 04Aug James T – 9 Tyllwyd St Penydarren
1916 04Aug Price B – Merthyr
1916 04Aug Rees sgt Robert – 37 Treharne St Cwmparc Treorchy
1916 05Aug Casey J B – 19 Cwmddu St Maesteg
1916 05Aug Daniels D W – 27 Thomas St Gilfach Bargoed
1916 05Aug Oliver Bert – Pwllgwain Rd Pontypridd
1916 05Aug Oliver Ernest – Pwllgwain Rd Pontypridd
1916 05Aug Bills Frank H – 10 Exchange Rd Nelson age 19
1916 05Aug Griffiths pte Stanley – 60 Trealaw Rd Trealaw
1916 05Aug Watkins pte Francis – 108 Norton Bridge Pontypridd
1916 05Aug Griffiths cpl W J – 53 Merthyr St Barry
1916 05Aug Rogers pte T R – Miskin St Cathays and York
1916 05Aug Griffiths pte Cyril Gwyn – age 19 Bridgend and Weston S M
1916 07Aug Green pte Edward – son of John Green of Dowlais Cottage Menelaus St Cardiff
1916 07Aug Thomas pte W R – Hendre Cafan Rd Penygraig
1916 07Aug Griffiths pte Evan John – 131 Tymawr Rd Llandaff North
1916 07Aug Hayward pte Andrew – 33 Llanover Rd Pontypridd
1916 07Aug Williams pte J – son of John of Bristol Terr Bargoed
1916 07Aug Evans lieut W G – Brynawel Mountain Ash
1916 08Aug Williams pte Frank – 55 Wyndham Cres Cardiff age 19
1916 08Aug Knight lce cpl Ellis – 139 Splott Rd East Moors
1916 08Aug McKergo James – 9 Edward Pl Cardiff
1916 08Aug McKergo David – 9 Edward Pl Cardiff
1916 08Aug Davies Illtyd – Llantwit Major
1916 08Aug Davies George – Llantwit Major
1916 08Aug Davies Herbert – Llantwit Major
1916 08Aug Davies John – Llantwit Major
1916 08Aug Davies Ernie G – Llantwit Major
1916 08Aug Young Meryn – Windsor Rd Neath
1916 08Aug Young Henry – Glyn Neath
1916 08Aug Murphy Thomas – Cardiff
1916 09Aug Sherlock pte Frank – Barry apprentice 10 Amherst St Barry POW
1916 09Aug Follett sgt – Oak View The Common Pontypridd
1916 09Aug Stock pte Bert – 13 Atlas Rd Canton Cardiff
1916 09Aug Brisen pte H – Alpha St Coedpenmaen Pontypridd
1916 09Aug Perkins sapper Ralph – 13 Swinton St Splott Cardiff
1916 09Aug Stiff lce cpl Ernest J B – 21 Augusta St Cardiff
1916 09Aug Davies lce cpl John Morgan – 21 Illtyd St Treorchy
1916 10Aug Strongman pte Arthur – 59 Llanelly St Splott Cardiff
1916 10Aug Wheeler pte Robert James – The Cross Caerwent age 21
1916 10Aug Mutton pte Edwin – 9 Lower Cross Rd Rhymney
1916 10Aug Reeves pte E L – Dogfield St Cathays Cardiff
1916 10Aug Thomas pte David John – age 23 25 Lady Tylers Terr Rhymney
1916 11Aug Jones driver – 1 Cornwall St Cardiff
1916 11Aug Jones cpl Mortimer – 1 Cornwall St Cardiff
1916 11Aug Farr pte D J – 3 River St Ystrad Rhondda
1916 11Aug Stoodley W J – Bute St and New Zealand
1916 11Aug Caple sgt Arthur John – 33 Daniel St Cathays Cardiff
1916 11Aug Rees pte William Reg – 68 Daniel St Cathays Cardiff
1916 11Aug Rosser pte Eddie – 47 Elizabeth St Pentre Rhondda
1916 11Aug Shaw pte T W – age 22 60 Hewell St Grangetown Cardiff
1916 11Aug Bramhall pte Edgar – 35 Avon St Canton Cardiff
1916 11Aug Tarr pte G H – 23718 7 Lyndhurst St Canton Cardiff
1916 11Aug Tamplin sapper John – Whittington St Neath
1916 11Aug Morgan pte E J – 35 Tanybryn St Aberdare
1916 11Aug Knowles pte W E – 338 Cardiff Rd Aberaman
1916 12Aug Morris pte Tom – Tynycae Port Talbot
1916 12Aug Williams pte R H – collier Crynant nr Neath
1916 12Aug Davies pte Thomas – 100 High St Penydarren and Dowlais
1916 12Aug Davies pte Robert – Rhas Las nr Dowlais
1916 12Aug Jones pte D Stanley – Danygraig Farm Rudry
1916 12Aug Fidler Ivor – Station St Barry Dock
1916 12Aug Trinder cpl W – Aberkenfig and Maesteg police officer
1916 12Aug Williams cpl W H – 7 Station Rd Llangonoyd Maesteg
1916 12Aug Jones pte T W – 6 Maesyffryn Terr Trealaw age 31
1916 15Aug Williams acting sgt Iltyd – Pontyclun
1916 15Aug Morgan H J – 1 Eyre St Splott
1916 15Aug Morgan Charles – 1 Eyre St Splott
1916 15Aug Salter pte – sister lives at 5 Rutland St Grangetown Cardiff
1916 15Aug James pte James A – apprentice Cardiff Docks before the war
1916 15Aug Nicholas pte S – 34 Coedpenmaen Rd Pontypridd
1916 15Aug Lewis pte D – Pontypridd Royal Welsh Fusiliers
1916 15Aug Davies pte Edmund – Penygraig
1916 15Aug Chivers pte Ben – Aberaman Aberdare
1916 15Aug Evans pte A T – De Winton Terr Llwynypia rugby player
1916 15Aug Thomas pte Willie – Abergwynfi
1916 16Aug Diggins James – 138 Merthyr St Barry Docks
1916 16Aug Diggins John – 138 Merthyr St Barry Docks
1916 16Aug Matthews lce cpl – 22 Railway St Caerphilly
1916 16Aug Williams pte Hugh – 72 Bartlett St Caerphilly
1916 16Aug Evans pte Ernest William – Ludlow and 23 Curre St Cwm Monmouth
1916 16Aug Killingback pte Henry – Sir Garnet Hotel Pontypridd
1916 16Aug Evans pte Jack – 11 Alexandra Terr Mountain Ash
1916 16Aug Gaydon cpl G – Cwm Monmouthshire
1916 16Aug Curtis lce cpl T J – 21 New Century St Trealaw
1916 16Aug Jones pte Harry – Resolven checkweigher
1916 16Aug Lamb cpl Frank – 3 Castle St Dowlais
1916 17Aug Thomas pte Thomas – 20 Pentrebach Rd Pontypridd
1916 17Aug Tompkins pte Trevor – Whitting St Ynyshir
1916 17Aug Davies pte W – 39 Merthyr Rd Pontypridd
1916 17Aug McCarthy pte James – 4 Taff St Cardiff
1916 17Aug Cross cpl William – Mount Pleasant Tiverton
1916 17Aug Thomas pte A – 20 Oak St Clydach
1916 17Aug Hardwidge Tom – 17 High St Ferndale
1916 17Aug Hardwidge Henry – 13 Lake St Ferndale
1916 17Aug Davies pte Charlie – Rock and Castle Brecon age 23
1916 17Aug Roberts pte David W – 17 Pleasant View Glyncorrwg
1916 17Aug Bannister cpl John – 14 Tin St Cardiff
1916 17Aug Warnock pte George – 11 Syphon St Porth
1916 17Aug Murray pte J – 13 Albert St Blaenllechau Ferndale
1916 18Aug Barwick pte David – Maesteg
1916 18Aug Griffiths lce cpl John – 32 Bridgend St Maesteg
1916 18Aug Mort cpl Thomas – 150 Bridgend St Maesteg
1916 18Aug Thomas pte Gwilym – 149 Bridgend St Garth
1916 18Aug James pte Daniel – 47 Mill St Maesteg
1916 18Aug Isaac pte David – Greenfield Terr Maesteg
1916 18Aug Howells pte Giraldus – Maesteg
1916 18Aug Mort pte Albert – 11 Pit St Garth
1916 18Aug Thorne pte William – 81 Bridgend Rd Maesteg
1916 18Aug Hawksley lieut col J – Caldey Island Tenby
1916 18Aug Holbrook Fred – 67 Llanelly St Cardiff
1916 18Aug George Charles – 71 Pomeroy St Cardiff
1916 18Aug Perry cpl Francis – son of John of 138 Pearl St Cardiff
1916 18Aug Lloyd pte D – 96 High St Tredegar
1916 18Aug Osborne pte F – 33 Tyn Y Parc Rd Whitchurch
1916 18Aug Osborne lce cpl B – 33 Tyn Y Parc Rd Whitchurch
1916 18Aug Thomas pte W H – 33 Tyn Y Parc Rd Whitchurch
1916 18Aug Cooper pte Ernest Edward – Black Rock Inn Cwmyniscoy
1916 18Aug Blackmore R C – Cardiff runner
1916 18Aug Warren pte William Henry – 7 Ferry Rd Grangetown Cardiff
1916 18Aug Phillips Sidney – Ynyswen Rd Treorchy
1916 18Aug James Sapper Tom – Treorchy
1916 18Aug Ormond James John – Treorchy
1916 19Aug Thomas Fred – Treharne Rd Caerau
1916 19Aug Edwards A T – 75 Ethel St Cardiff
1916 19Aug Watkins E H – 14 Earl St Grangetown
1916 19Aug Chapman pte Tom – 47 Janet St Splott Cardiff
1916 19Aug Church pte Stanley – Masonic Hall Guildford Cardiff
1916 19Aug Lewis pte Albert – 4 Penybanc Seven Sisters
1916 19Aug Whitford Lewis – Pantygog Pontycymmer
1916 19Aug Robbins David John – 3 Cwrt Coch Aberbargoed
1916 21Aug Parish sgt F – 20 Pleasant View Tirphil New Tredegar
1916 21Aug Williams pte E J – brother of Mrs Parish of Tirphil New Tredegar
1916 21Aug Higgins pte F – relative of Mrs Parish of Tirphil New Tredegar
1916 21Aug Thomas pte John – Edward St Glynneath
1916 21Aug Morris cpl A – White Hart Hotel Glynneath
1916 21Aug John cpl Willie – age 35 51 Marian St Clydach Vale
1916 21Aug Hulbert pte Philip – The Parade Pontypridd
1916 21Aug James Alfred – 49 Pleasant View Tirphil
1916 21Aug Jones sapper T J – 3 Windsor Terr Trebanog
1916 21Aug Jones pte R M – 3 Windsor Terr Trebanog
1916 22Aug Moore pte James – 103 Ethel St Canton Cardiff
1916 22Aug Cross sgt Stanley – Lewis St Crumlin
1916 22Aug Freeman pte J – conductor Pontypridd tramway
1916 22Aug Pryce pte W R – 9 High St Senghennyd
1916 22Aug Pugh pte W J – 32 Barry Terr Pwllgwaun Pontypridd
1916 22Aug Harris sgt Ebenezer – 37 Philip St Graig
1916 22Aug Groves pte T – 2 Danygraig St Pontypridd
1916 22Aug Tucker cpl B W – 2 Lewis Buildings Canton Cardiff
1916 22Aug Jenkins signaller W D – son of Mrs Lloyd Croft Cottage Pontsticill
1916 22Aug Evans driver R H – 232 Park Rd Cwmparc
1916 22Aug Scanell pte M – 5 Collins Terr Treforest
1916 23Aug Williams pte J Herbert – Sebastapol
1916 23Aug Jenkins lce cpl T J – 202 Carlisle St Cardiff
1916 23Aug Soper pte Reginald E – 47 Merthyr St Barry Dock
1916 23Aug Soper pte Ernest – 47 Merthyr St Barry Dock
1916 23Aug Sargent pte W – 10 Daniel St Cathays Cardiff
1916 23Aug Hulton pte Alfred – 138 College Rd Whitchurch
1916 23Aug Mahoney cpl Thomas – 9 Madras St Cardiff
1916 23Aug Howells pte H – 8 Bridgend Rd Pontycymmer
1916 23Aug Jones pte Robert T – 22 Empress Rd Wrexham and Pontypool
1916 23Aug Thomas pte D J – age 23 Maelgwyn Terr Gadlys Aberdare
1916 23Aug Cook sgt Terence R – 66 Glyndwr Cottages Godreaman Aberdare
1916 24Aug Cooper pte Gus – 140 King St Brynmawr
1916 24Aug Brooks pte R G – 16 Carlisle St Splott
1916 24Aug Rich pte A T – 1 Victoria Bldgs Clare Rd Cardiff
1916 24Aug Morgan pte John – Crynant member of Salem
1916 24Aug Roberts lce cpl Robert – POW Lltsderfel and Abercynon
1916 24Aug Ham lce cpl Charles – 17 Maelgwyn Terr Gadlys Aberdare
1916 24Aug Nunnerly pte A – 3261 5 Bryn Terr Pontnewydd Pontypool
1916 24Aug Bevan pte Benjamin Thomas – 63 Avondale Rd Gelli Pentre
1916 24Aug Davey lce cpl A – 33 Bassett St Abercynon
1916 25Aug Parsons – HMS Lion football team
1916 25Aug Bevan – HMS Lion football team
1916 25Aug Tickle – HMS Lion football team
1916 25Aug Lamnea – HMS Lion football team
1916 25Aug Porthcott – HMS Lion football team
1916 25Aug Priddis – HMS Lion football team
1916 25Aug Mitchelmore – HMS Lion football team
1916 25Aug Young – HMS Lion football team
1916 25Aug Hurford – HMS Lion football team
1916 25Aug Hamlett – HMS Lion football team
1916 25Aug Harrison – HMS Lion football team
1916 25Aug Johnson – HMS Lion football team
1916 25Aug Selby – HMS Lion football team
1916 25Aug Carter – HMS Lion football team
1916 25Aug Gee – HMS Lion football team
1916 25Aug Gerrish – HMS Lion football team
1916 25Aug Selway – HMS Lion football team
1916 25Aug Lawrance – HMS Lion football team
1916 25Aug Bickam – HMS Lion football team
1916 25Aug Rees pte Lewis Thomas – Mamre Loughor
1916 25Aug Davies lce cpl Thomas Rees – 69 Brynhyfrd Terr Ferndale
1916 25Aug Jones pte T J – Rhondda footballer Pentre
1916 25Aug Thomas pte John – 23 Marian St Clydach Vale
1916 25Aug Williams Stephen – 62 Church St Aberbargoed
1916 25Aug Hawkins lieut Frank – Trenewydd Hotel Porth
g.h.matthews April 8th, 2020
Posted In: Uncategorized