A notable feature on the WW1 memorials in Wales was that they contained poetry as part of the inscription. Sometimes it is something written specially for the memorial by a local poet, as is the englyn on the memorial in the graveyard of Llwynyrhwrdd Congregational church near Tegryn, North Pembrokeshire
O sŵn corn ac adsain cad – huno maent.
Draw ymhell o'u mamwlad:
Gwlith calon ga glewion gwlad
Wedi'r cur, mwynder cariad.
[From the sound of the trumpet and the noise of battle – they sleep
far away from their motherland;
the brave of the land receive the dew of the heart,
after the hurt, the gentleness of love.]
This englyn is by John Brynach Davies, or "Brynach", to use his bardic name. Brynach was a newspaper correspondent and an active member of this church, whose poetic compositions were numerous, competing in local eisteddfodau and celebrating local events. It was natural that he should contribute in this way and although his name is not on the memorial, there is no doubting that he was the author since the englyn appears in Awelon Oes, a compilation of his poetry published after his death in 1925 at a relatively young age. A note alongside the poem states 'From the memorial stone to soldiers in Llwynyrhwrdd.'
At other time the inscription on the memorials will be a line from a poem by a well known poet, as is this quotation from a famous englyn by Ellis Evans, or 'Hedd Wyn', to use his bardic name. I have seen this line on memorial stones in the south-west in Aberbanc, Newcastle Emlyn and Pencader, and it would be interesting to know of other places where it is used as an inscription.
Eu haberth nid â heibio [Their sacrifice will not be passed by]
As Alan Llwyd and Elwyn Evans explain in their volume Gwaedd y Bechgyn: Blodeugerdd Barddas o Gerddi'r Rhyfel Mawr 1914-1918, he composed this englyn in 1916 in memory of Tommy Morris, a friend who died in France. Hedd Wyn was commemorating one person – the singular is used in the original poem , 'his sacrifice' – but memorials changed the singular to the plural, 'their sacrifice'.
Ei aberth nid â heibio – ei wyneb
Annwyl nid â'n ango,
Er i'r Almaen ystaenio
Ei ddwrn dur yn ei waed o.
[His sacrifice will not be passed by –
his dear face will not be forgotten,
although Germany has stained
its steel fist in his blood.]
Sacrifice is not the only theme seen in these poems. Another is the memory of those who were lost will last for ever. One of the most popular quotations on this theme comes from the works of John Ceiriog Hughes, "Ceiriog", which I have seen on 12 memorials in the south-west. .
Mewn angof ni chânt fod. [They shall not remain in oblivion.]
On two other memorials there is a slight variation of the same line.
Yn angof ni chânt fod. [They will not be forgotten.]
This quotation comes originally from a stanza in the poem Dyffryn Clwyd .
Mewn Anghof ni chânt fod,
Wŷr y cledd, hir eu clod,
Tra'r awel tros eu pennau chwŷth:
Y mae yng Nghymru fyrdd,
O feddau ar y ffyrdd,
Yn balmant hyd ba un y rhodia rhyddid byth!
[They shall not remain in oblivion,
men of the sword, much praised
while the wind blows over their heads:
there are in Wales a multitude
of graves along the ways,
a pavement on which freedom forever walks.]
Ceiriog died in 1887, without seeing the massacre of the First World War and is referring to heroes of a past age. But the use of this line on the inscription implies that the dead remembered there were themselves heroes who had earned their place in the same tradition of a deserved remembrance.
It's not surprising to see poems such as these. They reinforce the theme of the memorial and are in keeping with the desire to remember the bravery and sacrifice of those lost. But occasionally a different kind of poem appears – a poem that rejects military values and longs for peace. So far I have only seen two such memorials, one on a memorial in Llanilar near Aberystwyth, and another on a memorial at Llangynog near Carmarthen.

The wording on the Llanilar memorial in memory of one local man in a simple and fitting if one looks at the couplet which comes at the end of the inscription. I have been unable to find the name of the poet, but his feelings are quite clear. There is no war in a civilized world, and it is peace alone which praises God.
Ior Nef! Gwna di i ryfel beidio a bod,
A'r gwaedlyd gledd i rydu er dy glod.
[Lord of Heaven! Make war cease to be,
and let the bloody sword rust in your honour]
The inscription is entirely in Welsh and the feelings expressed publicly here, grieving the loss from the community of a young man and yearning to see an end to war, appear to be in agreement with the opinion of the community.
The situation in Llangynog is slightly different, although the poem quoted is similar in respect of conviction.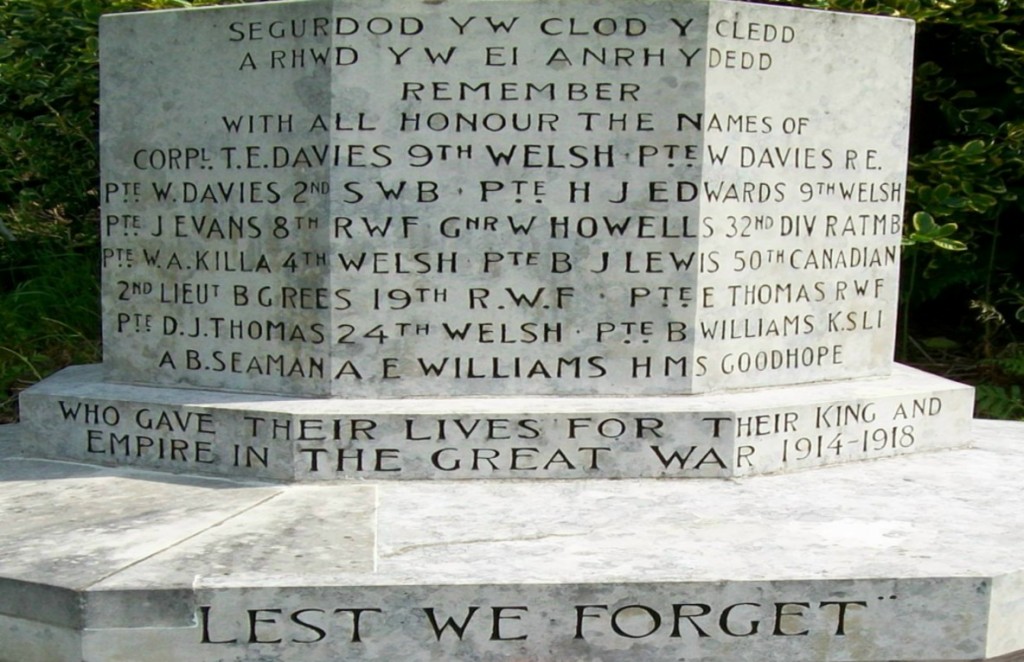 Here the inscription is in English and more warlike in its sentiment, with the soldiers who died having fought for their king and empire. But this is not the message proclaimed by the Welsh couplet on the memorial.
Segurdod yw clod y cledd,
A rhwd yw ei anrhydedd.
[Idleness is praise for the sword
and rust is its honour.]
This couplet comes from the famous englyn of William Ambrose, 'Emrys', which preaches uncompromising pacifism.
Celfyddyd o hyd mewn hedd – aed yn uwch
O dan nawdd tangnefedd;
Segurdod yw clod y cledd,
A rhwd yw ei anrhydedd.
[Skill always in peace – may it increase
under the patronage of peace;
Idleness is the praise for the sword
and rust is its honour.]
Did the people who framed the English wording with its military ostentation on the memorial understand the point of this quotation in Welsh? What happened in Llangynog that a memorial should be created which lauded war in one language but opposed it in the other?
Are there other examples of such poems on W.W.1 memorials in Wales which look forward to a future of civilized peace and an end to warring. And are there similar sentiments to be seen in English on memorials, either here in Wales or across the border? I've seen no such references, but it's worth asking and searching.
Gwen Awbery
Cardiff
g.h.matthews June 3rd, 2016
Posted In: Uncategorized