There is, of course, a long tradition within the Christian religion of incorporating stained glass windows in churches which relate stories from the Bible, or of saints' lives. There are a wealth of notable examples in churches in north Wales of windows created in the medieval or early modern period. In the Victorian period, when many ancient churches were refurbished, stained glass windows were installed in churches all over Wales.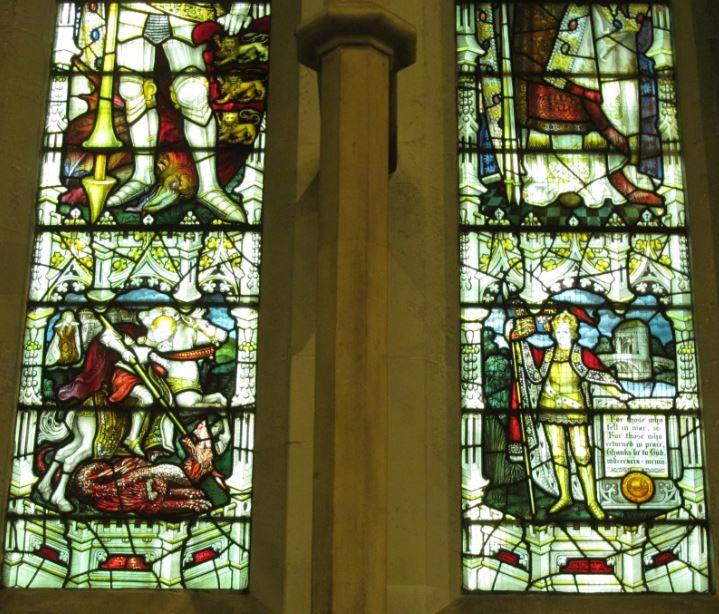 As well as Biblical scenes, some of these images were in honour of notable benefactors. There are also examples in Welsh churches of stained glass windows as memorials to the Boer War, such as this example from St Mary's, Monmouth.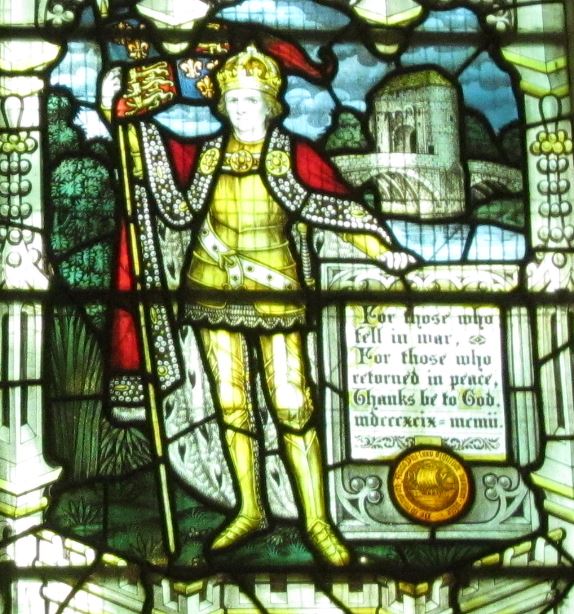 Thus it is not too surprising that stained glass windows in churches became a way of commemorating those who served in the First World War, and in particular those who were lost. However, it is remarkable how many such memorials were established in Wales. Martin Crampin's excellent book, Stained Glass from Welsh Churches (published by Y Lolfa in 2014) contains thirty pages of photographs of these WW1 memorials.
Although a fair number of stained glass windows were established in Nonconformist chapels, the majority of these WW1 memorials are in Anglican churches. The imagery they contain is often very vivid and thought-provoking. Many contain images of First World War soldiers – one particularly striking example is to be seen in Christ Church, Rossett, in the north-eastern corner of Wales.
Dedicated in 1925 to 'the men of the parish who gave up their lives in the Great War', this pictures three soldiers: on the right-hand side, a wounded soldier of the Welsh Regiment receives succour from a stretcher-bearer of the RAMC (Royal Army Medical Corps).
For further images of this, visit the web-pages created by Martin Crampin on 'Stained Glass in Wales'.
Several images on the 'Stained Glass in Wales' website show windows that contain both First World War soldiers and Christ, making the explicit connection between the suffering of the contemporary soldiers and the story of Christ on the cross. Thus the Church of St Pedrog, Llanbedrog (from 1918) shows 'A fallen soldier with Christ and angels' and St Mary's Spittal (Pembrokeshire, from 1916) shows 'The Risen Christ meeting the fallen soldier'.
In the Church of St James, Manorbier, there is a collection of service personnel in a montage with Christ on the cross, including a nurse.
One example not in the online database is the memorial window in Llanfrechfa, near Cwmbrân. This shows the risen Christ with a fallen soldier, and is a memorial to Major Edmund Styant Williams who was killed at Ypres on 8 May 1915.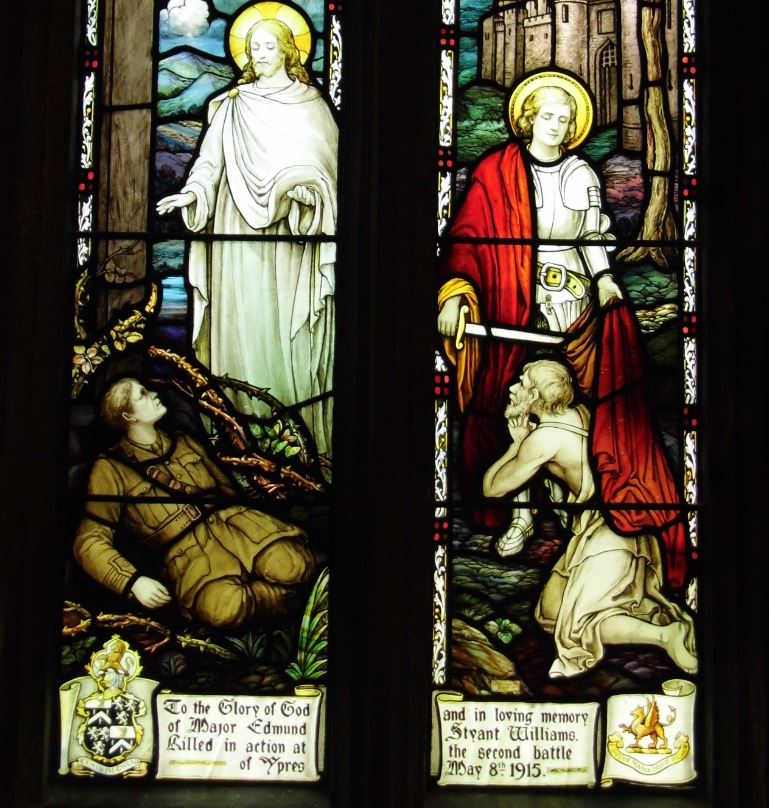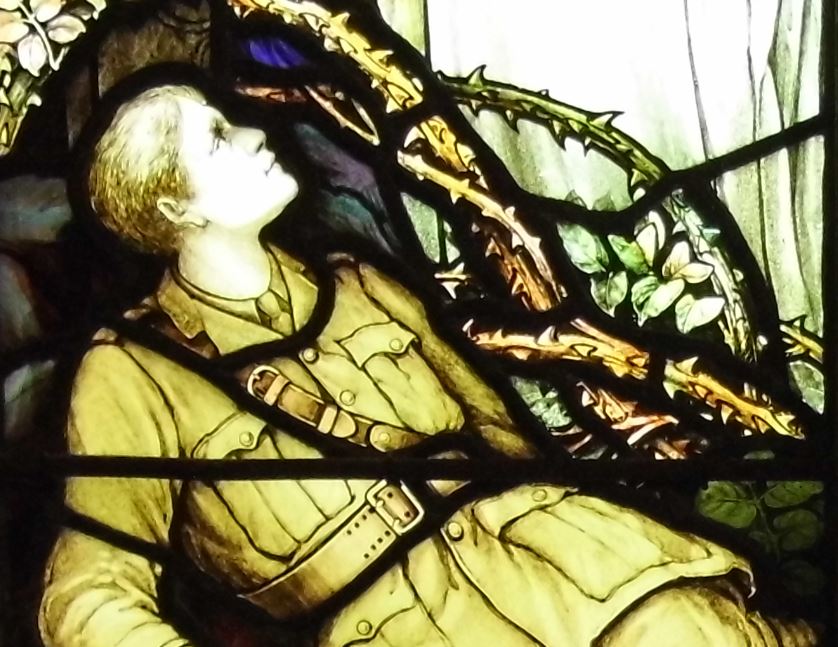 It is also poignant to note when some of these memorials were unveiled. Some were created in the 1920s; some in 1919, in the immediate aftermath of war; some while the war was still being fought. One striking example, in the church of St Sannan, Bedwellty, was dedicated on Christmas Eve, 1916.
This shows Christ on the cross with soldiers in WW1 uniform at the scene: one kneeling; one lying wounded or dead. (Further information on this can be found in an article by David Mills in the Journal of the Gelligaer Historical Society vol.23 – Great War edition 2, 2016).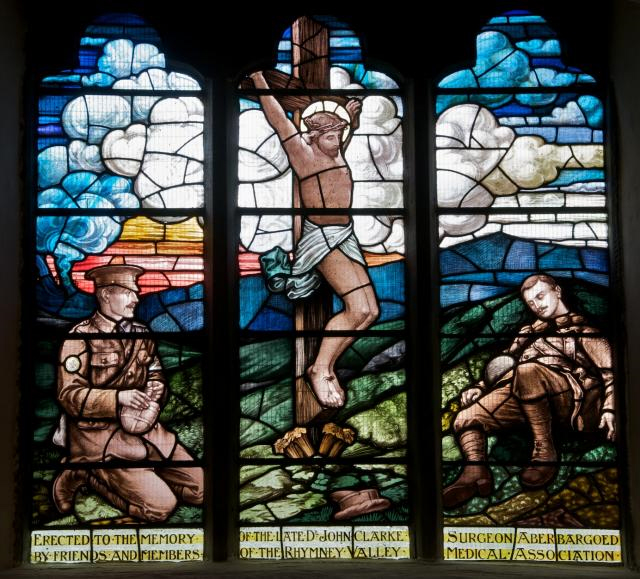 The window is dedicated to a local surgeon, Dr John Clarke, and the kneeling figure on the left bears a distinct resemblance to him. Similarly, the wounded soldier looks like another local man who fell, Sgt. W. J. Haskoll of the First Monmouthshire Regiment, who died, aged 31, in France on 25 May 1915.
g.h.matthews December 21st, 2016
Posted In: Uncategorized